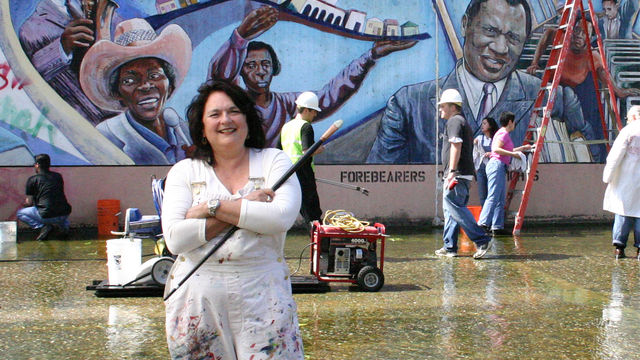 Born in 1946, Judith F. (Judy) Baca grew up in the Los Angeles neighborhood of Watts and in Pacoima and attended California State University, Northridge, where she studied art and minored in history and education (BA 1969, MFA 1979). She created her first large-scale mural when she was a teacher at the Catholic high school she had attended as an adolescent, and in 1970 she worked with at-risk youth in a citywide art project. These early projects integrated defining aspects of Baca's subsequent practice—scale and collaboration—to enable politically and culturally marginalized groups to assert a positive visual presence within the community, and she continues to confront issues of cultural identity, displacement, and exploitation experienced by people of color in her work. In 1976 Baca cofounded the Social and Public Art Resource Center (SPARC) in Venice, California, with the filmmaker and director Donna Deitch (b. 1945) and the artist and teacher Christina Schlesinger (b. 1946). In that same year she began painting one of her most important collaborative mural projects, The Great Wall of Los Angeles, which also functioned as Baca's master's thesis. Described as a monument to interracial harmony, the project depicts the history of California on a half-mile-long stretch of concrete wall along the Tujunga Wash in the San Fernando Valley. The ongoing project has employed more than four hundred youths and their families from diverse backgrounds alongside artists, oral historians, ethnologists, scholars, and hundreds of community members.
Baca continues to memorialize overlooked aspects of public history and to respond to Los Angeles as a concrete monster: visualizing the connections between the land and the human body and making the space of the freeway relevant not only to drivers but also to the residents, many of them minorities, who are forced to live in its shadows. A recognized pioneer in the field of social practice whose work extends beyond the urban environment into the lives of the people within it, Baca is a professor at the University of California, Los Angeles, where she holds a joint appointment with the César E. Chávez Department of Chicana and Chicano Studies and the Department of World Arts and Cultures. She also runs the UCLA@SPARC Digital Mural Lab, where students work with historians and community members to design public art projects. Baca received a 2003 John Simon Guggenheim Memorial Foundation Fellowship and was named a 2015 USA Rockefeller Fellow, among other honors. Her work is in the collections of the Smithsonian American Art Museum, Washington, DC; Wadsworth Atheneum, Hartford, CT; and Museum of Modern Art, New York.
—Leslie Cozzi 
Selected Group Exhibitions and Public Commissions
1976 Las Chicanas: Venas de la mujer, Woman's Building, Los Angeles
1984 Hitting the Wall: Women in the Marathon (mural commissioned by the Olympic Organizing Committee, Harbor Freeway [110] North, Fourth Street exit, Los Angeles)
1986 (ongoing) The World Wall: A Vision of the Future without Fear (portable mural panels); exhibited at multiple international venues
2011 Under the Big Black Sun: California Art, 1974–1981, Museum of Contemporary Art, Los Angeles
2013 Richmond Identities: Extraordinary Lives / Ordinary People, Richmond Senior Center, Richmond, CA
Selected Bibliography
Breslauer, Jan. "Drawing on a Dual Legacy: The Social and Public Art Resource Center Marks Its Twentieth Year—and the Late Muralist David Alfaro Siqueiros' 100th Birthday—with an Exhibition and a Renewed Mission." Los Angeles Times, January 2, 1997.
Doss, Erika. "Raising Community Consciousness with Public Art: Contrasting Projects by Judy Baca and Andrew Leicester." American Art 6 (Winter 1992): 62–81.
Isenberg, Barbara. State of the Arts: California Artists Talk about Their Work. Chicago: Ivan R. Dee, 2005.
Neumaier, Diane. "Judy Baca: Our People Are the Internal Exiles." In Cultures in Contention, 62–75. Seattle: Real Comet Press, 1985.
Rangel, Jeffrey J., and Montse Conill. "Arte y activismo en el movimiento chicano: Judith F. Baca, la juventud y la política cultural." Historia, Antropología y Fuentes Orales, no. 21 (1999): 111–29.