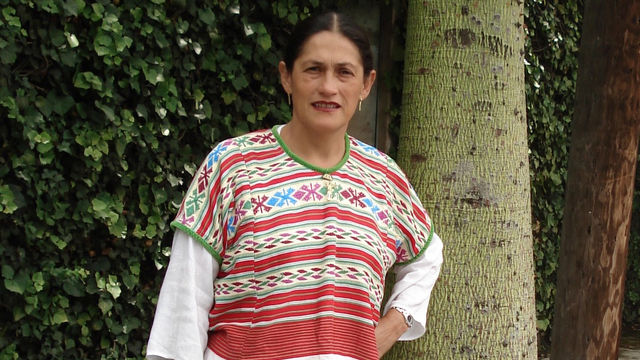 The actress, director, playwright, and activist Jesusa Rodríguez was born in 1955 in Mexico City. Between 1971 and 1973 she studied theater at the Centro Universitario de Teatro of the Universidad Nacional Autónoma de México. In 1980, with her partner, the Argentine singer and actor Liliana Felipe, Rodríguez opened the cabaret El Fracaso. Also in that year, the two founded the theater cooperative Grupo Divas A.C., which would stage numerous experimental plays throughout the 1980s, including the seminal feminist adaptations ¿Cómo va la noche, Macbeth? Adaptación a Shakespeare (How goes the night, Macbeth? A Shakespeare adaptation, 1980) and Donna Giovanni (1983/87). Since the beginning of her career Rodriguez's performances, characterized by acerbic political and social critique, have challenged traditional genre categories, intersecting a wide range of styles, from cabarets to carpas (itinerant theater), pastorelas (Christmas plays), Greek tragedy, opera, and performance art.
Between 1990 and 2005 Rodríguez and Felipe owned and managed Teatro de la Capilla and Teatro Bar El Hábito, a cabaret bar, both in the Coyoacán neighborhood of Mexico City. Prolific collaborators, they produced, directed, and acted in more than three hundred performances that singularly confronted cultural, socioeconomic, sexual, and gender power relations in Mexican society. Rodríguez's own work has delved into iconography from Mexico's past—including pre-Columbian indigenous deities as well as such historical figures as La Malinche, La Soldadera, and Sor Juana Inés de la Cruz—recasting them through parody and humor to address current political issues. Rodríguez has received several prestigious awards, including a Guggenheim Fellowship in 1990, a Rockefeller Foundation Grant in 1994, and, along with Felipe, an Obie Award for Las Horas de Belén: A Book of Hours in 2000. She has been a regular contributor to Mexico's leading feminist journal, Debate feminista, since its founding in 1990. Rodríguez lives and works in Mexico City.
—Mari Rodriguez Binnie
Selected Performances
1990 La gira mamal de la Coatlicue, Teatro Bar El Hábito, Mexico City
1991 La Malinche en Dios T.V., Teatro Bar El Hábito, Mexico City
1992 Cielo de abajo, Teatro Bar El Hábito, Mexico City
1995 Sor Juana en Almoloya, Teatro Bar El Hábito, Mexico City
2001 La soldadera autógena, Encuentro of the Hemispheric Institute of Performance and Politics, Monterrey, Mexico
2004 Cabaret prehispánico, Solomon R. Guggenheim Museum, New York 
Selected Bibliography
Alzate, Gastón Adolfo. "Jesusa Rodríguez: Cabaret, disidencia y legitimación en el teatro mexicano contemporáneo." Gestos: Teoría y práctica del teatro hispánico 14, no. 28 (1999): 81–102.
Costantino, Roselyn. "Jesusa Rodríguez: An Inconvenient Woman." In Holy Terrors: Latin American Women Perform, edited by Diana Taylor and Roselyn Costantino, 183–212. Durham, NC: Duke University Press, 2003.
———. "Performance in Mexico: Jesusa Rodríguez's Body in Play." In Corpus Delecti: Performance Art of the Americas, edited by Coco Fusco, 63–77. London: Routledge, 2000.
———. "Uncovering and Displaying Our Universes: Jesusa Rodriguez in/on Mexico." In The Color of Theater: Race, Culture, and Contemporary Performance, edited by Roberta Uno, with Lucy Mae San Pablo Burns, 144–56. London: Continuum, 2002.
Franco, Jean. "A Touch of Evil: Jesusa Rodriguez's Subversive Church." In Negotiating Performance: Gender, Sexuality, and Theatricality in Latin/o America, edited by Diana Taylor and Juan Villegas, 159–75. Durham, NC: Duke University Press, 1994.
Taylor, Diana. "'High Aztec' or Performing Anthro Pop: Jesusa Rodríguez and Liliana Felipe in 'Cielo de abajo.'" TDR 37, no. 3 (1993): 142–52.