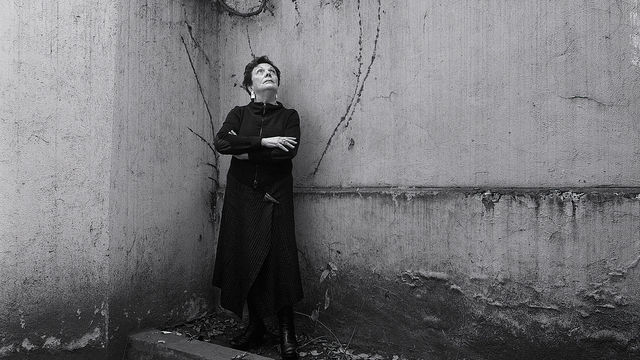 One of Mexico's foremost photographers, Graciela Iturbide was born in Mexico City in 1942. She enrolled in 1969 at the Centro Universitario de Estudios Cinematográficos, where she studied film directing and still photography. In 1970 she worked as an assistant to Manuel Álvarez Bravo (1902–2002), her teacher and one of Mexico's most famous photographers. By the mid-1970s she was regularly participating in group exhibitions in Mexico City and New York. Her dedication to her country's rich visual and artistic heritage and in particular to its living indigenous traditions has remained central to her work. These motifs reemerge in various guises throughout the photographer's expansive oeuvre: from the 1979 Nuestra señora de las iguanas (Our lady of the iguanas), a black-and-white photograph depicting a vernacular Madonna (or Medusa) crowned with an elaborate lizard headdress in Juchitán de Zaragoza, Oaxaca, to the 2008 photo-essay on the home of Frida Kahlo, which poignantly compares socialism's unfulfilled promise of political freedom with the claustrophobia and trauma embodied by Kahlo's iron corset, false leg, and other putatively therapeutic prostheses.
Her portraits of indigenous peoples in the Sonoran Desert and elsewhere, several of which bear striking similarities to the artist's self-portraits, have been lauded for rejecting ethnographic stereotypes in favor of a more empathetic and personal exploration of differences. Iturbide's work is also characterized by an extended fascination with visual tropes of death and sacrifice. This is not merely typical Mexican subject matter, however, but has been linked to the artist's awareness of photography's historical associations with questions of transience and memory as well as to the death of one of the artist's three children at a young age. Despite her ties to Mexico, Iturbide has worked in Havana, East Los Angeles, Tokyo, Madagascar, and a host of other international locales over the course of her career. She approaches each destination with her characteristic interest in vernacular detail that is neither purely documentary nor purely symbolic.
Among her most recent publications is a 2007 homage to the Panamanian general Omar Torrijos, whose 1981 death was rumored to be the result of CIA intervention. Iturbide's images of Torrijos question the masculine stereotype of the man of the people, which had become central to the politician's legacy. They provide a counterpoint to Iturbide's better-known Juchitán images that confront female identity, mystery, and power. Iturbide has been the recipient of several prestigious honors, including a 1988 John Simon Guggenheim Memorial Foundation Fellowship and a 2010 Lucie Award for Achievement in Fine Art. Her work is held in many major international collections, among them the Centre Pompidou, Paris; Museum of Fine Arts, Houston; Center for Creative Photography, Tucson, AZ; San Francisco Museum of Modern Art; and Consejo Mexicano de Fotografía, Mexico City.
—Leslie Cozzi
Selected Solo Exhibitions
1982 Graciela Iturbide, Centre Pompidou, Paris
1993 Graciela Iturbide, Museo del Palacio de Bellas Artes, Mexico City
1996 Graciela Iturbide: La forma y la memoria, Museo de Arte Contemporáneo de Monterrey, Nuevo León, Mexico
1999 Graciela Iturbide: Cuaderno de viaje, Museo de Arte Carrillo Gil, Mexico City
2007 The Goat's Dance: Photographs by Graciela Iturbide, J. Paul Getty Museum, Los Angeles 
Selected Bibliography
Graciela Iturbide: The Hasselblad Award 2008. Gothenburg, Sweden: Hasselblad Foundation, 2008.
Graciela Iturbide: Naturata, 1996–2004. Mexico City: Galería López Quiroga, 2004.
Iturbide, Graciela. Juchitán de las mujeres, 1979–1989. Barcelona: RM Verlag, 2010.
Kaufman, Frederick. "Graciela Iturbide." Aperture, no. 138 (Winter 1995): 36–47.
Medina, Cuauhtémoc. Graciela Iturbide. London: Phaidon, 2001.