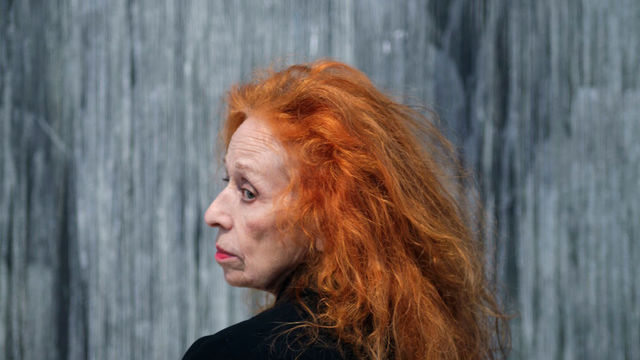 Born in 1940 in Buenos Aires, Delia Cancela is a key figure in Argentine pop art. Ensconced in the intersection between popular culture, fine arts, and fashion, Cancela's work seeks to disrupt convention by grappling with symbols from mass media, especially those concerning femininity and womanhood. A graduate of the Escuela Superior de Bellas Artes in Buenos Aires, Cancela began exhibiting shortly after graduation. Between 1962 and 1964 she showed her work at the prestigious Ver y Estimar invitational art exhibitions hosted by the Museo Nacional de Bellas Artes in Buenos Aires and contributed in 1964 to New Art of Argentina, an exhibition organized by the Walker Art Center in Minneapolis and the Instituto Torcuato Di Tella in Buenos Aires, under the leadership of Jorge Romero Brest.
In 1965 she began working with Pablo Mesejean (1937–1991), whom she met while they were both art students and with whom she collaborated until the mid-1980s. For their first solo show, Love and Life (1965), at Galería Lirolay in Buenos Aires, the couple decorated the space with flowers and figures of astronauts and had hostesses wearing vinyl dresses welcome the visitors by giving them sunglasses and appliqué flowers. In 1966 the duo submitted as their entry for the Di Tella Prize the manifesto Nosotros amamos (We love), in which they declared their love for pop culture. In 1967, after receiving the Braque Prize (sponsored by the French embassy in Argentina), Cancela and Mesejean traveled to Paris, where they lived for a year. The couple then moved to various cities, such as New York and London. In New York their work was featured in the fashion magazines Vogue and Harper's Bazaar, and in London, where they lived from 1970 to 1975, they launched the label Pablo & Delia and worked as art directors for Vogue.
Just as fashion magazines served as a platform for their art, their work was also presented in happenings complete with models, actors, and dancers. Back in Paris, in 1979, the duo announced the end of their collaboration with a fashion collection, Think Sharp, in white and black, with knife-and-dagger accessories. While retaining floral iconography and bold colors and arranging these into patterns, Cancela returned to painting and began exhibiting her solo works in the 1980s and 1990s. In 2000 she was nominated for the Jorge Romero Brest Award, a career prize, by the Asociación Argentina de Críticos de Arte, and in 2001 she received the Premio Directorio a la Trayectoria Artística, given by Argentina's Fondo Nacional de las Artes. Works by Cancela are in private collections, and pieces from her collaboration with Mesejean are in the Victoria and Albert Museum, London.
—Marcela Guerrero 
Selected Solo Exhibitions
1965 Love and Life, Galería Lirolay, Buenos Aires (with Mesejean)
2000 Delia Cancela 2000: Retrospectiva, Centro Cultural Parque de España, Rosario, Argentina
2002 Vestidos—Instalación, Galería Arcimboldo, Buenos Aires
2006 Delicias, deleites, delirios, Galería Lila Mitre, Buenos Aires
2015 Delia Cancela: Cómo traer una imagen al mundo, Henrique Faria, Buenos Aires
Selected Bibliography
Experiencias visuales 1967. Buenos Aires: Museo de Artes Visuales del Instituto Torcuato Di Tella, 1967.
Herrera, María José. Pop! La consagración de la primavera, del 18 de marzo al 15 de mayo de 2010. Buenos Aires: Fundación OSDE, 2010.
Lescano, Victoria. "Los documentos privados de Delia Cancela." Página 12, August 9, 2013. http://www.pagina12.com.ar/diario/suplementos/las12/13-8231-2013-08-09.html.
Romero Brest, Jorge. "Delia Cancela: Sinceridad y autenticidad." Box 14, envelope 6, item n. Archivo Jorge Romero Brest. Instituto de Teoría e Historia del Arte "Julio E. Payró." Facultad de Filosofía y Letras, Universidad de Buenos Aires.
6 artistas en Lirolay: Sexteto. Buenos Aires: Galería Lirolay, 1964.