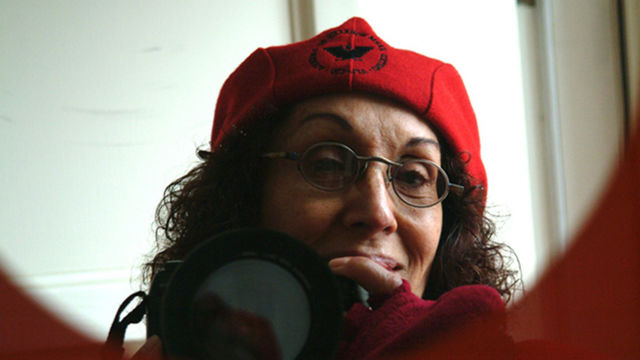 The conceptual multimedia artist Celia Álvarez Muñoz was born in El Paso, Texas, in 1937. When her father deployed to Alaska and Germany during World War II, her mother, aunt, and maternal grandmother assumed the task of raising her. She studied at Texas Western University (now University of Texas) in El Paso, taking mostly commercial art classes. Quickly thereafter she began teaching art to children. After relocating several times to different parts of the country, Álvarez Muñoz and her husband and their two small children returned to Texas, to Arlington. In 1977, at the age of forty, she enrolled in graduate school at North Texas State University (NTSU; now University of North Texas) in Denton. There she took courses with the artists Vernon Fisher (b. 1943) and Al Souza (b. 1944), who influenced her conceptual practice across mediums, from artist's books and photographs to installations and public works. While attending NTSU, she began work on her series Enlightenment. Comprising ten works and spanning roughly five years, Enlightenment tapped into her memories of growing up along the Mexican border in the aftermath of the Great Depression. Deeply committed to her bilingual and bicultural heritage, the artist plays with text, puns, and double meanings, regularly addressing such themes as cognitive development and language acquisition. Later works also incorporate photographs with wall drawings, works on paper, and sculptures. Stories Your Mother Never Told You (1990) consists of a cabinet of curiosities, or Wunderkammer, filled with objects from her life and others donated by community members who hosted the exhibition.
Her most recent work continues to relate to the experiences of living in the physical as well as the psychological and political border zone. Álvarez Muñoz has received numerous awards, including two National Endowment for the Arts grants (1988, 1991) and the Honors Award for Outstanding Achievement in the Visual Arts from the Women's Caucus for Art (1995). Her work has been exhibited widely in group exhibitions, such as the Whitney Biennial (1991), and in solo presentations at the Museum of Contemporary Art San Diego (1991); Dallas Museum of Art (1991); Capp Street Project, San Francisco (1994); and University of Texas at Arlington (2002). Her work has been acquired by public collections, including the Art Institute of Chicago; Getty Research Institute, Los Angeles; Museum of Contemporary Art Chicago; and Museum of Fine Arts, Houston.
—Marcela Guerrero and Michael Nock
Selected Solo Exhibitions
1983 Bookworks: Celia Muñoz, Fox Gallery, University of Texas at El Paso
1991 El Límite, Museum of Contemporary Art San Diego, La Jolla (traveled)
1994 Medium and Message, List Art Center, Brown University, Providence, RI
1995 Vocabularies, Mexican Fine Arts Center Museum, Chicago
2002–4 Stories Your Mother Never Told You, The Gallery, University of Texas at Arlington (traveled)
Selected Bibliography
Chávez, Patricio, Madeleine Grynsztein, and Kathryn Kanjo. La Frontera: Art about the Mexico / United States Border Experience. San Diego: Centro Cultural de la Raza, 1993.
Griswold del Castillo, Richard, Teresa McKenna, and Yvonne Yarbro-Bejarano, eds. Chicano Art: Resistance and Affirmation, 1965–1985. Los Angeles: Wight Art Gallery, University of California, 1991.
Kuusinen, Asta M. Shooting from the Wild Zone: A Study of the Chicana Art Photographers Laura Aguilar, Celia Álvarez Muñoz, Delilah Montoya, and Kathy Vargas. Helsinki: Helsinki University Press, 2006.
Roth, Moira, and Inverna Lockpez. Personal Odysseys: The Photography of Celia Álvarez Muñoz, Clarissa T. Sligh, and Maria Martinez-Cañas. New York: Intar Gallery, 1990.
Tejada, Roberto. Celia Álvarez Muñoz. Los Angeles: UCLA Chicano Studies Research Center Press; Minneapolis: University of Minnesota Press, 2009.