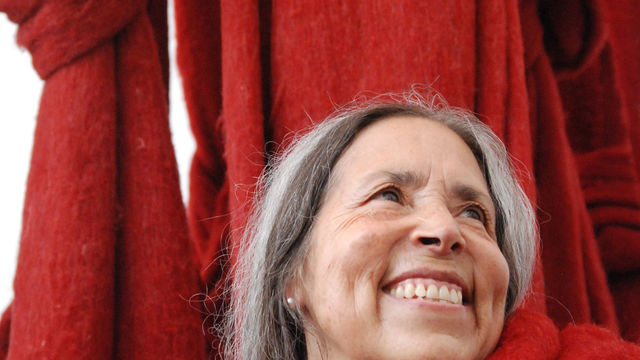 Born in Santiago in 1948, the Chilean poet and artist Cecilia Vicuña has developed a prolific career in a variety of mediums, including poetry, documentary films, objects, performances, and aural installations. Vicuña studied fine arts at the Universidad de Chile in Santiago (BA 1971). In 1966, while still in college, she created the series Basuritas (Little garbage), the first example of what she calls arte precario (precarious art), ephemeral sculptures and installations made with strings, branches, and textiles. In 1967 she founded Tribu No, a collective of artists who wrote poetry, issued manifestos, and performed public actions in Santiago. In 1971 Vicuña filled a room of the Museo Nacional de Bellas Artes in Santiago with leaves piled three feet high, naming the piece Otoño (Fall). In 1973 she moved to London after receiving a British Council Scholarship to complete a master of fine arts degree in painting at the Slade School of Fine Art.
The military coup that deposed Salvador Allende (1970–73) led the artist, who had been a member of the leftist coalition Unidad Popular, to seek asylum in England, where she lived until 1975. There Vicuña published her first book of poems, Saborami (1973). In 1974 she founded—with the British art critic and curator Guy Brett, the Filipino artist David Medalla (b. 1942), and the American artist John Dugger (b. 1948)—Artists for Democracy, an organization of artists who opposed authoritarian regimes. In 1975 she moved to Bogotá, where she directed her first documentary film, ¿Qué es para usted la poesía? (What is poetry to you?, 1980). She moved to New York in 1980.
Vicuña's work has been included in group exhibitions such as the Whitney Biennial in New York (1997); Havana Biennial (1984, 1986); WACK! Art and the Feminist Revolution at the Museum of Contemporary Art, Los Angeles (2007); and On Line: Drawing through the Twentieth Century at the Museum of Modern Art, New York (2010–11). In 2017 she participated in Documenta 14, Kassel, Germany, and Athens, Greece. She has given lectures and seminars in institutions worldwide, such as the Universidad de Buenos Aires and Universidad Libre de Bogotá and Pratt Institute, City University of New York, and School of Visual Arts in New York. She received a Fondart grant in 2011 and was selected as a Messenger Lecturer at Cornell University in 2015. Her work is housed at such institutions as Tate Gallery, London, and Museo de Arte Contemporáneo de Chile, Santiago. The artist lives in New York.
—Mariana von Hartenthal
Selected Solo Exhibitions
1971 Cecilia Vicuña: Pinturas, poemas y explicaciones, Museo Nacional de Bellas Artes, Santiago
1990 Cecilia Vicuña: Precarious, Exit Art Gallery, New York
1992 Cecilia Vicuña: El Ande Futuro, Berkeley Art Museum and Pacific Film Archive, University of California
2009 Cecilia Vicuña / Water Writing: Anthological Exhibition, 1966–2009, Institute for Women & Art, Rutgers University, New Brunswick, NJ
2014 Artists for Democracy: El archivo de Cecilia Vicuña, Museo Nacional de Bellas Artes; Museo de la Memoria y los Derechos Humanos, Santiago
Selected Bibliography
Alcalá, Rosa, ed. Spit Temple: The Selected Performances of Cecilia Vicuña. Brooklyn: Ugly Duckling, 2012.
Cloud-net: Cecilia Vicuña. New York: Art in General, 1999.
Dis solving: Threads of Water and Light: César Paternosto, Cecilia Vicuña. New York: Drawing Center, 2002.
Varas, Paulina. Artists for Democracy: El archivo de Cecilia Vicuña. Santiago: Museo Nacional de Bellas Artes and Museo de la Memoria y los Derechos Humanos, 2014.
Zegher, M. Catherine de, ed. The Precarious: The Art and Poetry of Cecilia Vicuña. Hanover, NH: University Press of New England, 1997.