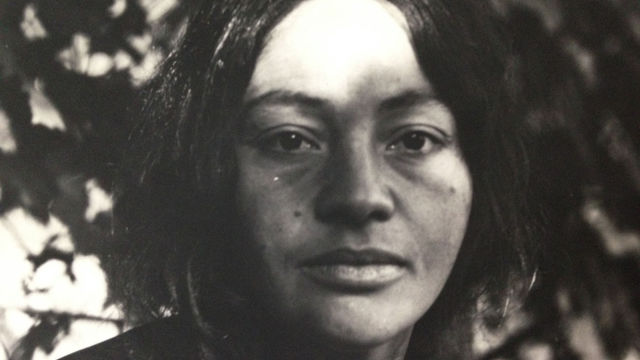 The Chilean artist Catalina Parra was born in Santiago in 1940 and lived in Germany and Argentina before settling in New York in the 1980s. Known primarily as a mixed-media artist and photographer, Parra was involved in the arts quite early, having been born into a family of renowned Chilean artists, including her father, the poet Nicanor Parra (b. 1914). Parra began her art career while living in Germany from 1963 to 1972. During that period she was inspired by photomontage and the work of Dada artists, especially John Heartfield (1891–1968) and Hannah Höch (1889–1978) as well as the Fluxus art movement and the work of John Cage (1912–1992) and Joseph Beuys (1921–1986). She began creating collages incorporating print materials and her own drawings.
In the 1970s she returned to Chile during the dictatorship of Augusto Pinochet. She and her family protested the regime, and much of her work during that period consisted of politically inspired actions and installations, notably her series Reconstrucciones (Reconstructions), which comprised collages of newspaper articles, photographs, and advertisements stitched together with everyday materials like thread, gauze, and tape. The best-known work from the series is Diario de vida (Diary of life, 1977), in which she used hard-edged Plexiglas with hand-sewn manipulations of the newspaper El Mercurio to highlight the press's problematic reporting of the Pinochet regime. Her 1977 exhibition Imbunches at Galería Época in Santiago was deeply influential in its investigation of government terror and censorship and has been included in numerous academic publications about the period.
A John Simon Guggenheim Memorial Foundation Fellowship in the 1980s gave Parra the resources to move to the United States, and she began to use American media as material, most notably in The Human Touch (1989) and Here, There, Everywhere (1992), to examine US capitalism and military interventionism. In 1987, in response to an invitation to contribute to a Public Art Fund project, Messages to the Public, Parra created USA, Where Liberty Is a Statue, a thirty-second video that played in a continuous loop on a billboard in Times Square. In addition to mixed-media assemblages, Parra used unorthodox materials to create a series of installations and land-use projects that are akin to the work of Agnes Denes (b. 1938) or Robert Smithson (1938–1973). In FOSA (2005), Parra excavated a large pit in the Atacama Desert in northern Chile to evoke a mass grave in response to the many disappeared victims of Pinochet's regime. From 2000 to 2009 Parra served as Chilean cultural attaché in Argentina before returning to the United States. In New York she has been active as an educator at El Museo del Barrio.
—January Parkos Arnall
Selected Exhibitions
1977 Imbunches, La Galería Época de Santiago
1981 Catalina Parra's "Variaciones ornamentales," Museum of Modern Art, New York
1992 Catalina Parra in Retrospect: Lehman College Art Gallery. Bronx, New York, February 6–April 4, 1992, Lehman College Art Gallery, Bronx, NY
1992 Catalina Parra: Retrospectiva, Museo de Arte Contemporáneo, Universidad de Chile, Santiago
2011 Catalina Parra, Ludlow 38, Goethe-Institut, New York
Selected Bibliography
Aranda-Alvarado, Rocío. Catalina Parra: It's Indisputable / Es indiscutible. Jersey City, NJ: Jersey City Museum, 2001.
Catalina Parra. New York: Intar Gallery, 1991.
Herzberg, Julia P. Catalina Parra in Retrospect. Bronx, NY: Lehman College Art Gallery, 1991.
Morgan, Robert C. "Regina Vater, Marie-Judite Dos Santos, Catalina Parra: Three South American Women Artists." High Performance 9, no. 3 (1986): 58–62.
Varas, Paulina, ed. Catalina Parra: El fantasma polítíco del arte. Santiago, Chile: Ediciones Metales Pesados and D21, Galería de Arte, 2011.