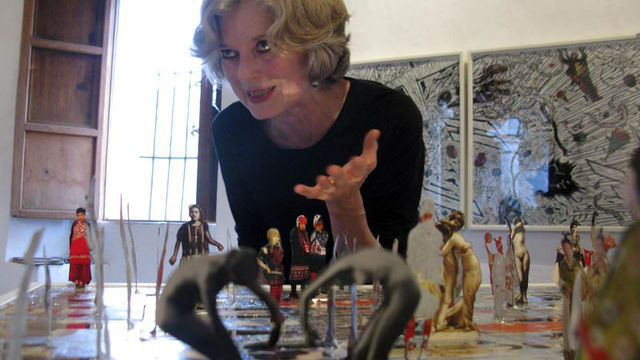 Born in Kansas City in 1950, Carla Rippey developed as a professional artist after she moved to Latin America at age twenty-two. A masterful draftswoman, painter, and printmaker, she often appropriates photographic images from magazines, newspapers, books, and family albums. The images center on the human figure and often incorporate mythological and historical characters to explore themes related to dreams, desire, and memory. Rippey studied at the State University of New York at Old Westbury (BA 1972), and while in college she learned graphic design and offset printing and worked with the New England Press.
In 1971 she moved to Boston to live in a feminist commune and while there produced graphic material for feminist organizations. In 1972 she moved to Chile, where she learned metal engraving and silk screen printing. There, she joined the leftist political group Movimiento de Izquierda Revolucionaria. After the fall of Salvador Allende in 1973, she moved to Mexico and joined the collective printmaking studio El Molino de Santo Domingo. Between 1978 and 1984 Rippey joined another collective, Peyote y la Compañía, for which she collaborated in the creation of performances, installations, and objects. In 1983—with the artists Maris Bustamante (b. 1949), Magali Lara (b. 1956), and Mónica Mayer (b. 1954)—Rippey organized and exhibited her work in Propuestas temáticas at the Museo de Arte Carrillo Gil. This was the first show in a mainstream Mexican institution to deal with issues of eroticism, intimacy, and memory from a feminist perspective.
In addition to her artistic work, Rippey is an accomplished instructor, heading the printmaking department at Veracruz State University in Xalapa from 1980 to 1985. Since 2002 she has taught at the Escuela Nacional de Pintura, Escultura y Grabado "La Esmeralda" in Mexico City, and in 2013 she became the school director. Rippey has received grants from Mexico's Sistema Nacional de Creadores in 1997 and 2008. Her work is in the collections of the Museo de Arte Moderno and Museo Nacional de la Estampa, both in Mexico City; Toledo Art Museum, Ohio; and Irish Museum, Dublin. The artist lives in Mexico City.
—Mariana von Hartenthal
Selected Solo Exhibitions
1985 Filosofía barata y viaje a las pirámides, Museo de Arte Carrillo Gil, Mexico City
1993 El sueño que come al sueño, Museo de Arte Moderno, Mexico City
1994 El uso de la memoria, Museo de Monterrey, Mexico
2000 Jardín de ecos, ecos del jardín, Galería de Arte Mexicano, Mexico City
2016 Carla Rippey: Resguardo y resistencia; Exposición retrospectiva, 1976–2016, Museo de Arte Carrillo Gil, Mexico City
Selected Bibliography
Carla Rippey: Dos décadas de obra gráfica. Mexico City: Instituto Nacional de Bellas Artes, 1992.
Dresser, Denise. Gritos y susurros: Experiencias intempestivas de 38 mujeres. Mexico City: Debolsillo, 2006.
García Murillo, Jorge, and Olivier Debroise. Carla Rippey: El uso de la memoria. Monterrey, Mexico: Museo de Monterrey, 1994.
McCaughan, Edward J. "Navigating the Labyrinth of Silence: Feminist Artists in Mexico." Social Justice 34, no. 1 (2007): 44–62.
Zamora Betancourt, Lorena. El imaginario femenino en el arte: Mónica Mayer, Rowena Morales y Carla Rippey. Mexico City: Centro Nacional de Investigación, Documentación e Información de Artes Plásticas, 2007.