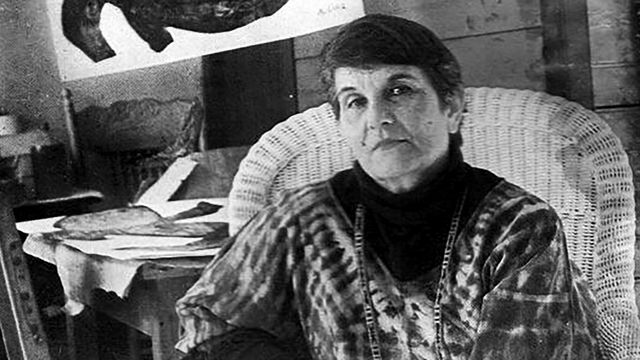 The Cuban painter Antonia Eiriz was born in 1929 in the Havana neighborhood of Juanelo. The youngest of six children, she developed at an early age an aptitude for sewing, knitting, and making crafts. As a child Eiriz suffered from polio and as a result lived with a disability for the rest of her life. In 1953 she enrolled in the Academia Nacional de Arte in San Alejandro, where she studied fine arts. Also in that year she participated in her first exhibition, showing alongside Fayad Jamís (1930–1988), the brothers Antonio (1928–2013) and Manuel Vidal (b. 1929), and Guido Llinás (1923–2005), who would become her mentor and lifelong friend. Her professional ties to these artists, who with others would became known as Los Once (The group of eleven), would continue throughout the 1950s. While not a member of the group, Eiriz did show with them in the exhibition Expresionismo abstracto held at Galería La Habana, Havana, in 1963. The following year Eiriz had three solo shows (two in Cuba and one in Mexico) that would position her as one of the strongest voices in the art landscape of Cuba. In fact, the years between 1959 and 1964 are significant in her career because during this period she defined her signature style. Unequivocally a neofigurative artist, she depicted in her paintings distorted and grotesque humans with mouths wide open, suggesting cries of despair or grimaces that allude to sinister acts. It has been said that her figures, as well as those of some of her contemporaries, "reflect the disintegration of humanist politics in post-World War II Latin America."#
She put her art career on hold in 1968 after the Cuban government called her masterpiece painting Una tribuna para la paz democrática (A platform for democratic peace), which she showed at the national salon, "defeatist," a code word meaning counterrevolutionary. During the early years of the Cuban Revolution, Eiriz contributed to the magazine Lunes, the cultural supplement of the newspaper Revolución. After 1968 she abandoned painting and chose instead to teach papier-mâché to her neighbors in Juanelo. After being hospitalized for two months for depression in 1993, Eiriz moved with her husband to Miami, where she resumed painting. In 1988 the Cuban government recognized her work with several awards, including the Félix Varela Order, and in 1994 she received a John Simon Guggenheim Memorial Foundation Fellowship. The Museo Nacional de Bellas Artes in Havana and NSU Art Museum in Fort Lauderdale have collected her work. In 1995 she died in Miami of a heart attack at the age of sixty-six.
—Marcela Guerrero
Selected Solo Exhibitions
1964 Ensamblajes, Museo Nacional de Bellas Artes, Havana
1964 Pinturas y ensamblajes, Galería La Habana, Havana
1993 Antonia Eiriz se expone: Óleos sobre telas y tintas, Weiss Sori Gallery, Coral Gables, FL
1993 Barrett Art Center, Poughkeepsie, NY
1995 Antonia Eiriz: Tributo a una leyenda; Óleos, pinturas, tintas, grabados, Museum of Art, Fort Lauderdale, FL
Selected Bibliography
Anreus, Alejandro. "The Road to Dystopia: The Paintings of Antonia Eiriz." Art Journal 63 (Autumn 2004): 4–17.
Antonia Eiriz: A Painter and Her Audience. Miami: MDC Museum of Art + Design, 2013.
Blanc, Giulio V. "Antonia Eiriz: Una apreciación." ArtNexus, no. 13 (July–September 1994): 44–46.
Caballero, Rufo. Antonia Eiriz: Primer homenaje póstumo. Havana: Galería La Acacia, 1995.
Martínez, Juan A., and Jorge H. Santis. Antonia Eiriz: Tributo a una leyenda; Óleos, pinturas, tintas, grabados. Fort Lauderdale, FL: Museum of Art, 1995.