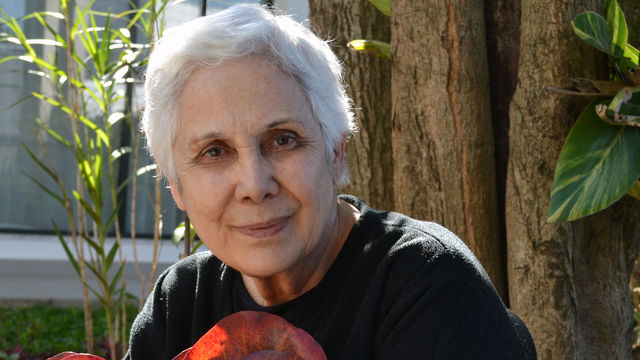 Born in Calabria, Italy, in 1942, Anna Maria Maiolino immigrated to Venezuela in 1954. In 1960 she moved to Rio de Janeiro, where she lived for most of the next forty-five years. She attended the Escuela Nacional Cristóbal Rojas in Caracas and Escola Nacional de Belas Artes in Rio de Janeiro. In the 1960s Maiolino participated in the New Figuration Movement, which emerged in Brazil in reaction to abstraction and to political crisis in the country during the military dictatorship (1964–85). As the artist explains, New Figuration artists had a commitment "to that historic socio-political moment and developed works with an interest in the values and critical issues of specifically Brazilian characteristics."# In 1967 she was part of the seminal Nova Objectividade Brasilera (New Brazilian Objectivity) exhibition at the Museum of Modern Art in Rio de Janeiro. After 1968, during a three-year sojourn in the United States, Maiolino abandoned representation and began creating text-based works on paper. Thanks to the recommendation of the artist and teacher Luis Camnitzer (b. 1937), Maiolino received a scholarship to study printmaking in 1971 at Pratt Institute in Brooklyn, where she began her series Mapas mentais (Mental maps, 1971–76).
In the 1970s Maiolino experimented with various mediums and modes of working, creating Super 8 films, installations, and performances as well as book objects and drawings. The latter, which she considered works "with" rather than "on" paper, often feature rips, tears, superimpositions, and stitches as a means to investigate the space beyond representation. These concerns extended to her critique of Brazil's political situation during the period, as expressed in a photograph from the series Fotopoemação (Photo poem action, 1973–2017), in which Maiolino appears poised to cut out her own tongue. In the mid-1980s Maiolino returned to working primarily in painting and drawing, although she integrated nontraditional materials such as clay and cement into these works, and in 1989 she began creating sculptural wall-mounted reliefs, including the series Novas paisagens (New landscapes). In the 1990s Maiolino created several ephemeral installations of massed, repetitive, tubular forms, often from molded, unfired clay that bore the mark of her own hands, emphasizing gesture and material as the basis of the artistic act. Like her later drawings, which often feature simple lines or grids of dripped paint or brushstrokes, Maiolino's late sculptures and installations explore minimalist seriality and formal simplicity. The intestinal qualities of her sculptural objects also relate to the artist's long-standing interest in ingestion and abjection in the formation of bodily subjectivity.
Maiolino's work has been honored throughout her career. She received the Prêmio Intercontinental, Rio de Janeiro (1974), Prêmio Mário Pedrosa by the Associação Brasileira de Críticos de Arte (1989), and the Prêmio de Pesquisa de Linquagem by the Associação Paulista de Críticos de Arte (1993). She has participated in the Bienal de São Paulo (1967, 1973, 1983, 1994, 2010) and Documenta 13, Kassel, Germany (2012). Her work is included in international public and private collections, including the Museum of Modern Art, New York; Colección Ella Fontanals-Cisneros, Miami; Museu de Arte Contemporânea de São Paulo; Museu Nacional de Belas Artes, Rio de Janeiro; and Museu de Arte Moderna do Rio de Janeiro.
—Leslie Cozzi
Selected Solo Exhibitions
1964 Anna Maria Maiolino, Galeria G, Caracas
1980 Feijão com arroz, Núcleo de Contemporânea, Universidade Federal de Paraíba, Brazil
1993–94 Um, nenhum, cem mil / One, None, One Hundred Thousand, Gabinete de Arte Raquel Arnaud, São Paulo (traveled)
2002 Anna Maria Maiolino: A Life Line / Vida afora, Drawing Center, New York
2010 Anna Maria Maiolino, Fundació Antoni Tàpies, Barcelona
Selected Bibliography
Anna Maria Maiolino. Portfolio Brasil: Artes plásticas. São Paulo: J. J. Carol, 2007.
Chiarelli, Tadeu. Anna Maria Maiolino: Um, nenhum, cem mil. São Paulo: Gabinete de Arte Raquel Arnaud, 1993.
Tatay, Helena, ed. Anna Maria Maiolino. London: Koenig, 2011.
Um, nenhum, cem mil: Anna Maria Maiolino. Rio de Janeiro: Centro Cultural Banco do Brasil, 1994.
Zegher, Catherine de, ed. Anna Maria Maiolino: Vida Afora / A Life Line. New York: Drawing Center, 2002.