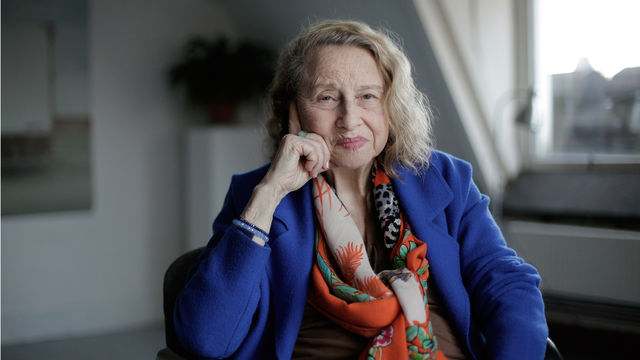 Born in Argentina to Polish immigrant parents in 1933, Anna Bella Geiger lives and works in Rio de Janeiro. From 1950 to 1953 Geiger attended free classes in drawing, painting, and engraving at Instituto Fayga Ostrower, where her work tended toward abstraction. She participated in her first exhibition at the age of seventeen at the Salão Nacional de Belas Artes in Rio de Janeiro. In 1952 she enrolled in Anglo-Germanic language and literature studies at the Universidade Federal do Rio de Janeiro (UFRJ). In 1953 Geiger participated in the first national exhibition of abstract art in Brazil, Exposição nacional de arte abstrata, in Petrópolis. That same year she traveled to New York to study art history and sociology at New York University and the Metropolitan Museum of Art; from 1953 to 1954 she studied with Hanna Levy (1912–1984) at the New School for Social Research. Geiger returned to Rio de Janeiro in 1954, finishing her degree and receiving a license to teach from UFRJ. Although she dedicated herself to teaching, she continued her own art practice and from 1960 to 1965 was a member of the print atelier at the Museu de Arte Moderna do Rio de Janeiro. In 1961 her prints won first prize at the 18th Salão de Arte Moderna de Bahia, a national exhibition of modern art in Brazil. Through the 1960s she continued to receive awards at national exhibitions.
By 1964 Geiger became disenchanted with informal abstraction. Her work began to reflect the body's organic forms in a style the art critic Mário Pedrosa referred to as Geiger's "visceral phase." By the late 1960s she felt the need to respond to the sociopolitical climate of her country. She participated in a boycott of the 10th Bienal de São Paulo (1969) and employed collage and assemblage to explore Brazilian identity and notions of the periphery. Cartography and topography soon became important motifs in her work, influenced by her husband, Pedro Geiger, a geographer, and her interest in the division and reallocation of indigenous land. At this time her education in linguistics became central to her visual art. In the 1970s she explored conceptualism and video art. The 1980s saw her renewed interest in painting, while in the 1990s she returned to multimedia sculpture of cartographic forms. In 1987, with the artist, critic, and professor Fernando Cocchiarale (b. 1951), she coauthored Geometric and Informal Abstractionism: The Brazilian Avant-garde in the Fifties, which became a key text for the study of contemporary art in Brazil. Geiger participated in international biennials held in São Paulo (1961, 1963, 1965, 1967, 1981, 1985, 1989, 1998), Venice (1980), Havana (1997), and Porto Alegre, Brazil (1997). She received a John Simon Guggenheim Memorial Foundation Fellowship (1982) and won several awards, including the Bolsa da Fundação Vitae, Prêmio SESC Rio de Fomento à Cultura (2010), and Prêmio Ibram de Arte Contemporânea (2011). Her work is held in important collections, including the Victoria and Albert Museum, London; Centre Pompidou, Paris; Museo Nacional Centro de Arte Reina Sofía, Madrid; Museum of Modern Art, New York; and J. Paul Getty Museum, Los Angeles.
—Courtney Smith
Selected Solo Exhibitions
1995 O mundo talvez—Olam ulay, Galería Joel Edelstein Arte Contemporânea, Rio de Janeiro
1996–97 Anna Bella Geiger: Constelações, Museu de Arte Moderna do Rio de Janeiro (traveled)
2005 On a Certain Piece of Land, Red Gate Gallery, Beijing
2005 Works in Archipelago, Paço Imperial, Rio de Janeiro
2009 Anna Bella Geiger: Videos, 1974–2009, Oi Futuro, Rio de Janeiro
Selected Bibliography
Cocchiarale, Fernando. Anna Bella Geiger: Constelações. Rio de Janeiro: Museu de Arte Moderna, 1996.
Jaremtchuk, Dária. Anna Bella Geiger: Passagens conceituais. Belo Horizonte, Brazil: C/Arte, 2007.
Navas, Adolfo, ed. Anna Bella Geiger: Fotografia além da fotografia, 1972–2008. Brasilia: Caixa Cultural Brasília, 2010.
———, ed. Anna Bella Geiger: Territorios, passagens, situações. Rio de Janeiro: Casa da Palavra, 2007.
Poppel, Sarah. "All Creative Being: Interview with Anna Bella Geiger." Artl@s Bulletin 3, no. 2 (2015): article 7.