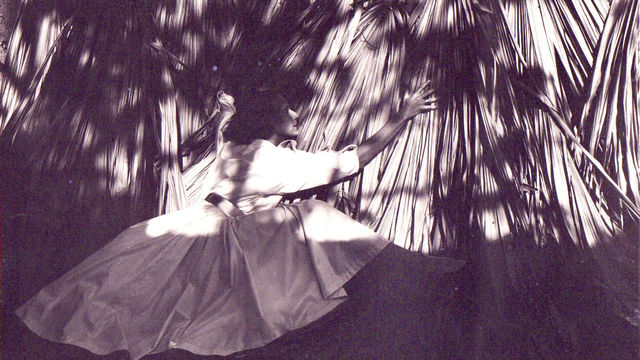 The daughter of the painter Mary Brandt (1917–1985) and grandchild of Círculo de Bellas Artes painter Federico Brandt (1878–1932), Ani (Ana Isabel) Villanueva was born in 1954 in Caracas, and from an early age she took classes in art, dance, drama, and music. During the 1970s she studied psychology at the Universidad Católica Andrés Bello, Caracas (1972–73); political science at the University of Essex, England (1974–76); and Taoism at the École Pratique des Hautes Études, Paris (1977). Between 1981 and 1982 she danced with the group Macrodanza in Paris.
Villanueva is a multidisciplinary visual and performance artist who began her artistic practice in the early 1980s. One of her first public works was Cuadro móvil (Moving picture, 1982), a performance in dialogue with paintings by her mother. Throughout the 1980s Villanueva focused on performance, often in collaboration with others. Her work has been characterized by a form of gestural movement, dance, and theatricality. In 1985 she won, together with Diego Barboza (as director), the prize for nonobjectual art at the Salón Arturo Michelena in Valencia, Venezuela, for the action De la escuela de Atenas a la nueva escuela de Caracas (From the school of Athens to the new school of Caracas).
Among her collaborations are Iguana (1986), together with Carlos Villanueva (b. 1957) and the British artists Tom Dixon (b. 1959) and Chantal Coady (b. 1959); Sueño de Eneas (Dream of Aeneas, 1988), directed by Sammy Cucher; and in 1992 the reenactment of Passagem (Passage, 1979), a work by the Brazilian artist Celeida Tostes (1929–1995), for the first Bienal Barro de América at the Museo de Arte Contemporáneo Sofía Imber, Caracas. Among her international performances are Boa (1986) at Astoria Theatre in London; Demonomanía (1987) at the Festival Internacional de Teatro, Patio Herreriano, in Valladolid, Spain; and Sor Juana Inés de la Cruz (2002) at the Miami Art Museum.
In the 1990s Villanueva turned to paint to explore plant and animal motifs related to the coastal area of Choroní, Venezuela. In 2001 she began producing installations focusing on textures and forms related to coral and marine life. Starting in 2002, Villanueva made multidisciplinary works that bring together performance, painting, assemblage, and installation. In 2005 the artist won first prize at the 8th Bienal Nacional de Escultura Francisco Narvaez in Margarita, Venezuela. Her most recent work is abstract.
—Cecilia Fajardo-Hill
Selected Exhibitions and Performances
1982 Cuadro móvil (performance), Sala Mendoza, Caracas
1986 Boa (performance), Astoria Theatre, London
2002 Sor Juana Inés de la Cruz (performance), Miami Art Museum
2004 Casos de cosas, Alternativa Elvira Neri Galería de Arte, Caracas
2015 Memorias, Ateneo de Caracas
Selected Bibliography
Guanipa, Moraima. "El acuario personal de Ani Villanueva." El Universal (Caracas), October 21, 1994.
Guédez, Víctor. "La nueva dimensión de los utensilios." Papel Literario de El Nacional (Caracas), October 9, 2004, 2.
Márquez, Felipe. "El color aparente." In Alamar: Ani Villanueva Brandt, pinturas, unpaged. Caracas: Galería K, 1994.
Nader, Artemis. "Ani Villanueva: Una artemisa en una ciudad desechable." Kalathos: Revista Cultural, 2003. http://www.kalathos.com/actual/detail_avillanueva.php.
Nahas, Dominique. Small Works. New York: Artsforum Gallery, 1999.