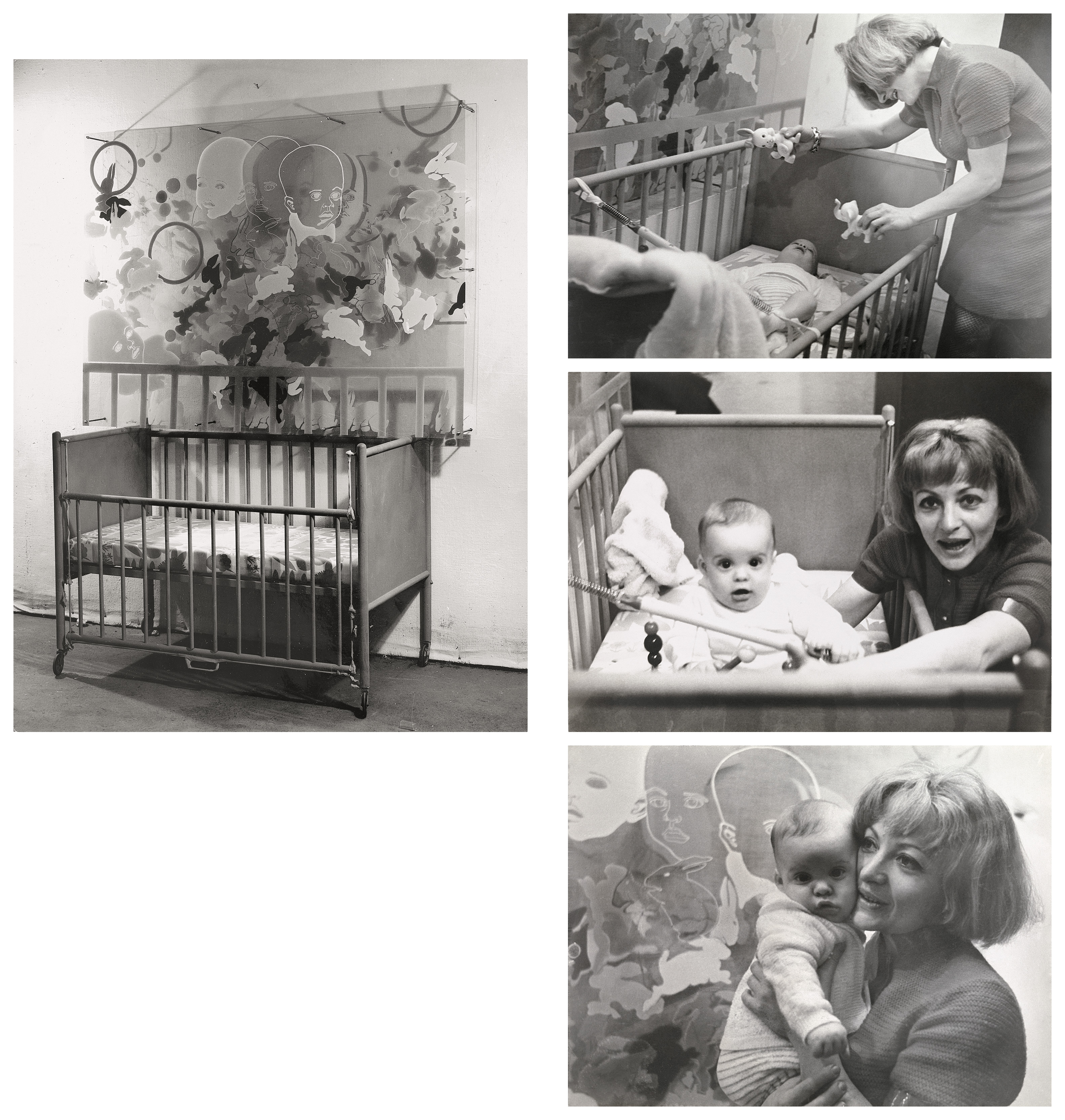 Lea Lublin
Mon fils (My son),
1968
Medium: Nine vintage gelatin silver prints
Dimensions: Eight sheets: 7 1/16 × 9 7/16 in. (18 × 24 cm); one sheet: 9 7/16 × 7 1/16 in. (24 × 18 cm)
Credit Line: The Museum of Modern Art, New York; Acquired through the generosity of The Modern Women's Fund, the Latin American and Caribbean Fund, Estrellita Brodsky, and Mauro Herlitzka

Lea Lublin's art, which emerged in the context of the experimental Instituto Torcuato Di Tella in Buenos Aires, is tied to performance in both public and private or intimate spaces. Mon fils, one of the artist's first performances, took place at the Musée d'Art Moderne de la Ville de Paris during the Salon de Mai. In it, the artist cared for her seven-month-old son, Nicolas, in the museum space, thus turning motherhood and daily life into a conceptual and political proposal that questioned the art institution. The work was born of an intimate occurrence: "In May 1968, when everyone was in the street demanding a new freedom, I decided to produce a work that confronted reality and its representation by exhibiting an event which had irreversibly changed my life: the birth of my son. Was it the birth itself that made me focus on experience? Or was it a newfound awareness of myself as a woman? Or was it the events in France in May 1968 and their demand that life change? Experience is the convergence of diverse elements, of the individual and the social context, of history and History." Lublin's later works were decidedly oriented to research on women's place in the social and artistic spheres.
La obra de Lea Lublin, que emerge del contexto experimental del Instituto Torcuato Di Tella en Buenos Aires, se vincula a la performance en el espacio público y también en el íntimo y privado. Mon Fils fue una de las primeras performances de la artista y se llevó a cabo en el Musée d'Art Moderne de la Ville de Paris, durante la realización del Salón de Mayo. Para la performance, la artista cuidó en público de su hijo de siete meses, Nicolás, haciendo de la maternidad y de la vida cotidiana, una propuesta conceptual y política desde la que cuestionaba a la institución artística. La obra surge de un acontecimiento íntimo: "En mayo del 68, cuando todo el mundo estaba en la calle reclamando una nueva libertad, decidí realizar una obra que confrontaba a la realidad y su representación exhibiendo el evento que había cambiado mi vida, el nacimiento de mi hijo. ¿Fue el nacimiento lo que me hizo focalizar en la experiencia? ¿Fue la nueva consciencia de ser mujer? ¿O fue el Mayo Francés, en 1968, y su exigencia de cambiar la vida? La experiencia es el encuentro de elementos diversos, de lo individual con el contexto social, de la historia con la Historia." Sus trabajos posteriores se orientan decididamente hacia la investigación de los lugares de la mujer tanto en el espacio social como en el artístico.