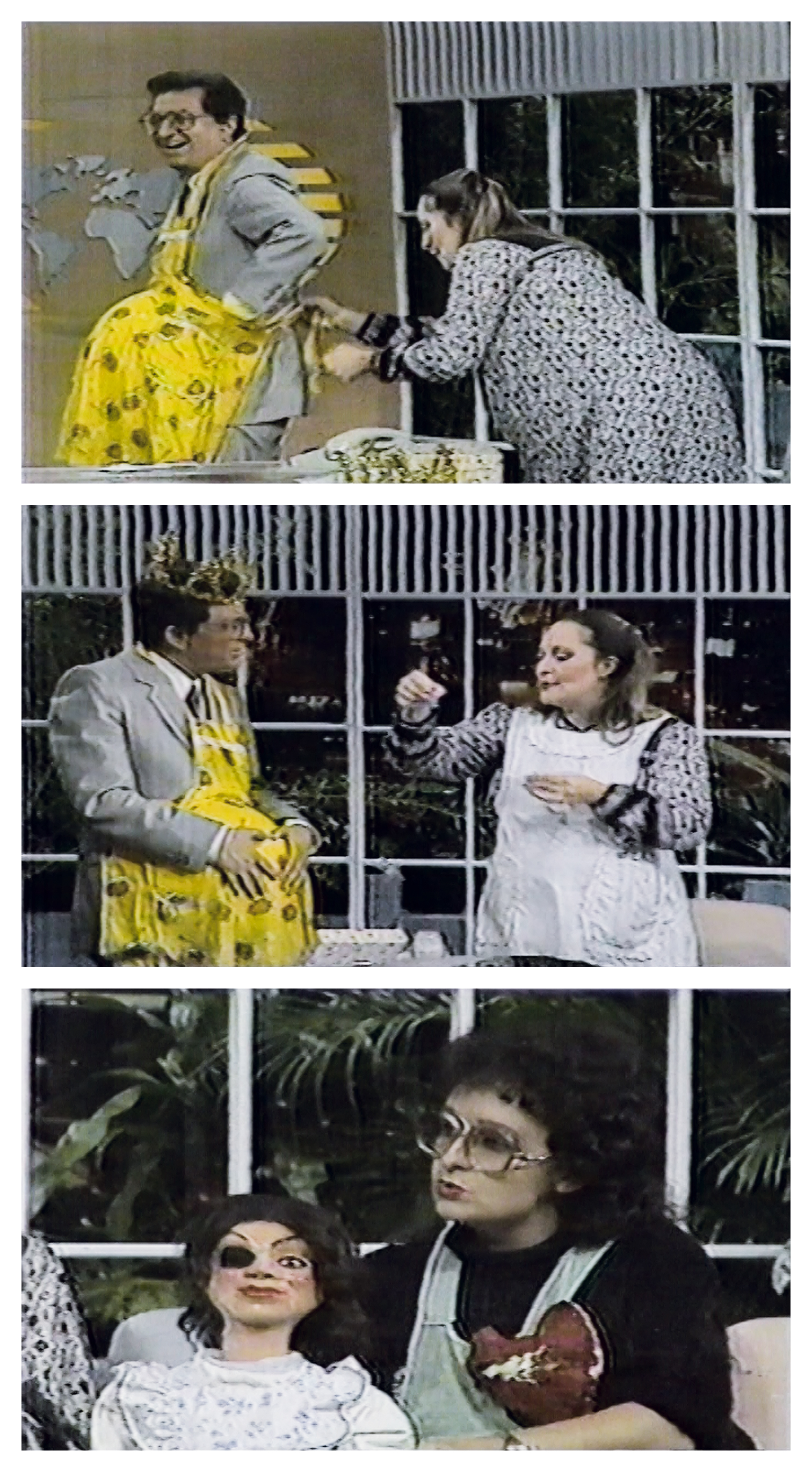 Polvo de Gallina Negra
Madre por un día (Mother for a day),
1987
Medium: Video, color, sound
Dimensions: 17:27 min.
Credit Line: Collection of Mónica Mayer and Víctor Lerma

Polvo de Gallina Negra, founded by the artists Mónica Mayer and Maris Bustamante, was the first feminist art collective in Mexico. (The group's name comes from a powder sold in traditional markets in Mexico that is believed to offer protection from the evil eye.) ¡MADRES!, Polvo de Gallina Negra's most ambitious long-term project, was conceived as a way to integrate the art and lives of its participants at a time when both Mayer and Bustamante were raising small children. It included various elements, among them performances, actions, and mail art. ¡MADRES! also involved a series of performances for television, including one in 1987 during the program Nuestro mundo, in which they invited the host, Guillermo Ochoa, to put on a Styrofoam belly and named him "mother for a day," crowning him as queen of the home. In this performance they transgressed the biological stereotypes associated with motherhood, humorously turning it into a possibility for anybody.
Polvo de Gallina Negra fue el primer grupo de arte feminista en México, fundado por las artistas Mónica Mayer y Maris Bustamante. (El nombre del grupo recuerda un polvo que se vendía en mercados populares en México como receta contra el mal de ojo.) ¡MADRES! es el proyecto a largo plazo más ambicioso de Polvo de Gallina Negra, concebido como una manera de integrar el arte y la vida de sus participantes en un momento en el que ambas, Mayer y Bustamante, criaban a sus hijos pequeños. En él incluían varios elementos, tales como performances, acciones y arte de correo. ¡MADRES! también incluía una serie de performances para televisión, incluyendo una en 1987 durante la transmisión del programa Nuestro mundo, conducido por Guillermo Ochoa, en el cual ellas le invitaban a colocarse un vientre de espuma de polietileno y lo nombraban "Madre por un día", coronándolo como la reina del hogar. Con esta performance, ellas transgreden el estereotipo biológico acerca de la maternidad convirtiéndolo, con humor, en una posibilidad para cualquier persona.