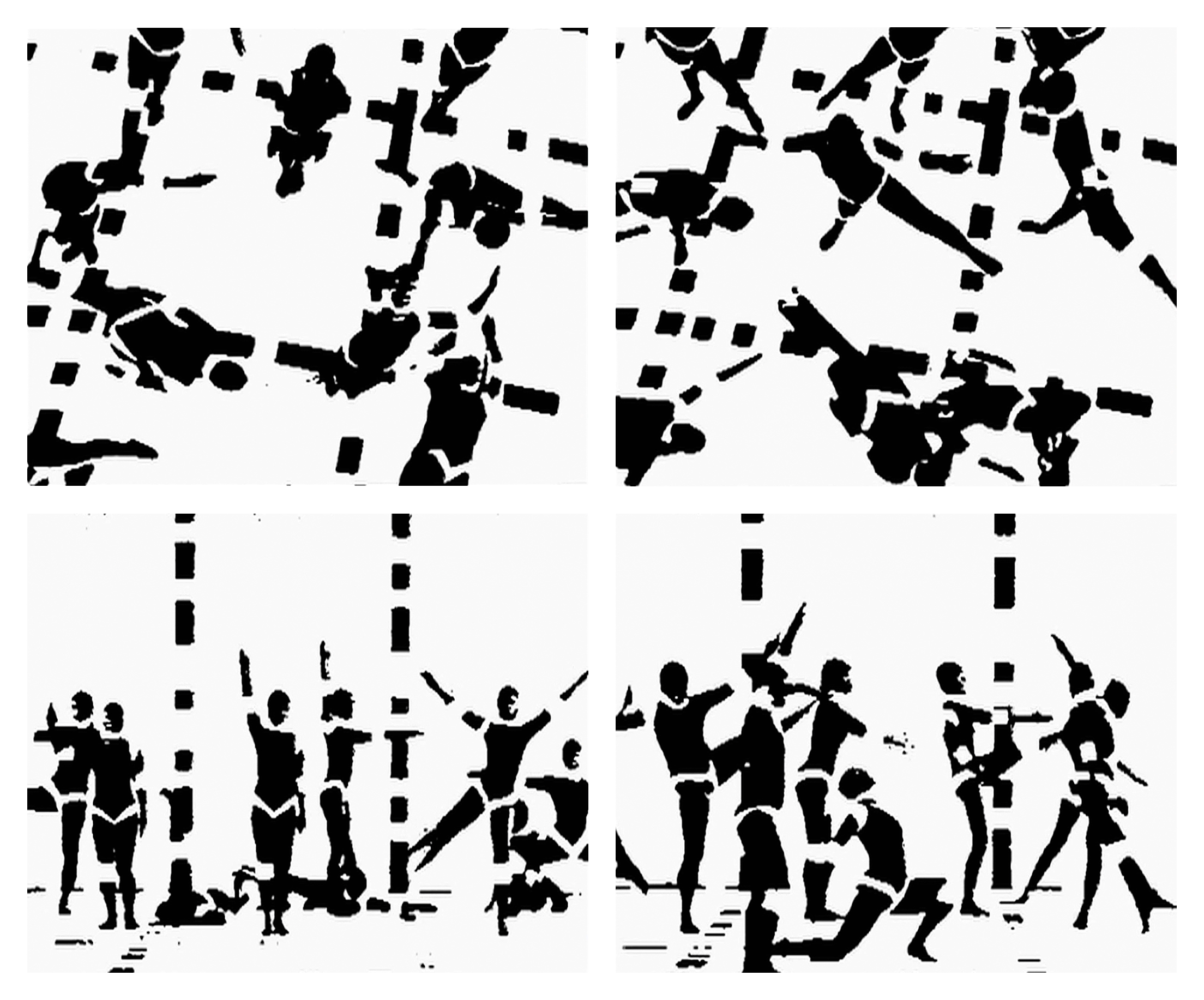 Analívia Cordeiro
M 3x3,
1973
Medium: Video, black and white, sound
Dimensions: 9:50 min.
Credit Line: Private collection

The dancer, choreographer, and video artist Analívia Cordeiro is a pioneer of computer dance. She created a videographic method in which the movements of the dancer and those of the camera are synced. Cordeiro is the daughter of the artist Waldemar Cordeiro, a major figure in the Brazilian movement known as concretism, whose influence makes itself felt in works in which the abstract geometric compositional elements characteristic of concrete art are applied to organic images. In videos such as M 3x3, the body's movements are seen as abstract formal elements that explore the space during a fluid continuum of time. The dancers move mechanically in a high-contrast black-and-white matrix measuring three meters square. While their action voiced a critique of Brazil's repressive military dictatorship (1964–85), the artist now considers the work a commentary on today's technologized society as well. M 3x3 brings together Cordeiro's knowledge of mathematics and dance and made use of her experimental computer-dance method, which—well ahead of its time—envisioned harmony between dance and technology. M 3x3 is considered the first work of video art produced in Brazil.
Analívia Cordeiro es bailarina, coreógrafa y vídeoartista. Fue pionera de la danza-computarizada (computer dance) al crear un método de videografía en el cual la bailarina y la cámara se mueven de manera sincronizada. Cordeiro es la hija del artista seminal del movimiento Concreto Brasilero Waldemar Cordeiro, cuya influencia se nota en obras en las cuales los elementos composicionales de la geometría abstracta que caracterizan al arte concreto se aplican a imágenes orgánicas. En sus vídeos, tales como M 3x3, se observan los movimientos del cuerpo como elementos formales abstractos que exploran el espacio durante un continuum fluido de tiempo. Los bailarines se mueven de manera mecánica en una matriz de tres metros cuadrados de alto contraste en blanco y negro. Si bien la acción expresaba una crítica a la sociedad represiva que se vivía durante la dictadura militar en Brasil (1964-85), la artista ahora considera que la obra también es un comentario sobre la sociedad tecnologizada. M 3x3 combina sus conocimientos en materia de matemática y danza y aprovecha su propio método experimental de danza computarizada que  adelantándose a su tiempo, planteó la harmonía entre la danza y la tecnología. M 3x3 se considera la primera obra de vídeoarte producida en Brasil.