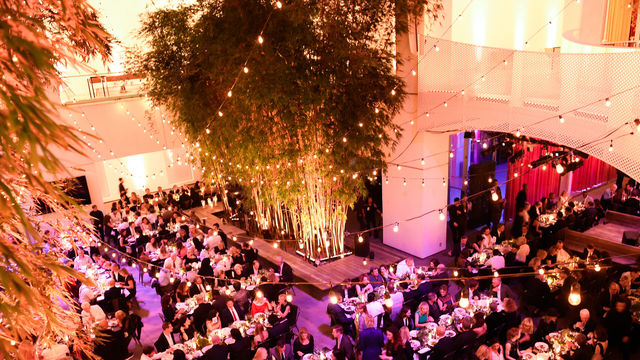 Gala in the Garden
The 18th annual Gala in the Garden was held on October 8, 2022.
The gala honored artist and educator Charles Gaines and ACLU attorney and transgender rights activist Chase Strangio.
Artist Mark Bradford and actress Laverne Cox paid tribute to the honorees. Guests were also treated to a special performance by Gabriels and an art installation by Refik Anadol, as well as previews of the exhibitions Joan Didion: What She Means, Bob Thompson: This House is Mine, and Picasso Cut Papers.
About the Honorees
Charles Gaines is an internationally acclaimed artist and a beloved figure in the Los Angeles art community. An influential educator, Gaines has taught at CalArts for more than thirty years. His students include Mark Bradford, who will deliver his tribute speech. The award-winning artist is celebrated for his photo-based works on paper, musical compositions, and installations that explore the interplay between objectivity and representation. A survey exhibition of his groundbreaking early work was organized by the Studio Museum and presented at the Hammer in 2015. Gaines is represented by Hauser & Wirth.
Chase Strangio is one of the most active and visible leaders in transgender rights litigation and advocacy. The Deputy Director for Transgender Justice with the ACLU's LGBTQ & HIV Project, Strangio has been counsel in some of the most pivotal legal fights on behalf of transgender litigants and was also counsel in the Supreme Court decision that struck down bans on same-sex marriages. Strangio has produced multiple short films including an Emmy Award-winning short. In 2020, TIME named Strangio one of the 100 most influential people of the year.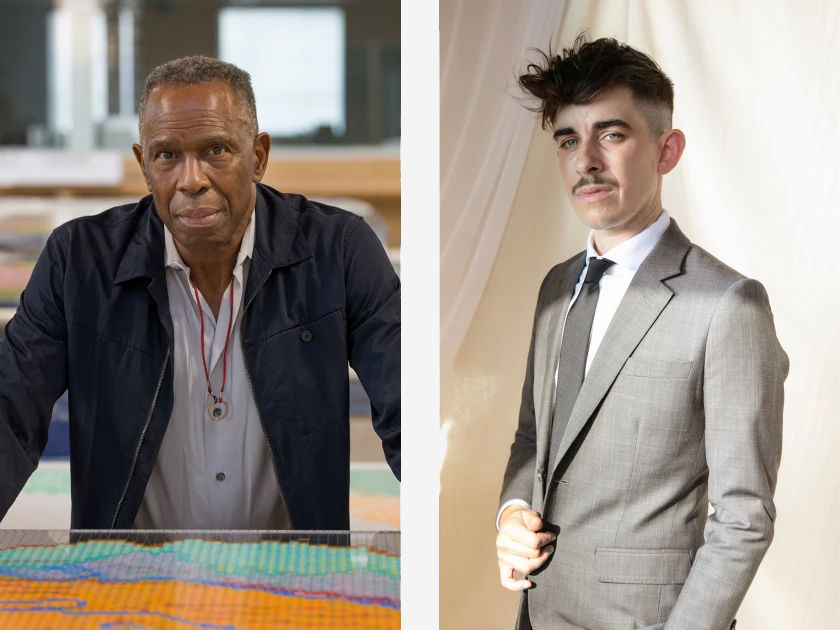 2022 Gala honorees Charles Gaines (left) and Chase Strangio (right)
About Gala in the Garden
An annual highlight of the Los Angeles cultural calendar, the Hammer Museum's Gala in the Garden celebrates artists and icons who have made profound contributions to society through their work.
Past honorees include Hilton Als, Laurie Anderson, Margaret Atwood, John Baldessari, Mark Bradford, Judy Chicago, Joan Didion, Ava DuVernay, Dave Eggers, Frank Gehry, Robert Gober, Matt Groening, Todd Haynes, Diane Keaton, Mike Kelley, Barbara Kruger, Tony Kushner, Glenn Ligon, Paul McCarthy, Joni Mitchell, Catherine Opie, Jordan Peele, Lari Pittman, Miuccia Prada, Charles Ray, Ed Ruscha, Cindy Sherman, Kara Walker, Alice Waters, and others.
2022 Gala in the Garden Benefit Committee
Champion Tables
Marcy Carsey
The Herzer Foundation
Hope Warschaw
Benefactor Tables
City National Bank
Misty & Michael Hammer & The Armand Hammer Foundation
Hauser & Wirth
Marguerite Steed Hoffman
David Kordansky Gallery
Maurice Marciano
Susan Bay Nimoy
Chara Schreyer & Gordon Freund
Jamie & Robert Soros
May & Samuel Rudin Family Foundation, Inc.
Gordon Veneklasen
Patron Tables
The Broad Art Foundation
Blum & Poe
Creative Artists Agency
Laura Donnelley - Good Works Foundation
Karma
Roy Dowell & Lari Pittman
Viveca Paulin-Ferrell & Will Ferrell
Anthony And Jeanne Pritzker Family Foundation
Kathleen & Chip Rosenbloom
Akio Tagawa
David Zwirner
Champions
Lisette Ackerberg
Christine Meleo Bernstein & Armyan Bernstein
Chancellor & Mrs. Gene Block
Carla Emil & Rich Silverstein
Curt Shepard & Alan Hergott
Beth & Kenneth Karmin
Leslie & Bill Mcmorrow
Maria Hummer-Tuttle & Robert Holmes Tuttle
Pamela West
Orna & Keenan Wolens Family Foundation
Benefactors
Peter Benedek & Linda Ong
Christie's
Robin Cottle & Ron Radziner
Bill Damaschke & John McIlwee
Jeffrey Deitch
Field Family Foundation
Gagosian
Karen Hillenburg & Sebastian Clough
Linda Janger
Alice & Nahum Lainer
Leo Marmol
Susan & Larry Marx
Cindy Miscikowski
Montalba Architects, Inc.
Hannah Montgomery & Aaron Bay-Schuck
Dori Peterman Mostov & Charles Mostov
Patrick & Jaleh Peyton
Charlie Pohlad
The Rosemary Kraemer Raitt Foundation
Alisa & Kevin Ratner
Michael Rubel & Kristin Rey
Mary Ann Weisberg & Bryce Perry
Ann Soh Woods
Patrons & Artists
Hilton Als
Kathryn Andrews
John Auerbach & Ed Tang
Mark Bradford & Allan DiCastro
Tanya Bonakdar Gallery
Andrea Bowers
Kate Capshaw & Steven Spielberg
Njideka Akunyili Crosby & Justin Crosby
rafa esparza
Melina & Eric Esrailian
Andrea Fraser
Liz Glynn
Bertha González Nieves / Casa Dragones
Lisa Goodman
Nick Grouf & Shana Eddy-Grouf
Lauren Halsey & Monique McWilliams
Asher Hartman
Glenn Kaino & Corey Lynn Calter
Brooke & Adam Kanter
Barbara Kruger
Shio Kusaka & Jonas Wood
Roxana Landaverde & Charles Gaines
Jane Lynch & Jennifer Cheyne
Tala Madani & Nathaniel Mellors
Monica Majoli
Linda May & Jack Suzar
Michael Maltzan Architecture, Inc.
Kim & Michael McCarty
Sarah & Joel McHale
Rodney McMillian
Marla & Jeffrey Michaels
Nicole Miller
John Morace & Tom Kennedy
Mary Osako & Joe Kuo
Laura Owens
taisha paggett
Phillips
Gala Porras-Kim
Dave Regan & Edgar Cervantes
Hon Vicki Reynolds & Murray Pepper
Sascha Robinett & Edgar Arceneaux
Natasha Sandmeier & Brett Steele
Max Hooper Schneider
Gary Simmons
Paul Mpagi Sepuya
Jessica Silverman & Sarah Thornton
Graham Steele & Ulysses De Santi
Susan Steinhauser
Jiwon & Steven Song
Kerry Tribe
Ben Weyerhaeuser
Bobbi & Walt Zifkin