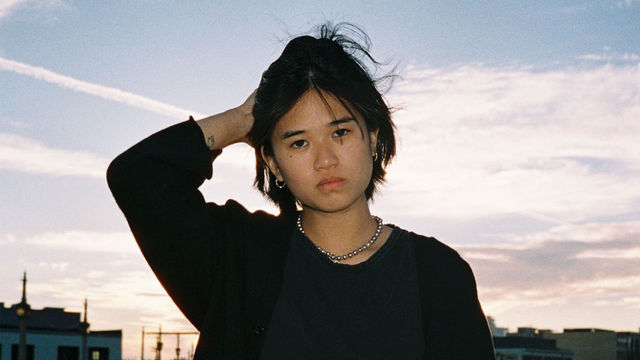 Hana Vu with KCRW DJs Dan Wilcox & Valida
THU JUL 28, 6:30 PM
Each Thursday in July, see free live concerts in the Hammer's courtyard! Plus KCRW DJs, happy hour, and extended gallery hours.
All Hammer members enjoy priority entry through a dedicated members line and access to an exclusive members lounge with snacks, seating, a dedicated bar, and free drinks.
Become a member today
.
Hana Vu
July 28 with KCRW DJs Dan Wilcox & Valida
Hana Vu writes pop songs from her bedroom in Los Angeles. In 2021, she signed to Ghostly International and released her full-length debut, Public Storage, followed by the EP Parking Lot in 2022. Vu's relationship with music began when she picked up a her dad's guitar and taught herself to play. She'd wake up every day and listen to L.A.'s ALT 98.7, home to 1990s and 2000s alternative rock. Later in high school, she found the local DIY scene. She remembers, "A lot of my peer musicians were surf rock/punk type bands and so I tried to fit into that when I was gigging around. But what I was listening to at that time [St. Vincent, Sufjan Stevens] was very different from what I performed." As a live performer, Vu has supported the likes of Soccer Mommy, Sales, Nilufer Yanya, Wet, Kilo Kish, and Phantogram.
In 2014, at age 14, she started keeping a journal of bedroom pop experiments on Bandcamp. Her sound—brooding, melodic pop driven by guitar and Vu's distinctive contralto—developed across a series of self-releases, including a low-key Willow Smith collaboration and covers of The Cure and Phil Collins. Her 2018 single "Crying on the Subway" caught the ear of Gorilla vs. Bear, who released Vu's self-produced debut EP, How Many Times Have You Driven By. Early coverage came from Pitchfork, NME, and The Fader, the latter playfully declaring, "the seventeen-year-old is cooler than you and me." Public Storage marked her first release with Ghostly and her first time working with a co-producer, Jackson Phillips (Day Wave).
ATTENDING THIS PROGRAM?
Read the Hammer's full COVID-19 safety guidelines.
Ticketing: This free program is not ticketed. RSVP does not guarantee entry.
Entrance: During construction, visitors should the museum's Lindbrook Drive entrance.
Parking: Parking is available at 11020 Kinross Ave (UCLA Parking Lot 36) with a flat rate of $5 payable by credit card/cash at the Pay Station or pay by cell phone through the Park Mobile App. Enter Lot 36 from Kinross Avenue between Gayley and Veteran Avenues. The Hammer Museum is located one block east. We encourage visitors to consider biking, public transportation, or ride-sharing. Limited self-parking is available under the museum at $7 flat rate after 6 p.m. on weekdays.
Large purses, bags, and backpacks are not permitted. Read our food, bag check, and photo policies.