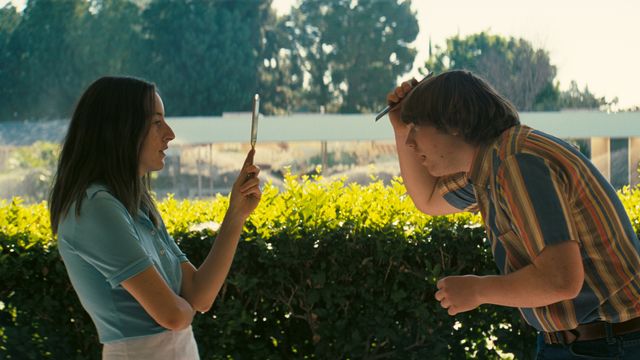 This program has been canceled.
Paul Thomas Anderson returns to his unlikely muse, the San Fernando Valley, for his loosest and softest film to date. Gary Valentine (Cooper Hoffman), a 15-year-old schemer and over-the-hill child actor, meets 25-year-old Alana Kane (musician Alana Haim), who is listless and full of disorganized rage. The age gap means a romantic relationship is out of the question, but Gary is infatuated and a platonic mutual fixation blooms. The two spar like an old married couple, or siblings, while Gary's used-car-salesman-in-Tinseltown spirit propels them to open a waterbed company; they come together and drift apart over and over, while a cast of oddball characters swirls around them. Hoffman and Haim, both in their film debuts, have an uncommon, comforting ease that steadies the rollicking story. This nostalgic 1970s rendering of Los Angeles and the Valley, on the fringes of Hollywood glamour and fame, is as much about the possibilities of youth as the possibilities of cinema itself. (Courtesy of United Artists Releasing)
(2021, dir. Paul Thomas Anderson, color, 133 min.)
This film program is organized by Rajendra Roy, The Celeste Bartos Chief Curator of Film, and Sean Egan, Producer, Film Exhibitions and Special Projects, The Museum of Modern Art, New York.
The Hammer Museum's presentation is made possible by The Billy and Audrey L. Wilder Foundation.