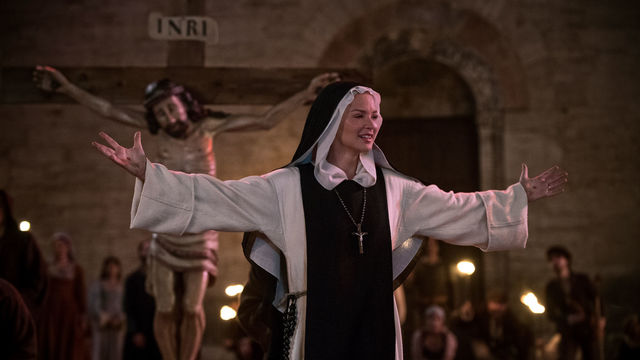 This program has been canceled.
Now 83, Paul Verhoeven, the boundary-pushing director of Basic Instinct (1992) and Showgirls (1995), remains untamed by age, delivering a raucous hyperdrama of lust, scandal, and profanity set almost entirely in an otherwise drab, monotonous convent. Based on the story of a 17th-century nun in Tucscany, whose visions propelled her to institutional power, the film follows its namesake's upward trajectory as she keeps a feverish lesbian affair under wraps. Dramatic excess and over-the-top mischief combine to make this work at once outrageous, provocative, amusing, and transgressive. (Courtesy of IFC Films)
(2021, dir. Paul Verhoeven, color, 137 min.)
This film program is organized by Rajendra Roy, The Celeste Bartos Chief Curator of Film, and Sean Egan, Producer, Film Exhibitions and Special Projects, The Museum of Modern Art, New York.
The Hammer Museum's presentation is made possible by The Billy and Audrey L. Wilder Foundation.