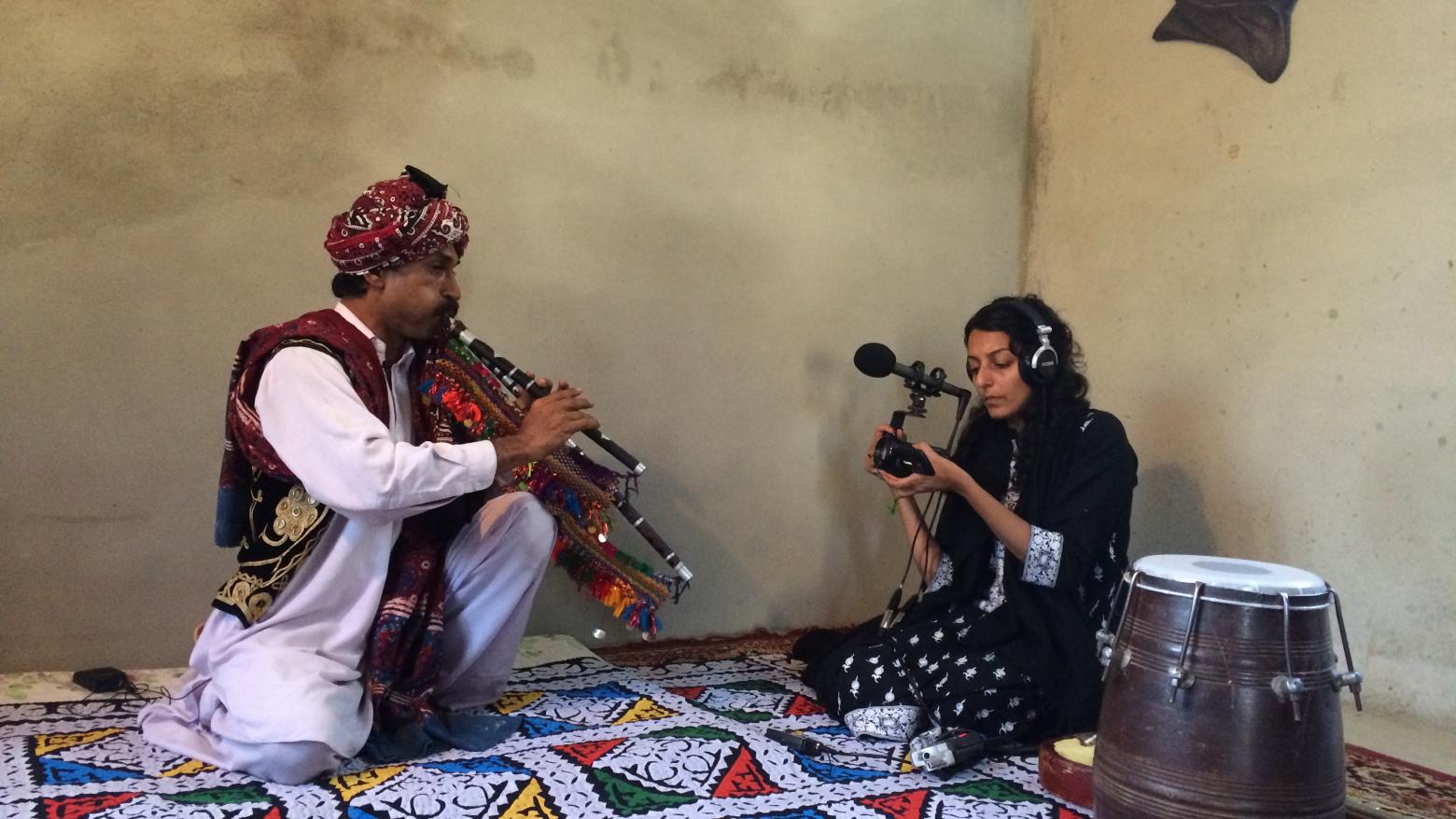 Omniaudience: Side Three, Track Two
Tuesday
Jun 25, 2019
7:30 PM to 9 PM
This is a past program
This program is organized as part of Triple Canopy's Public Engagement residency at the Hammer Museum, which revolves around gatherings comprised of listening sessions, conversations, and performances at the Hammer and partner institutions.
Alice Wang presents If We Had Radio Antennas for Ears, a listening session that employs sounds captured from outer space to construct a sense of being that has as much to do with cosmic gas and dust particles as with humanity. The work involves a soundscape created from NASA's archive of recordings of pulsars, quasars, satellites, the moon, the sun, and other celestial bodies. Listening to phenomena that previously existed only as abstractions or vague impressions, Wang asks how we perceive and understand our relationship to distant and seemingly unfathomable forces—even as we come to realize how we act on them and they act on us.
Arshia Haq conducts a listening session that explores Sufi devotional music and the concept of sama': a spiritual atmosphere established through the relationship between performer and audience, a state of ecstasy or absorption that can transform consciousness. Haq will play recordings that she and others have made of such performances; read passages from Hazrat Inayat Khan's The Mysticism of Sound and Music (1923); and speak about her own experiences of listening at shrines and in clubs—as well as the complexities of documenting those untranslatable experiences. Haq will propose that sama' be understood metaphorically as a liminal sonic space that encourages transcendence and that might manifest in (or between) formalized rituals and more inclusive, fluid spaces.
Participant Bios
Arshia Fatima Haq was born in Hyderabad, India, and is based in Los Angeles. She works in film, visual art, performance, and sound. Haq is currently exploring themes of embodiment and mysticism, particularly within the context of Sufism. She is the founder of Discostan, a collaborative decolonial project working with cultural production from South and West Asia and North Africa. Haq's work has been presented at Museum of Contemporary Art Tucson, the Station Museum of Contemporary Art (Houston), The Broad (Los Angeles), the Toronto International Film Festival, The Museum of Modern Art (New York), the Hammer Museum (Los Angeles), LAXART (Los Angeles), Centre Georges Pompidou (Paris), and the Pacific Film Archive. She hosts and produces monthly radio shows on Dublab and NTS, and recently released an album of field recordings from Pakistan on the label Sublime Frequencies. She is the recipient of the California Community Foundation Visual Artist Fellowship and the Rema Hort Mann Emerging Artist Grant.
Alice Wang is an artist who makes sculptures and experimental films and lives in Los Angeles and Shanghai. Her work explores the uncanny dimensions of the natural world. She recently presented work at Capsule Shanghai, Visitor Welcome Center (Los Angeles), K11 Art Foundation (Hong Kong), FLAX Foundation (Los Angeles), Taikang Space (Beijing), Los Angeles Contemporary Exhibitions, and the Moscow Museum of Modern Art. Wang is an assistant professor of arts at New York University Shanghai and co-organizes the Magic Hour.
All Hammer public programs are free and made possible by a major gift from an anonymous donor.
Generous support is also provided by Susan Bay Nimoy and Leonard Nimoy, Good Works Foundation and Laura Donnelley, The Samuel Goldwyn Foundation, an anonymous donor, and all Hammer members.
Public programs advancing social justice are presented by the Ford Foundation.
Digital presentation of Hammer public programs is made possible by the Billy and Audrey L. Wilder Foundation.