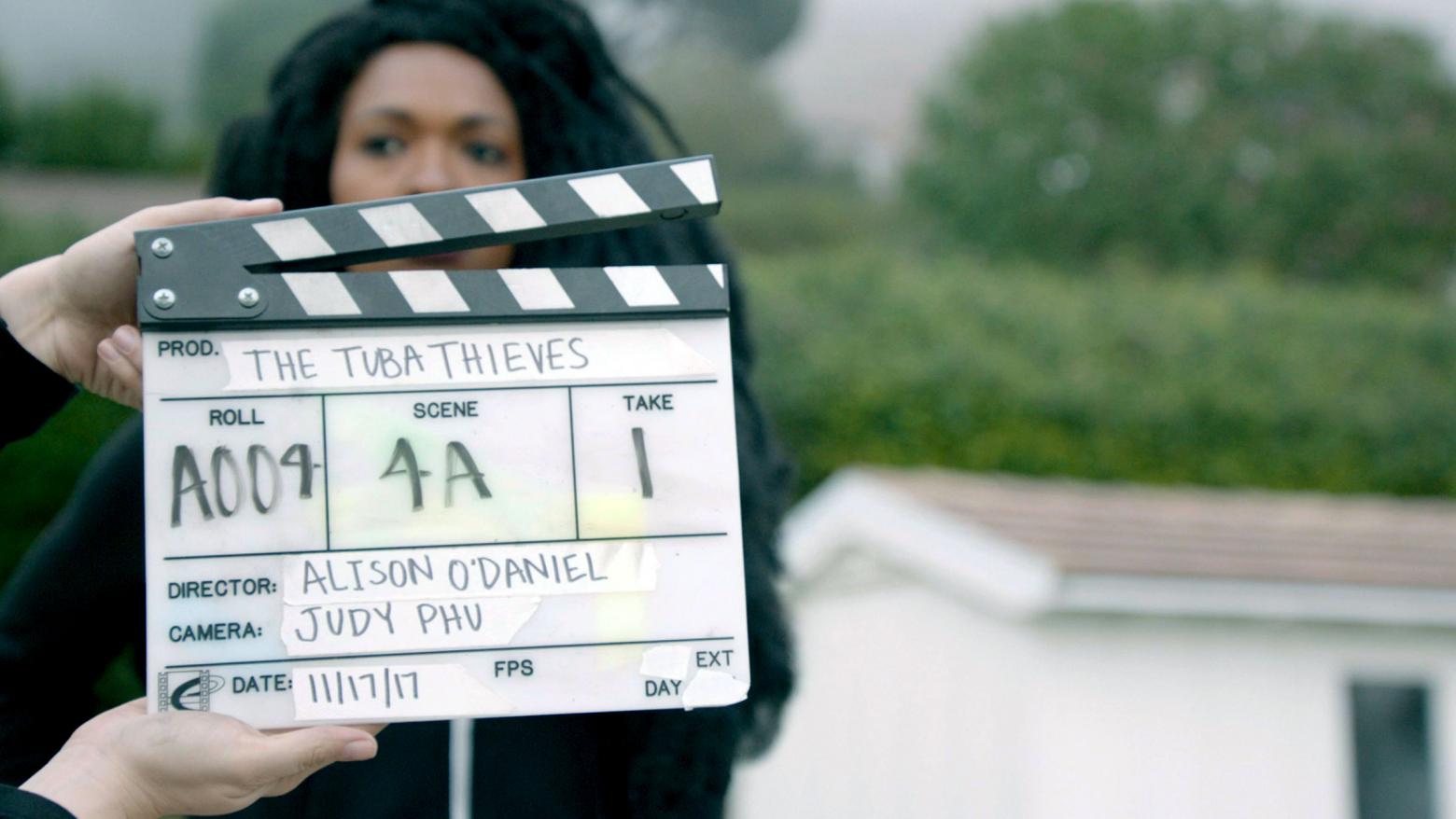 Omniaudience: Side Three, Track One
Wednesday
Jun 19, 2019
7:30 PM to 9 PM
This is a past program
This program is organized as part of Triple Canopy's Public Engagement residency at the Hammer Museum, which revolves around gatherings comprised of listening sessions, conversations, and performances at the Hammer and partner institutions.
American Sign Language with ASL-to-English / English-to-ASL interpretation is provided for this program.
Alison O'Daniel screens Sound Speeding (2019), a film composed of interstitial shots from her ongoing feature The Tuba Thieves (2013–present), which tells intersecting stories about the sonic realm, especially as experienced and imagined by those who are deaf and hard of hearing. Originally presented as a four-channel installation, Sound Speeding is titled after the phrase used by the boom operator on a set, when a scene is about to be shot, to announce that audio is being recorded. O'Daniel will also show footage from Skaters' Score (2019), in which deaf skateboarders and four Los Angeles-based musicians perform a site-specific musical composition that integrates the sonic vocabulary of skateboarding and emphasizes the tactile, visual, and spatial aspects of music. O'Daniel will be joined in conversation by the poet and scholar Michael Davidson.
Nour Mobarak performs Allophone Movement III, which consists of a multichannel composition and live vocalization. Mobarak created the composition with recordings of utterances from a couple dozen languages by the UCLA Phonetics Lab Archive; during the performance, the artist navigates the sound field, mimics and conjoins phonemes in song and speech, and turns components of language into indeterminate sonic materials. (Note that this performance was previously scheduled for the second installment of Omniaudience, which, instead, included a presentation by and conversation with Mobarak.)
Participant Bios
Michael Davidson is a poet and professor emeritus of literature at UC San Diego. He has written numerous books of poetry, the most recent of which is Bleed Through: New and Selected Poems (Coffee House Press, 2013). His works of criticism include Guys Like Us: Citing Masculinity in Cold War Poetics (University of Chicago Press, 2003), Concerto for the Left Hand: Disability and the Defamiliar Body (University of Michigan Press, 2008), and, most recently, Invalid Modernism: Disability and the Missing Body of the Aesthetic (Oxford University Press, 2019).
Nour Mobarak is an artist working in text, performance, sound sculpture, and voice. She is interested in the rational structures that are created to safeguard the irrationalities of each individual. Her work investigates the stifled compulsions and violent or desirous impulses of people and nation-states. Mobarak has performed internationally in clubs, bars, and institutions such as the J. Paul Getty Museum, Hauser & Wirth, and Cambridge University, and has published work in F. R. David, the Claudius App, and the Salzburg Review, and elsewhere.
Alison O'Daniel is an artist who lives in Los Angeles. She combines film, performance, sculpture, and installation as a call-and-response between mediums. She collaborates with hearing, Deaf, and hard-of-hearing composers, performers, athletes, and musicians in order to highlight the loss or re-creation of information as it passes through various channels, and to build a visual, aural, and haptic vocabulary for storytelling. O'Daniel has presented solo exhibitions at Bemis Center for Contemporary Arts (Omaha, Nebraska), Art in General (New York), Samuel Freeman Gallery and Shulamit Nazarian Gallery (Los Angeles), and Centre d'Art Contemporain Passerelle (Brest, France). Her work was featured in Made in L.A. at the Hammer Museum and at Infinite Ear at Garage Museum of Contemporary Art (Moscow) in 2018. She has received grants from the Rema Hort Mann Foundation, Center for Cultural Innovation, Art Matters, Franklin Furnace Fund, and the California Community Foundation.
All Hammer public programs are free and made possible by a major gift from an anonymous donor.
Generous support is also provided by Susan Bay Nimoy and Leonard Nimoy, Good Works Foundation and Laura Donnelley, The Samuel Goldwyn Foundation, an anonymous donor, and all Hammer members.
Public programs advancing social justice are presented by the Ford Foundation.
Digital presentation of Hammer public programs is made possible by the Billy and Audrey L. Wilder Foundation.