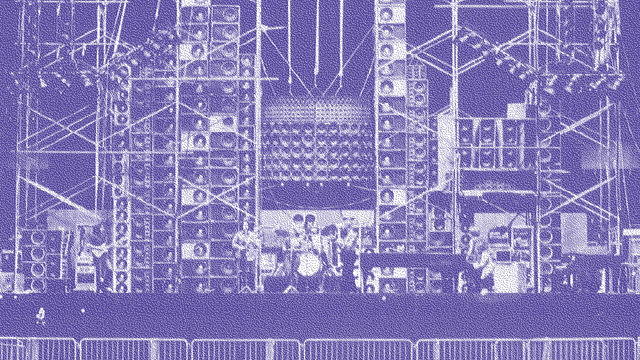 Omniaudience
to

This is a past program
This program is organized as part of Triple Canopy's Public Engagement residency at the Hammer Museum, which revolves around gatherings comprised of listening sessions, conversations, and performances at the Hammer and partner institutions.
Nikita Gale facilitates a listening session devoted to the creation, distribution, and reception of "River Deep, Mountain High," which was produced by Phil Spector and performed by Tina Turner. More generally, Gale will ask how audio engineers manipulate performances and recordings in order to mold the identities of artists and cultivate (or target) audiences.
Alexander Provan delivers a lecture, illustrated with chart-toppers, on the use of consumer-behavior data and neurobiology research in the production of pop songs designed to please as many listeners as possible.
C. Spencer Yeh presents a live quadraphonic performance of material from The RCA Mark II (Primary Information, 2017), which is composed of recordings of non-musical sounds created with the eponymous, 60-year-old synthesizer—an avant-garde icon, now in disrepair. Yeh eschews the signature tones of the synth in favor of live recordings of mechanical parts clicking and whirring. In doing so, he demystifies the technology and confronts the legacy of rarefied electronic music.
Nour Mobarak speaks about the vocalization of sound and phonetics in relation to her recent work, which employs recordings of utterances from dozens of languages made by the UCLA Phonetics Lab Archive. She will then be joined in conversation by Gale, Provan, and Yeh to discuss how recordings of human voices quantify and categorize speakers—and how the components of language might, alternatively, be experienced as indeterminate sonic materials.
Participant Bios
Nikita Gale is an artist who lives and works in Los Angeles. She received her MFA in new genres at UCLA in 2016. She uses ubiquitous consumer technologies as frameworks to consider how individuals potentially reproduce their relationships to objects within their relationships to psychic space and political, social, and economic systems. By engaging with materials that have properties that are simultaneously acoustic and protective, she examines the ways in which silence and noise function as political positions and conditions. Her work has recently been exhibited at Commonwealth and Council (Los Angeles); CUE Art Foundation (New York); The Studio Museum in Harlem (New York); Cubitt (London); Rodeo Gallery (London); Ceysson & Benetiere (Paris); and in Made in L.A. at the Hammer Museum (Los Angeles). Her work has appeared in various publications including the New York Times, Artforum, Art in America, Art21, AQNB, Frieze, and Flash Art.
Nour Mobarak is an artist working in text, performance, sound sculpture, and voice. She's interested in the rational structures that are created to safeguard the irrationalities of individuals. Her work investigates the stifled compulsions and violent or desirous impulses of people and nation-states. She has performed internationally in clubs, bars, and institutions such as the J. Paul Getty Museum, Hauser and Wirth, and Cambridge University, and has published work in F. R. David, the Claudius App, and the Salzburg Review, among others.
Alexander Provan is the editor of Triple Canopy and a contributing editor of Bidoun. He is the recipient of a 2015 Creative Capital | Andy Warhol Foundation Arts Writers Grant and was a 2013–15 fellow at the Vera List Center for Art and Politics. His writing has appeared in the Nation, n+1, Art in America, Artforum, Frieze, and in several exhibition catalogues. His work has been presented at the 14th Istanbul Biennial, Museum Tinguely (Basel), 12th Bienal de Cuenca (Ecuador), New Museum (New York), Kunsthall Oslo, and Hessel Museum of Art (Annandale-on-Hudson, New York), among other venues. Measuring Device with Organs was recently published by Triple Canopy as an LP.
C. Spencer Yeh is an artist, improviser, and composer. He is widely recognized for his interdisciplinary activities and collaborations as well his musical project Burning Star Core. His video works are distributed by Electronic Arts Intermix. Yeh is a Triple Canopy senior editor and media producer editor, a contributing editor of BOMB, and a programmer and trailer editor at Spectacle Theater, a microcinema in Brooklyn. Yeh's work has recently been exhibited and presented at Empty Gallery (Hong Kong), the Whitney Museum (New York City), the Museum of Modern Art (New York City), MoMA PS1 (New York City), the Walker Art Center (Minneapolis), the Rubin Museum (New York City), MOCA Cleveland, the 2014 Liverpool Biennial, the Berwick Film and Media Arts Festival, Atelier Nord/Ultima Festival (Oslo), D-CAF (Cairo), and the Renaissance Society (Chicago). In 2019, Yeh's work will be included in "The Moon Represents My Heart: Music, Memory, and Belonging" at the Museum of Chinese in America (New York City). Yeh has received a grant for artists from the Foundation for Contemporary Arts and has been the artist-in-residence at ISSUE Project Room (New York City). Recent recordings include Solo Voice I–Xand The RCA Mark II, both published by Primary Information.
All Hammer public programs are free and made possible by a major gift from an anonymous donor.
Generous support is also provided by Susan Bay Nimoy and Leonard Nimoy, Good Works Foundation and Laura Donnelley, The Samuel Goldwyn Foundation, an anonymous donor, and all Hammer members.
Public programs advancing social justice are presented by the Ford Foundation.
Digital presentation of Hammer public programs is made possible by the Billy and Audrey L. Wilder Foundation.