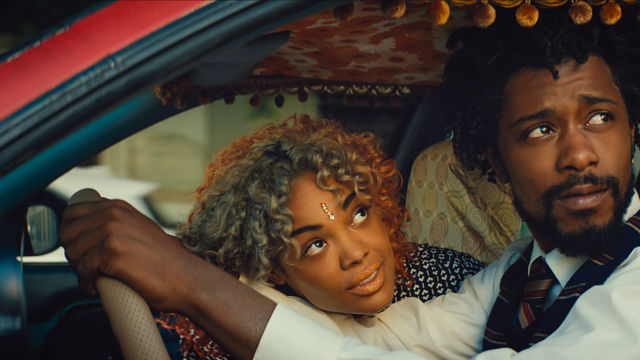 Sorry to Bother You, and Q&A with Boots Riley
Contenders Q&A with Boots Riley: "Sorry to Bother You"
Oakland resident Cassius Green (Lakieth Stanfield), overwhelmed by back rent and a nagging uncle, is in desperate need of a job. He finds a steady paycheck and unexpected success as a telemarketer, eventually getting promoted to an elite role selling a morally questionable service. This satirical, absurdist, genre-bending film takes a truly fresh look at the intersections of ethics, race, class, and art, creating a uniquely relevant snapshot of our current moment. An incendiary calling card from director Boots Riley, 
Sorry to Bother You
 is as intellectually bold as it is stylistically ambitious. Courtesy of Annapurna Pictures.
A discussion with director Boots Riley follows the screening. Moderated by writer and producer Courtney Lilly.
Sorry to Bother You. 2018. USA. Directed by Boots Riley. 111 min.
Attending this Program?
Location:
 Billy Wilder Theater at the Hammer Museum
Membership: 
Hammer members receive half-off the general admission ticket price. Sign up for membership today, and you'll receive a discount code for 
MoMA Contenders
 with your confirmation email. Questions? Email 
membership@hammer.ucla.edu
 or give us a call at 310-443-7050.
Parking:
 Parking is available under the museum for a $6 flat rate after 6 p.m. on weekdays. Cash only. 
Read our food, bag check, and photo policies.
MoMA Contenders 2018 is organized by The Museum of Modern Art, New York. This film program is organized by Rajendra Roy, the Celeste Bartos Chief Curator of Film, and Sean Egan, Senior Producer, Film Exhibitions and Projects, The Museum of Modern Art, New York.
The Hammer Museum's presentation is made possible by The Billy and Audrey L. Wilder Foundation.
Media sponsorship is provided by The Hollywood Reporter.