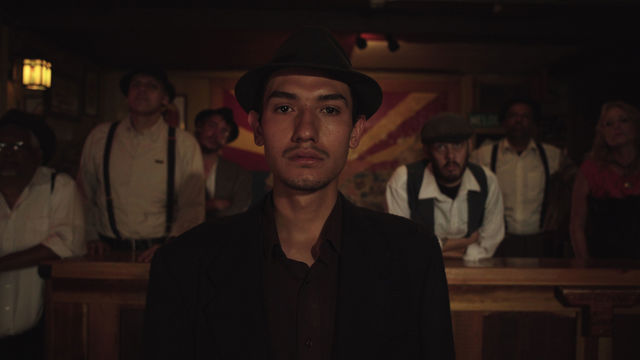 Bisbee '17, and Q&A with Robert Greene
In a mining community on the border with Mexico, internal strife and extreme rhetoric riddle a small town. The state of our union, or in fact a flashback to a century ago? Such is the core of Robert Greene's newest inventive documentary centered on an Arizona town where 1,200 inhabitants (many of them foreign-born) were deported by those in their midst as part of a labor dispute in 1917. Greene captures the proceedings of Bisbee, AZ's centennial reenactment of the gruesome incident in an ambitiously-scaled, electrifying fusion of non-fiction with musical, ghost story, and Western elements. As townspeople take on the roles of those who led the roundup, and those who were its targets, they contend with Bisbee's divided past, its effect on the present-day town, and their own outlook on life in American today. With empathy and clarity of vision, Greene gives a stage to the performance of civic values to make us all live together a little better. Courtesy of Fourth Row Films.
A discussion with director Robert Greene follows the screening. Moderated by Shaniqua McClendon, political director for Crooked Media.
Bisbee '17. 2018. USA. Directed by Robert Greene. 124 min.
Limit 6 tickets per customer. Seats will be assigned on a first come, first served basis on the night of each screening. Hammer members get priority seating. No late seating; any unclaimed tickets will be released at 7:20 p.m. No refunds and no exchanges. Post-screening guests are subject to change.
Attending this Program?
Location:
 Billy Wilder Theater at the Hammer Museum
Membership: 
Hammer members receive half-off the general admission ticket price. Sign up for membership today, and you'll receive a discount code for 
MoMA Contenders
 with your confirmation email. Questions? Email 
membership@hammer.ucla.edu
 or give us a call at 310-443-7050.
Parking:
 Parking is available under the museum for a $6 flat rate after 6 p.m. on weekdays. Cash only. 
Read our food, bag check, and photo policies.
MoMA Contenders 2018 is organized by The Museum of Modern Art, New York. This film program is organized by Rajendra Roy, the Celeste Bartos Chief Curator of Film, and Sean Egan, Senior Producer, Film Exhibitions and Projects, The Museum of Modern Art, New York.
The Hammer Museum's presentation is made possible by The Billy and Audrey L. Wilder Foundation.
Media sponsorship is provided by The Hollywood Reporter.