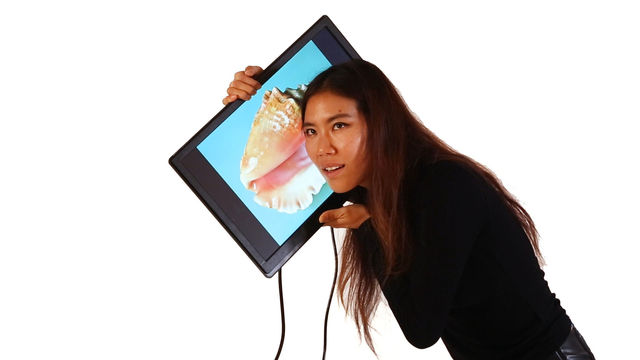 Breathe in the World, (or, problems with you, me, we, they, hear and see)
SAT & SUN, MAY 13 & 14, 2017, 4:00PM-5:00PM
This new performance is concerned with the movement of breath in and out of the body through the vector of a new instrument as the primary catalyst. This instrument splits the breath's production of sound through analog loops as well as a series of temperature sensors that create independent sound based on data. Three musicians improvise with the single instrument, illustrating the symbiotic connection of the body with its surroundings, analog and digital, communication and chaos.
The performance is also an examination of the internal's constant negotiation of external life through language, musicality, mis/connections, labor, and material, all wrought with some humor through fear.
Directed by: Jeanine Oleson
Performers: Tim Aaron, Scott Cazan, Rachel Higgins, Sharon Kim, and Jeanine Oleson
Sets: Rachel Higgins
Special thanks to Gil Gentile for his help with initial programming; Chuck McAlexander; the BrassLab for building the instrument; UrbanGlass, Brooklyn; and Chisa Hughes for video assistance.
Biographies
Tim Aaron (aka TimAaron) is an American musician, composer, and sound designer. He is a multi-instrumentalist, known mainly for his work as a guitar player, and is active in indie rock and post-punk revival through performance and the establishment of the music label Missing Records. As a founding member of the band GobbleHoof, he played a role in the psychedelic punk grunge scene in early 1990s. He has also performed extensively in other music groups, including Skunk, Model/Actress, Merrick, and H.P. Zinker, and for Lisa Marie Presley. He is currently the front man for the Los Angeles band the Brite Sides.
Scott Cazan is a Los Angeles–based composer, performer, creative coder, and sound artist working in the fields of experimental electronic music, sound installation, chamber music, and software art, where he explores cybernetics, aesthetic computing, and emergent forms resulting from human interactions with technology. His work often involves the use of feedback networks where misunderstanding and chaotic elements act as catalysts for emergent forms in art and music.
Rachel Higgins is an interdisciplinary artist currently working in Los Angeles. Her work has been recently exhibited at Kristen Lorello, New York; Asya Geisberg, New York; SUNY Purchase, New York; Knockdown Center, Brooklyn; EFA Project Space, New York; Socrates Sculpture Park, Long Island City, New York; the Flint Public Art Project, Michigan; and Franklin Street Works, Stamford, Connecticut. She was a recipient of the 2011 Socrates Sculpture Park Emerging Artist Fellowship and has also been awarded residencies with Lower Manhattan Cultural Council's 2013–14 Workspace Program; the Build-It-Green reuse center in Astoria, New York; and Real Time & Space in Oakland, California. Higgins received her MFA from Hunter College in 2010.
Sharon Kim is a vocalist and composer based in Los Angeles. Recently she sang in the West Coast premiere of Sila: Breath of the World by John Luther Adams. Her 2015 performance as Lucha in Hopscotch with the Industry Opera Company was described as "explosive" by the Wall Street Journal. Kim has performed with the Los Angeles Philharmonic, the Los Angeles Opera, the Industry Opera Company, the Pasadena Opera Company, the Music Center, the Museum of Contemporary Art, Superchief Gallery, and Walt Disney Hall in Los Angeles. She has toured Canada, South Korea, and the United Kingdom singing experimental music. She received her MFA at California Institute of the Arts, and she is currently on the voice faculty at the American Musical and Dramatic Academy.
Jeanine Oleson is an interdisciplinary artist working with images, materiality, and language, which she forms into complex and humorous objects, images, videos, and performances. She attended the School of the Art Institute of Chicago and Rutgers University, and has shown her work at SculptureCenter, New York; Pierogi, Brooklyn; the New Museum, New York; Exit Art, New York; Beta-Local, San Juan, Puerto Rico; Commonwealth and Council, Los Angeles; X-Initiative, New York; Grand Arts, Kansas City; Socrates Sculpture Park, New York; MoMA PS1, New York; and White Columns, New York, among other venues. Oleson has received a Rema Hort Mann Artist Community Engagement Grant, a Creative Capital artist grant, a Franklin Furnace fellowship, and a Jerome Foundation Travel and Study Grant. She is an assistant professor of photography at Parsons School of Design. She lives in Brooklyn.
attending this program?
ALL HAMMER PROGRAMS ARE FREE
Location: Annex
Ticketing: This is a drop-in program. Tickets are not required.
Parking: Under the museum, $6 flat rate on weekends. Cash only.