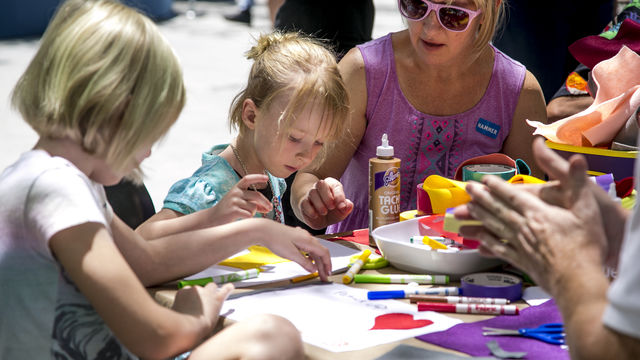 Family Day: Make in L.A.
to

This is a past program
Join artists in the Made in L.A. 2014 exhibition and make art in L.A.!
The Hammer Museum invites kids, parents, and friends to celebrate the local artistic community on the closing day of Made in L.A. 2014. Bring the whole family to participate in hands-on art activities, dance workshops, music courtesy of DJ Zo of Knockstudy, and family-friendly readings curated by the creators of the Hot Dish Reading Series. Artful activities are designed and led by Made in L.A. artists and other local creatives, including Lecia Dole-Recio, Mr. Hoodbrush, Jmy James Kidd, Nick Duran, KCHUNG, Emily Mast, Jennifer Moon, Public Fiction, Studio 75, and Yarn Bombing Los Angeles.
Photos
View photos from Family Day here.
Drop-In Hands-On Workshops
Lecia Dole-Recio: "Tot Spot: Cut, Stamped, and Stenciled"
Play with stamps and stencils to create art.
Jennifer Moon: "Revolutionary Wear: Buttons & Bandanas" 
Design buttons and bandanas to share your revolutionary beliefs with others.
Public Fiction: "A Public Fiction Mural"
Contribute to a collective video work by creating imaginative scenes, snapping a photo, and watching them projected together. 
Yarn Bombing Los Angeles: "Yarn by L.A., Yarn for L.A."
Help yarn bomb the city and crochet bracelets! Contribute to a community yarn project which will eventually be wrapped around columns in Grand Central Market. This is part of a Yarn Bombing Los Angeles project called "(un)Covering the Polis: Mining Downtown Los Angeles." Learn how to crochet with your fingers to make bracelets to take home and share with others.
Studio 75: "Wilshire Blvd: Silhouettes of the City"
Add your part to a community mural inspired by the city of Los Angeles with images and shadows.
Music
DJ courtesy of Knockstudy, an organization that offers MC/writing, music production, DJing, film, and dance workshops to junior high or high school students.
Even More!
Participate in family programs on KCHUNG TV
Ink up with an airbrush tattoo from Mr. Hoodbrush
Family portrait photo booth
Free snacks
Grab-and-go meals available for purchase at AMMO
Hammer Kids is made possible through the generosity of the Anthony & Jeanne Pritzker Family Foundation.
Hammer Kids has also received funding from supporters and friends of the Hammer Museum's Kids' Art Museum Project (K.A.M.P.), an annual family fundraiser. Additional support has been provided by Resnick Foundation, The Rosalinde and Arthur Gilbert Foundation, and the Art4Moore Fund of the Tides Foundation.