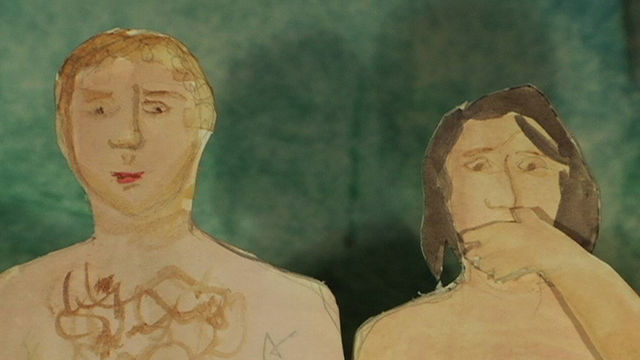 New Skin for the Old Ceremony
Friday
Dec 17, 2010
8:00 PM to 10:00 PM
This is a past program
Leonard Cohen's 1974 album, New Skin for the Old Ceremony, is reimagined and interpreted by a stellar group of select artist filmmakers. Eleven newly commissioned works illustrate the album in its entirety through the medium of the moving picture. This program highlights the craft of each artist as they complement and coalesce with the work of the legendary singer/songwriter.
Cash bar at 7PM, screening at 8PM.
Curated by Lorca Cohen and Darin Klein.
Artist Biographies
Brent Green was born in 1978 and lives and works in a barn in Cressona, Pennsylvania. His work has been a regular feature at Sundance, and he has exhibited and screened work at the Getty Museum and the Hammer Museum in Los Angeles; Wexner Center for the Arts in Columbus, OH; Walker Art Center in Minneapolis, MN; Andrew Edlin Gallery, IFC Center and Museum of Modern Art in New York; SITE Santa Fe Biennial; Diverse Works, Houston; and Arizona State University Art Museum. Brent Green is a 2005 Creative Capital grant recipient. His solo exhibition Perpetual and Furious Refrain was on view at the Berkeley Art Museum in the summer of 2010. 
Combining ordinary store-bought products, unique found objects, and traditional artist supplies, Alex Da Corte creates sculptures and installations of uncompromising beauty that address both desire and consumption. His work proposes an intersection between the very personal trials and tribulations of each life with the platitudes and sentiment contained by the objects our culture produces. These objects—plastic Halloween masks, vases, carpet, wood grain veneer, and all manner of inexpensive knick-knacks—function as a site where we can share our fears and joy. How he manipulates these objects and appropriates them for his own ends reveals something about richness, and yet the thinness and thickness of the communal space these objects represent. His work has been shown at PS1, New York; the Institute of Contemporary Art, and Fleisher/Ollman Gallery, both in Philadelphia. Da Corte earned his BFA in printmaking from the University of the Arts, Philadelphia, and an MFA in sculpture at Yale University. 
Weston Currie is a filmmaker based in Portland, Oregon. He was raised in the San Fernando Valley and attended Art Center College of Design in Pasadena. He is the writer and director of several short films, as well as music videos for the bands Grouper and Cryptacize. His most recent film work includes a series of film collaborations with musician Liz Harris and a concert film of Björk performing with Dirty Projectors. Currie is currently directing his first feature film, Congress, an episodic fantasia about death in a fictional American town. His work has screened at Los Angeles Contemporary Exhibitions and the Cinefamily Dublab Labrat Matinee in Los Angeles; and at Lanternhouse in Cumbria, England. 
Born 1968, Theo Angell was raised in a house without a television and received no formal education. He lives and works in New York City and Portland, Oregon. His video work has included animation, feature lengths, live mobile video projections in both urban and rural settings which he lists under the general heading of "Myth Building", music videos, portraiture, single and four channel gallery installations and lately "Video Quilting", of which "Field Commander Cohen" is an example. 
Born in Anaheim, California, 1972, Christian Holstad lives and works in New York City. In 1994 he graduated with a Bachelor of Fine Arts in ceramics from the Kansas City Art Institute. Recent solo exhibitions include The World's Gone Beautiful at Daniel Reich Gallery, New York; Christian Holstad at Galleria Civica of Modena, Italy; and American Standard at Victoria Miro Gallery, London (all 2009). Included in the 2004 Whitney Biennial, he has also had solo exhibitions at venues including Museum of Contemporary Art, Miami; Galleria Massimo deCarlo, Milan; Kunsthalle Zurich, Switzerland; and Kunstverein, Hamburg. 
Sylvan Lanken and Lily Lanken were born in 1977 and 1979, respectively, in Montréal, Québec and spent their youth in Alexandria, Ontario. They grew up in an artistic family: their mother, Anna, is one half of singing duo Kate & Anna McGarrigle, and their father, Dane Lanken, is a published author. In 2006, Lily received a Bachelor of Fine Arts in Studio Arts from Concordia University in Montreal. Sylvan is a self-taught videographer and editor. In 2009 they produced an 8-part series of 3-minute video segments about a fictional band called the mittenstrings. And, like Pinocchio, they have now become a real band. They are also co-organizers of M60, Montreal's annual 60 second film festival, now in its 3rd year. 
"Lucky Dragons" means any recorded or performed or installed or packaged or shared or suggested or imagined pieces made by Luke Fischbeck, Sarah Rara, and/or any sometimes collaborators who claim the name. Lucky Dragons have presented interactive performances and installations in a wide variety of contexts, including LACMA, MOCA, REDCAT and The Smell in Los Angeles; Smithsonian's Hirshorn Museum and Sculpture Garden in Washington, DC; the Whitney Museum of American Art (as part of the 2008 Whitney Biennial), The Kitchen and PS1 in New York; the Walker Art Center in Minneapolis; Frankfurt's Schirn Kunsthalle; ICA London; ICA Philadelphia; and the Centre national d'art et de culture Georges Pompidou in Paris. Lucky Dragons' sister projects include Sumi Ink Club, a weekly collaborative drawing society, and Glaciers of Nice, a small press and internet community. 
Kelly Sears is an animator and filmmaker living in Houston, TX. She is a 2009-2011 fellow at the Core Program at the Museum of Fine Arts, Houston. She received a Bachelor of Arts from Hampshire College and a Master of Fine Arts from the University of California, San Diego. Her work has been shown at LACMA, the Hammer Museum and REDCAT in Los Angeles; San Francisco Museum of Modern Art; the Museum of Contemporary Art, San Diego; Anthology Film Archives in New York; Sundance Film Festival, American Film Institute Festival and in galleries and film festivals internationally. She often is found at thrift stores and flea markets hunting down images for animations.
Brett Milspaw was born in Pittsburgh, Pennsylvania, 1979 and lives and works in New York City. In recent years his interest has turned to film, and he has directed several music videos for artists such as Sahra Motalebi and Fanal (Kai Althoff). 
Peter Coffin was born in Berkeley, California, in 1972 and lives and works in New York City. Coffin's interdisciplinary practice explores conceptual point of view and is motivated by the desire to connect with the kind of understanding that invites new perspective and engenders further inquiry. His artwork often integrates an informal objectivity with the subjective to generate a dynamic between the two. Peter Coffin's art is exhibited in museums and galleries internationally, most recently at Manhattan's City Hall Park with the Public art Fund; the Centre d'art contemporain d'Ivry and Palais de Tokyo Museum, Paris; the Barbican Gallery, London; Aspen Art Museum, Colorado; CCA Wattis Institute for Contemporary Art, San Francisco; Centre d'art contemporain, Fribourg, Switzerland; le Confort Moderne, Poitier, France; and the Horticultural Society of New York. His work has been featured in group exhibitions at Museo D'Arte Contemporanea di Roma; Saatchi Gallery and Tate Britain, London; Museo de Arte Contemporánea de Vigo, Spain; Migros Museum für Gegenwartskunst, Zurich; and international biennials in Berlin, Liverpool, Belgrade and Moscow. Peter Coffin is represented by Herald Street, London; Emmanuel Perrotin, Paris; and Galleria Fonti, Naples. 
Tina Tyrell graduated from Art Center College of Design in Pasadena with a Bachelor of Fine Arts in photography. Her work has appeared in New York Magazine, Wallpaper, L'Uomo Vogue, teenVOGUE, The New York Times, Art Forum, Flash Art, Spin, Nylon, Interview, Details, Dazed&Confused, Architectural Digest Germany, V, and The New Yorker, among others. She also teaches photography at Parsons, the New School for Design. Born and raised in Los Angeles, she currently lives and works in New York City.
Public programs are made possible, in part, by a major gift from Ann and Jerry Moss.
Additional support is provided by Bronya and Andrew Galef, Good Works Foundation and Laura Donnelley, an anonymous donor, and the Hammer Programs Committee.