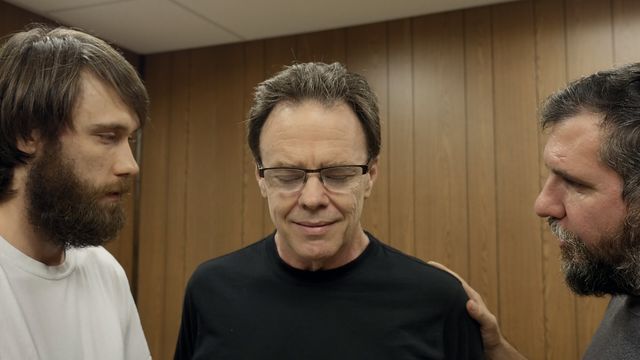 Kenneth Tam, Breakfast in Bed, 2016. Single-channel video, 32 min. Selected by Hammer Museum, Los Angeles
Part social experiment, part absurdist theater, Kenneth Tam's Breakfast in Bed explores male-to-male intimacy, roleplay, and constructions of masculinity. For the video, Tam recruited seven non-actors from online forums such as Craigslist and Reddit to participate in a mock men's social club. Occupying a stage-like domestic space built within the artist's studio, participants engaged in team-building activities, ritual-like movement exercises, and sincere exchanges of affirmation. Despite the participants' lack of affiliation with one another before filming, these activities seem to foster a sense of tenderness among strangers. Employing playful improvisation and guided collaboration, Tam's project undermines normative male social conventions and deconstructs codes of behavior.
Participants: Gilberto Arriaga, Ben Corley, Phillip Dickey, Bruce Dolen, Niko Flores, Spencer Freeman, Trevor Meek
Artist Q&A
Where are you from and how did you become interested in moving image work?
I grew up in Queens in New York City. While I went to art school, I have no formal training in making moving image work. That happened out of necessity as my practice shifted into a more performative space and I needed a way to record what I was doing. While my initial use of the camera was basically for documentary purposes, my relationship to creating moving images has evolved since then. Also, I've always loved film and am very interested in the crossovers between arthouse cinema and moving image artworks.
What inspired/influenced you to make the work?
Prior to Breakfast in Bed, I had been making video works that featured myself and another person in front of the camera working in improvised, loosely scripted ways. I knew I wanted my next project to be situated in a group context, and to use the group as a way to understand the construction and performance of a certain kind of masculinity. I was interested to see how people performed within a group, especially the negotiations that arise when forming a consensus. I also knew that working within a group would allow me to step back behind the camera, which I felt was a natural shift in my work.
Biography
Kenneth Tam's (American, b. 1982) work takes the form of video installations that include moving image works and sculpture, and explores gender performativity and broader themes of the negotiation of identity. His work has been exhibited at SculptureCenter, MIT List Visual Arts Center, and the Hammer Museum amongst other institutions. He had a solo exhibition at the Queens Museum and participated in The Shed's Open Call in 2021. He has recently produced his first live(streamed) performance at The Kitchen, and has been an artist-in-residence at the Lower Manhattan Cultural Council, Pioneer Works, The Core Program at the Museum of Fine Arts, and the 18th Street Arts Center in Santa Monica. He is a graduate of the Cooper Union.