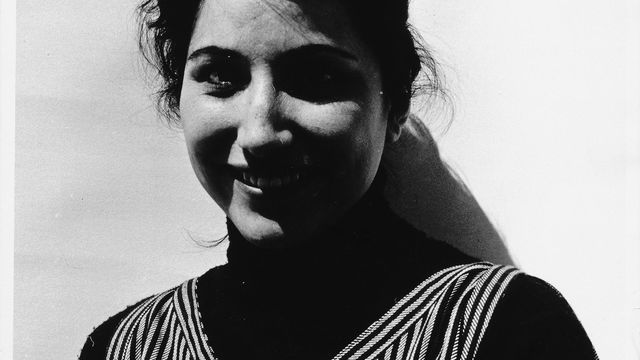 Raised in East Los Angeles on Washington Boulevard, Virginia Jaramillo was encouraged to be an artist from an early age, first by her parents, who recognized her talent and sought out drawing opportunities for her, and later at the city's famed Manual Arts High School, whose alumni included Philip Guston and Jackson Pollock. Jaramillo entered Otis Art Institute in 1958. From her studio in her parents' home, she began to test the scale of her paintings, expanding them to fit the size of the space. While still in art school, Jaramillo was accepted into the annual exhibition of the Los Angeles County Museum of Art (LACMA). For three successive years, from 1959 to 1961, she showed with established California artists in the annuals, for which the museum brought in East Coast curators and critics as jurors and advisers, including William Seitz from the Museum of Modern Art, making these exhibitions a tangible avenue toward national recognition. Fittingly, each year Jaramillo streamlined her name to the gender-ambiguous "V. Jaramillo," securing her increasingly larger paintings the possibility of an unbiased critique.
The critical discourse around LACMA's annuals also confirmed her feeling that as an abstract painter she belonged in New York. In the early 1960s, Jaramillo and her husband, fellow artist Daniel LaRue Johnson, spent extended periods of time traveling from Los Angeles to New York. During these years her painting style evolved from the "structurally" industrial geometry of a work such as San Pedro Steel Mill (1962) toward a darker, hard-edged palette. Working in her backyard in Watts, Jaramillo made large (three or more feet high) paintings that were monochromatic fields punctuated by another single, dense, textured color. The pocked and built-up sections on the surfaces of paintings such as Divide (1964) and Terra Seca (1963) evoked the city's rugged terrain and resonated with numerous earthworks projects from the 1960s that used the environment as a medium. For Jaramillo, these paintings grew out of family visits to the desert and cross-country road trips during which she "would look at the earth and it was all cracked."#
Image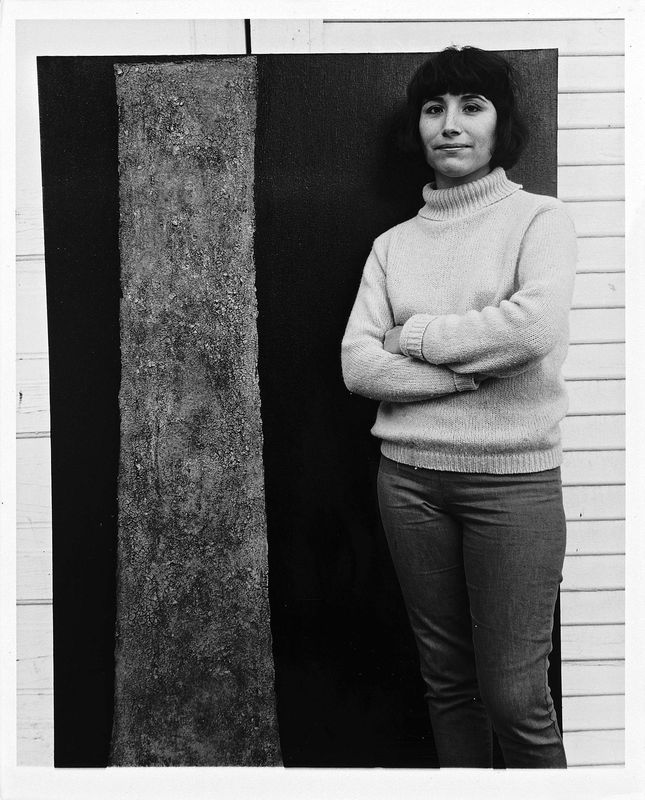 After spending a year in Europe, mainly in Paris, in the mid-1960s, Jaramillo moved permanently with her family to New York. There, she reconnected with Melvin Edwards, a close friend from Los Angeles, and met many other artists who lived and worked in the Fulton Fish Market area. Later she moved her studio to Spring Street in Soho. The relocation to New York proved beneficial in garnering national attention for her work. In 1971 Peter Bradley selected her paintings for the DeLuxe Show in Houston, a showcase of major abstract painters and sculptors, including Anthony Caro and Jules Olitski, funded by the Menil Foundation. By 1972 Jaramillo was active in the Soho arts community and was included in the Whitney Annual. Throughout the decade, her compositions evolved from the linear style of Green Dawn Number 1 (1972), which was shown at the Whitney, to works that are curvilinear and invested in the formal qualities of the edge of the canvas.
In the 1980s Jaramillo departed from painting to focus on handmade paper and linoleum compositions. In the late 1990s she returned to painting with a major fresco commission for the Philadelphia law firm of Buchanan, Ingersoll, and Rooney. 
— Courtney J. Martin
Selected Exhibitions
The DeLuxe Show, The DeLuxe Theater, Houston, 1971.
Whitney Annual, Whitney Museum of American Art, New York, 1972.
Solo exhibition, Douglas Drake Gallery, Kansas City, 1975.
Solo exhibition, Soho Center for Visual Artists, New York, 1976.
Selected Bibliography
Bowling, Frank. "Outside the Galleries: Four Artists."
Arts Magazine
45 (November 1970): 30.
Jaramillo, Virginia, and Brigitte Lebens Nacos. Virginia Jaramillo: Paintings and Poems. Manhasset, N.Y.: Triple J Press, 1976.
Muller, Gregoire. "Through the Surface." Unpublished manuscript, 1982.
National Museum of Women in the Arts. North American Women Artists of the Twentieth Century. New York: Abrams, 1987.
Ratcliff, Carter. "The Whitney Annual: Part I—An Extravaganza of Curatorial Creations." Artforum 10 (April 1972): 28–32.