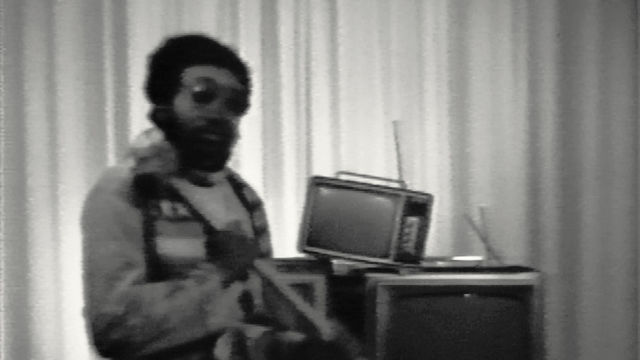 From his early work with the Video Venice News in the 1970s to his current investigation of the media's portrayal of African American men, Ulysses Jenkins has created a diverse body of video work. Using archival footage, photographs, image processing, and elegiac soundtracks, he pulls together various strands of thought to construct an "other" history that consistently interrogates questions of race, history, and the power of the state. Jenkins uses storytelling traditions, as exemplified by the African griot, to explore the relationship between myth making and the African American experience. His early performance works were often produced in collaboration with others; they invited audience participation and were envisioned as sociopolitical commentaries and ritual actions. Jenkins's most recent work explores such issues as the African Diaspora, racism in the media, and gender inequalities, providing important insights into the political and cultural realities of African American communities in the United States.
A native of Los Angeles, Jenkins first studied art at Hamilton High School in 1961. In 1964 he left Los Angeles to pursue undergraduate studies at Southern University in Baton Rouge, Louisiana, majoring in painting and drawing. After graduating in 1969, he returned to Los Angeles and began exhibiting his paintings at Saint Paul's Catholic Church. From 1970 to 1972 he worked with the Los Angeles County Probation Department as a counselor for psychiatric nondelinquent youth, teaching them art as part of their therapy.
Jenkins moved to Venice Beach in 1972. For a short time, he painted theater backdrops, but after seeing the work of the Los Angeles Fine Arts Squad, he was inspired to try mural painting, which became an important aspect of his career. His first mural was located on the boardwalk at the corner of Rose Avenue and Ocean Front Walk near Venice Beach. While working on this mural, he was introduced to portable video recording equipment, which sparked his interest in that medium. He soon created a media group called Video Venice News and began shooting documentary work in Southern California. His 1972–73 (compiled 1980) video Remnants of the Watts Festival is an important recorded documentation of this historic community festival commemorating the Watts rebellion of 1965. That tape is also significant in its examination of covert surveillance of the African American community by the U.S. government.
After a two-year sojourn in Hawaii, Jenkins returned to Los Angeles in 1975 and begin working for two agencies, the Brockman Gallery's Street Graphics on Crenshaw Boulevard and Social & Public Art Resource Center in the San Fernando Valley. He also resumed mural painting, including work on the Great Wall of Los Angeles, a project in the Tujunga Wash flood-control channel. Organized by the famed muralist Judy Baca, the Great Wall involved the participation of 40 ethnic scholars, 450 multicultural neighborhood youth, 40 artists, and more than 100 support staff to paint the half-mile-long mural depicting the ethnic history of California. Painted over five summers, beginning in 1974, this historic work describes decade by decade the contributions and struggles of the state's diverse peoples from prehistoric times to the 1950s.
Now Dig This! Artist Ulysses Jenkins
In October 2011 we sat down with Ulysses Jenkins to discuss his diverse body of video and performance work. From his early documentation of the Watts Festival in the 1970s to his current investigation of the media's portrayal of African American men, Jenkins examines questions of race, history, and the power of the state. (Run time: 9 min.)
In 1977 Jenkins enrolled at Otis Art Institute to formally study video, earning his MFA in 1979. In the first artistic video he made there, Mass of Images (1977), he used performance art to explore the destructive power of racist imagery in the United States. At Otis he encountered several mentors who would have a profound influence on his career, most notably Charles White, who provided enormous support and encouragement to many artists of Jenkins's generation. Jenkins also participated in Studio Z, a loose group of artists that occasionally gathered at the studio of fellow artist David Hammons to "engage in spontaneous actions."#
Jenkins moved to Oakland in 1989 to work with a San Francisco gang-intervention program teaching youth how to use video. During this time, he also held video-telephone poetry readings between Oakland and Santa Monica. Since the 1980s, Jenkins has been exploring how traditional stories and myths can be expressed through video imagery. With his conceptual art band, Othervisions, he explores the relationship between spoken word and lyrical content.
Jenkins is currently an associate professor of studio art at the University of California, Irvine. He was the recipient of the California Arts Council's Multicultural Entry Grant as artistic director of Othervisions Studio, an interdisciplinary media arts production group. He is a three-time recipient of the National Endowment for the Arts' individual artist fellowship and was awarded the Black Filmmakers Hall of Fame first place award in the experimental video category in 1990 and 1992. He continues to show his work nationally and internationally.
—Naima J. Keith
Selected Commissions and Exhibitions
First West Coast Mural and Graffiti Conference, Museum of Science and Industry, Los Angeles, 1976.
Transportation Brought Art to the People (commissioned mural), City Wide Mural Resource Center, Los Angeles, 1976.
Columbus Day: A Doggereal, LACE, Los Angeles, 1980.
Social Distortion: Peace and Anwar Sadat, Los Angeles Contemporary Exhibitions, 1986.
Les soirées nomades: Nuits noires, Fondation Cartier pour l'art contemporain, Paris, 2006.
California Video, Getty Center, Los Angeles, 2008.
Selected Bibliography
"African American Avant-Gardes, 1965–1990: Modern Art in Los Angeles." Interview by Kellie Jones and Judith Wilson. Getty Center, Los Angeles, January 16, 2008. Audiotape.
Johnson, Royal. "Coalition of Avant-Garde Artists Show Work Locally." Los Angeles Sentinel, September 12, 1985.
"Pavilion Walls Graffiti Gives Way to Murals." Los Angeles Times, September 13, 1973.
Snowden, Dan. "A Griot's Vision: Fleeing the Hollywood Plantation." Los Angeles Times, July 22, 1986.
"Venice Murals." Los Angeles Times, September 13, 1973.
Von Blum, Paul. "Ulysses Jenkins: A Griot for the Electronic Age." Journal of Pan African Studies 3, no. 2 (September 2009): 135–52.