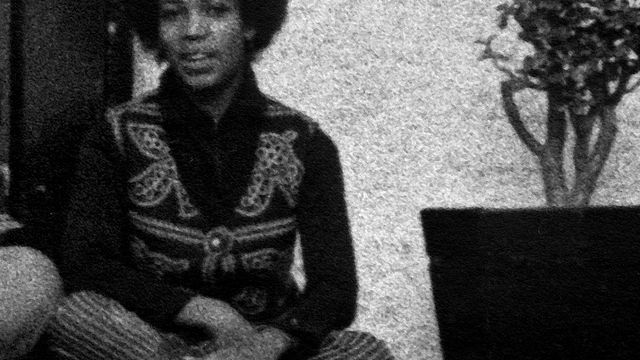 An accomplished artist, poet, set designer, gallery owner, and dancer, Suzanne Jackson has been exhibiting internationally for some four decades. Born in Saint Louis, she was raised in the Yukon Territory of pre-statehood Alaska and took her first art lessons when she was a teenager. She moved to the Bay Area in 1966 to attend San Francisco State University, where she studied both art and ballet, eventu­ally receiving a BA in painting. While at the university, Jackson worked in the campus gal­lery installing exhibitions and taught art at Saint Stephen's School. Following graduation, she toured South America with a modern dance company, and upon returning settled in Echo Park, a bohemian enclave near downtown Los Angeles, in 1967.
After taking a drawing class at Otis Art Institute with Charles White, Jackson began to connect with other artists in Los Angeles, including Dan Concholar, Alonzo Davis, and Timothy Washington. Soon after, Jackson was invited to participate in the 1968 Watts Summer Festival arts competition and a show at the Laguna Art Museum.
From 1968 to 1970 Jackson ran Gallery 32, a space dedicated to fostering a supportive artist community. Located at 672 North Lafay­ette Park Place, near MacArthur Park, the Otis Art Institute, and Chouinard Art Institute, Gallery 32 was inspired by White's philosophy that art could be an effective vehicle for community activism and social change. Seek­ing to replicate Jackson's previous experiences of San Francisco bohemianism, Gallery 32 functioned less as a business than as a place for the exchange of ideas and philosophies. Jackson funded the gallery herself, largely with money she earned from teaching. The gallery became an important venue, hosting discus­sions, poetry readings, and fund-raisers for social causes, and exhibiting work that dem­onstrated strong political and civic engagement. It quickly became one of the few art spaces in Los Angeles to exhibit emerging African American artists such as Gloria Bohanon, Emory Douglas, David Hammons, Betye Saar, and Timothy Washington. The gallery also hosted fund-raising exhibitions for the Black Arts Council, the Black Panther Party, and the Watts Towers Arts Center children's arts pro­gram. One of the gallery's important exhibitions was the 1970 Sapphire Show, the first Los Angeles survey of African American women artists. Gallery 32 played a vital role in the pro­gressive struggles of the period while contrib­uting to the diverse art scene of Los Angeles.
Image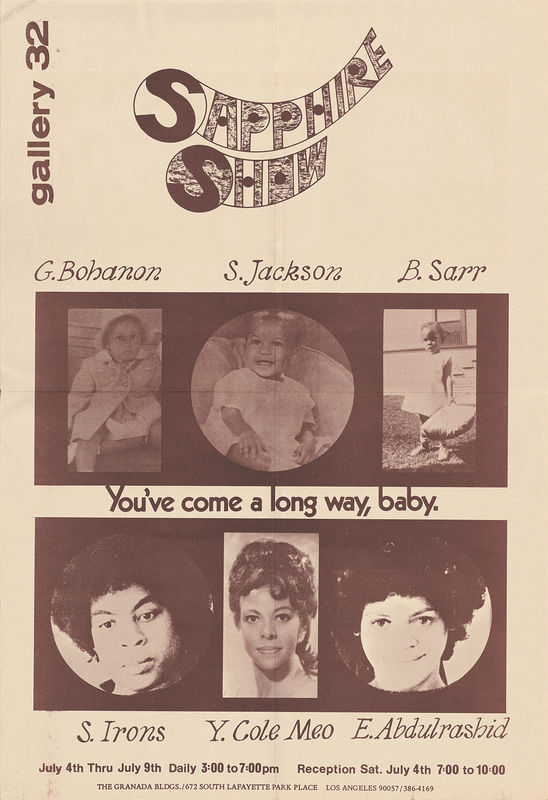 Unfortunately, the gallery survived for only two years, closing in 1970. Jackson continued to make and exhibit her own work and had several solo exhibitions at the Ankrum Gallery in the mid-1970s. Using acrylic, watercolor, and mixed media, she worked predominantly on large canvases to reflect the "abstract language of cultural continuity, social dislocation, spiri­tual yearning and the grace of the physical body."# On a single painting, she might combine up to 150 thin lines of paint to achieve a lumi­nosity and vibrancy of color, influenced by a combination of spiritual belief systems, includ­ing Islam and Buddhism. Jackson attaches meaning to certain colors; for example, her use of white refers not to Alaska, ice, or snow but to the white found in African masks. Several works from the period include images of birds, reflecting the artist's long-standing interest in the species, which dates back to her member­ship in the Audubon Society as a child in Alaska.
Jackson completed an MFA from the School of Drama, Yale University, in 1990, focusing on theater design. She has had a dis­tinguished career, exhibiting her work nation­ally and internationally. In 1981 Jackson was nominated by Betye Saar for the first National Awards in the Visual Arts. She was the recipient of two Idyllwild Associates fellowships for etching/bookmaking and dance at the Idyllwild School of Music and the Arts, in 1982 and 1983, respectively. Jackson recently retired from the painting department at Savannah College of Art and Design, Georgia, where she had taught since 1996.
—Naima J. Keith
Selected Exhibitions
Black Untitled II: Dimensions of the Figure, Oakland Museum of California, 1971.
Solo exhibitions, Ankrum Gallery, Los Angeles, 1974, 1978.
Black Mirror, Womanspace, Los Angeles, 1973.
Directions in Afro-American Art, Cornell University, Ithaca, New York, 1974.
Suzanne Jackson/William Pajaud/Charles White, Haggin Art Galleries, Pioneer Museum, University of the Pacific, Stockton, California, 1975.
Lighter than Usual, Danville Museum of Fine Arts and History, Virginia, 2010.
Selected Bibliography
Jackson, Suzanne.
Animal.
Los Angeles: Continuity Transcripts and Features, 1978.
LeFalle-Collins, Lizzetta, and Cecil Fergerson. 19Sixties: A Cultural Awakening Re-evaluated, 1965–1975. Exh. cat. Los Angeles: California Afro-American Museum Foundation, 1989.
Lewis, Samella S. Art: African American, 161–62. New York: Harcourt Brace Jovanovich, 1978.
Peter, Carolyn, and Damon Willick. Gallery 32 and Its Circle. Exh. cat. Los Angeles: Loyola Marymount University, 2009.
Tate, Mae. "The Art of Suzanne Jackson." Black Art Quarterly 4, no. 3 (1982): 3–21.
Widener, Daniel. Black Arts West: Culture and Struggle in Postwar Los Angeles. Durham, N.C.: Duke University Press, 2010.
Selected Links
Suzanne Jackson personal website. 
Karen Anne Mason, "Interview of Suzanne Jackson," August 1992, African American Artists of Los Angeles, Oral History Program, University of California, Los Angeles. Transcript, Charles E. Young Research Library, Department of Special Collections, UCLA. 
"A Conversation with Suzanne Jackson by Lyn Kienholz," uploaded to YouTube by Netropolitan Arts Conversations, January 3, 2013.