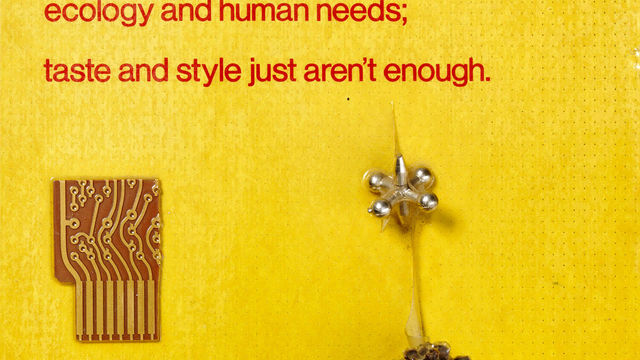 Sheila Levrant de Bretteville
Sheila Levrant de Bretteville received her BA in art history from Barnard College in 1962 and her MFA in graphic design from Yale University in 1964; she also holds honorary degrees from the California College of Arts and Crafts and Moore College of Art and Design. She relocated to Los Angeles in the late 1960s, a move that would have a significant impact on her career both as an artist and as an educator. In 1971, at the California Institute of the Arts, she created the first women's design program. She performed many collective pieces with this group, including Menstruation (1972), which consists of several videos documenting group discussions about a topic still considered taboo at the time. In these videos, men and women ranging in age from adolescence to menopause delve into the cultural meanings and traditional conceptions surrounding menstruation. The work triggered de Bretteville's lifelong interest in communal forms of art, which she advocated as an essential component of the feminist art movement. In 1973 she founded the Woman's Building and the related Women's Graphic Center in Los Angeles. Also in that year, de Bretteville was a founding member of the first independent feminist art school in the United States: the Feminist Studio Workshop in Los Angeles.
Through her work in the feminist art movement in Los Angeles in the early 1970s de Bretteville met Betye Saar, an artist who had been deeply involved in the Black Arts Movement and feminist issues since the 1960s. The two would collaborate on projects throughout their careers. De Bretteville featured Saar's work on the cover of Chrysalis, no. 4, a feminist journal that she published through the Women's Graphic Center. She also designed exhibition catalogues for Saar: one for her 1984 solo show at Los Angeles Museum of Contemporary Art, and another for the 1990 two-person exhibition with her daughter Alison Saar at the Wight Art Gallery (now the Hammer Museum). In 1989–90 de Bretteville collaborated with Betye Saar, among other artists, on Biddy Mason: Time and Place, an 82-foot-long public mural project in Los Angeles commemorating the midwife and influential matriarch in the black community who lived at the site in the mid-nineteenth century. Public artworks have remained an important component of de Bretteville's practice, including Path of Stars in New Haven (1994); Omoide no Shotokyo in Los Angeles (1995); Search: Literature in Flushing, New York (1998); At the start … At long last in New York City's Inwood "A" train station (2000); and step(pe) in Yekaterinburg, Russia (2006).
An influential teacher, in 1981 de Bretteville initiated and chaired the Department of Communication Design at Otis Art Institute in partnership with Parsons School of Design. She was named director of graduate studies in graphic design at Yale University School of Art in 1990, becoming the first tenured female professor. She has been the recipient of numerous awards, including the prestigious medal for leadership by the American Institute of Graphic Arts in 2004; that same organization designated her a "Design Legend" in 2006. She was responsible for the redesign of the Los Angeles Times in the 1980s, and has designed special issues of the Aspen Times, Everywoman, American Cinematographer, and Arts in Society. Among the many publications on art and culture she has designed are The Photographs of Dorothy Norman and The Motown Album. Her posters and fine-press editions are in the special collections of New York's Museum of Modern Art, the Victoria and Albert Museum in London, Centre Pompidou in Paris, and numerous university and public libraries.
—Kalia Brooks
Selected Exhibitions
Pink, Contemporary Arts Museum, Houston, 1976.
Within/Without, Long Beach Museum of Art, 1985.
Biddy Mason: Time & Place, The Power of Place, Los Angeles; Corcoran Gallery of Art, Washington, D.C., and Walker Art Center, Minneapolis, 1990.
At the start … At long last, Cooper-Hewitt, National Design Museum, New York, 2000.
Selected Bibliography
Berke, Deborah, and Steven Harris, eds.
Architecture of the Everyday
. New York: Princeton Architectural Press, 1997.
Lacy, Suzanne, ed. Mapping the Terrain: New Genre Public Art. Seattle: Bay Press, 1995.
Lippard, Lucy. Lure of the Local: Senses of a Place in a Multicentered Society. New York: New Press, 1997.
Williams, Jean Kinney. Bridget "Biddy" Mason: From Slave to Businesswoman. Minneapolis: Compass Point Books, 2006.