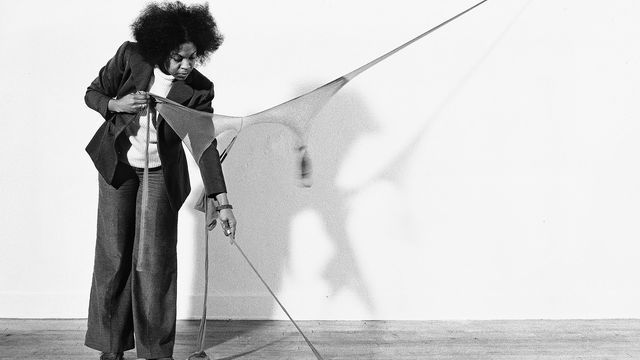 "Please respond." That was the request in Senga Nengudi's 1977 exhibition at Just Above Midtown Gallery in New York. Her work as a whole, however, does not merely ask for but instead demands a response, with sculptures and performance pieces that give life to worn, discarded, and otherwise ordinary objects. Nylon stockings, probably Nengudi's best-known material, are at once playful, political, and symbolic. A familiar item in many women's wardrobes, stockings recall both the physical presence of the female body and its wider cultural implications. The artist alters such inexpensive everyday materials, which in the case of pantyhose carry simultaneous notions of constriction and beauty, to question accepted understandings of the body.
Nengudi was born Sue Irons in Chicago. At the age of seven, she and her mother settled in California, moving several times between Los Angeles and Pasadena. Nengudi majored in art and minored in dance at California State University, Los Angeles (CSULA), earning a bachelor's degree in 1966. After a year at Waseda University in Tokyo, she returned to CSULA for graduate studies. While a student, she volunteered at the Watts Towers Art Center and worked as a teaching assistant at the Pasadena Art Museum. Both experiences further shaped her artistic interests. The Watts Towers program emphasized experimentation with materials and community-based art practices, while the museum introduced her to the work of such avant-garde artists as Robert Rauschenberg and Allan Kaprow. Nengudi moved to East Harlem upon receiving her master's degree in sculpture in 1971 and quickly became part of a community of African American artists there. She traveled between New York and Los Angeles for a number of years, swapping studio space with artist David Hammons. 
Image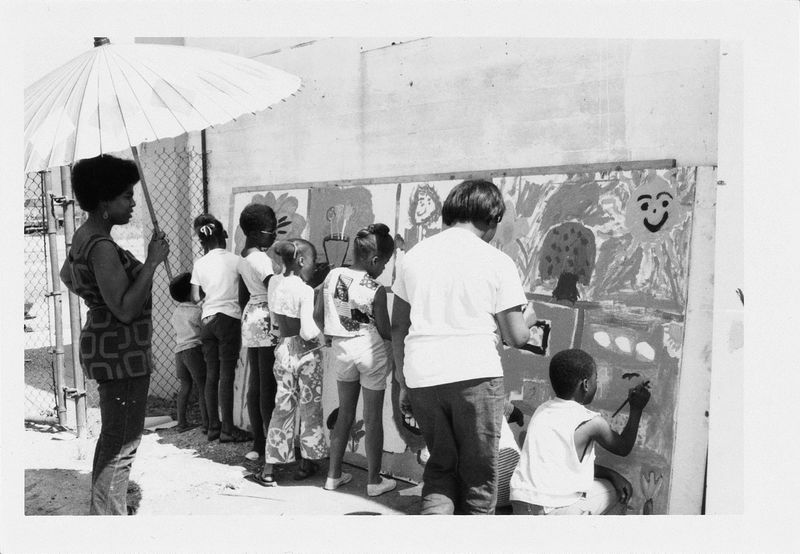 Although seemingly mundane, the materials Nengudi has chosen to work with take on multiple meanings in her hands. Both corporeal and societal limitations of the female body are explored through pantyhose. Stretched, filled, knotted, and pulled, the stockings in the series Répondez s'il vous plaît (1975–77) assume biomorphic qualities that are both grotesque and beautiful. They speak to the endurance of the human body—and in particular, the female body—in its physical transformations. Pantyhose filled with sand droop and sag, their forms resembling a mother's womb or weighty breasts. When stretched and twisted, they evoke pain and violence, especially when their legs are pulled apart. In a 1977 performance piece at the Pearl C. Woods Gallery in Los Angeles, the stockings acted as a metaphor for the restrictions placed on women by society, as a web of pantyhose affixed to the walls ensnared, entangled, and restrained Nengudi and collaborator Maren Hassinger as they tried to move through the space.
Long interested in experimenting with materials to test their physical properties, Nengudi has also worked with bicycle tires, vinyl tubes, and rope as well as water, air, and sand. As elements that exist throughout the natural and manufactured worlds, these objects resonate with every viewer. In addition, by using previously worn pantyhose, Nengudi imbues her sculptures and performance pieces with a bodily presence. It is impossible to forget that such stockings are meant to be worn by women, whose bodies can be seen as haunting the works themselves. It is these presences that Nengudi addresses in her pieces, exploring just how far the female body itself can go.
Image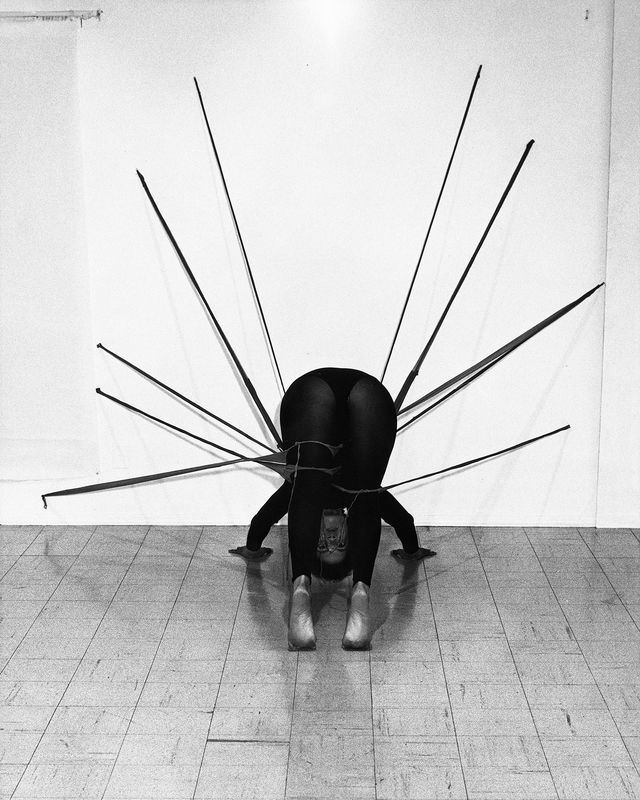 Nengudi's choice of materials also raises issues of ephemerality. Using objects that evaporate, disintegrate, or have already worn down, she places the focus first on the experience of the work and not on its ability to stand the test of time. Pantyhose in particular, when stretched and twisted beyond their natural limit, become shapeless, even lifeless, after their physical supports are removed. Much like the changes that occur to a human body as it ages, the plasticity of the stockings is affected by their temporality. Time thus becomes another factor through which Nengudi's sculptures and performances must be considered.
Her collaborative performance pieces with fellow artists such as Hassinger and Hammons speak to Nengudi's interest in the experience of a work of art. By definition ephemeral, her performances often utilize common materials and abstracted actions to bring about shared experiences. Although not explicitly political or didactic, Nengudi's works elicit active and thought-provoking involvement, necessitating a response on the part of the viewer to questions surrounding the everyday challenges met by women.
—Connie H. Choi 
Selected Performances and Exhibitions
Sapphire Show, Gallery 32, Los Angeles, 1970.
Solo exhibition, California State University, Los Angeles, 1971.
Répondez s'il vous plaît, Just Above Midtown Gallery, New York, 1977.
California Black Artists, Studio Museum in Harlem, New York, 1977.
Ceremony for Freeway Fets, freeway underpass, Los Angeles, 1978.
Dialectics of Isolation: An Exhibition of Third World Women Artists of the United States, A.I.R. Gallery, New York, 1980.
Art as a Verb: The Evolving Continuum, Maryland Institute, College of Art, Baltimore, and Studio Museum in Harlem, New York, 1988–89.
Double Consciousness: Black Conceptual Art Since 1970, Contemporary Art Museum, Houston, 2005.
Side by Side (collaboration with Maren Hassinger), Fondation Cartier pour l'Art Contemporain, Paris, 2006. 
Selected Bibliography
Cotter, Holland. "The Art of Feminism as It First Took Shape." New York Times, March 9, 2007.
Goode-Bryant, Linda, and Marcy S. Phillips, eds. Contextures. Exh. cat. New York: Just Above Midtown Gallery, 1978.
Green, Marni. "Senga Nengudi." Eye Level: A Quarterly Journal of Contemporary Visual Culture, Winter 2000, 20.
Kingsley, April. Afro-American Abstractions. Exh. cat. Los Angeles: Municipal Art Gallery, 1982.
Lovelace, Carey. "Girls, Girls, Girls: Feminist Art's Phases and Philosophies? Let Me Count the Ways." Art in America 95, no. 6 (June–July 2007): 89–93.
Odita, O. Donald. "The Unseen, Inside Out: The Life and Art of Senga Nengudi." Nka: Journal of Contemporary African Art, nos. 6–7 (Summer–Fall 1997): 24–27.
"Senga Nengudi." In WACK! Art and the Feminist Revolution, 272–73. Exh. cat. Los Angeles: Museum of Contemporary Art, 2007.