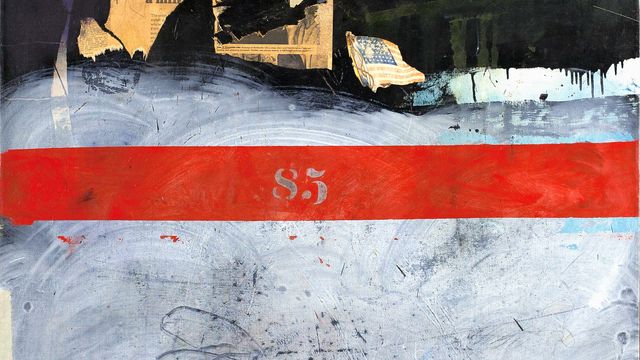 Found objects, lumped and dripped pigments, chalk drawings, and magazine photographs all find their way into a painting by Raymond Saunders. Crammed with multiple sources of inspiration and focus points, the works require care and attention to decipher their stories of life and its experiences. Urbanity—made personal, public, and important—is a recurring theme in the artist's rendering of city spaces and sounds. Billboard advertisements, graffiti, flashing lights, and police sirens are only some of the references Saunders makes to construct an urban world that oftentimes envelops the viewer in a visual cacophony of brash colors and assorted shapes. The dissonance is deceiving, however, since his works are grounded in an extensive formal art training.
Saunders was born and raised in Pittsburgh, an alumnus of the city's public school system. He found a mentor in Joseph C. Fitzpatrick, his elementary and high school art teacher and the director of art for Pittsburgh Public Schools. Through Fitzpatrick's encouragement and support, Saunders began showing his work at local venues and obtained a scholarship to the Pennsylvania Academy of the Fine Arts. He also studied at the Barnes Foundation before earning his BFA from the Carnegie Institute of Technology in 1960. He moved to Oakland, where he still lives, to pursue an MFA from the California College of Arts and Crafts (1961). Saunders began teaching in 1968, when he accepted a faculty position at California State University, Hayward; he is currently a professor of painting at California College of the Arts in Oakland.
Saunders's art combines his interests in expressionism, the cityscape, education, and life experiences. Although his aesthetic is akin to that of artists such as Cy Twombly and Robert Rauschenberg, Saunders constructs a social narrative by bringing together a host of influences, including African American history, jazz, and the classroom. Many of his paintings feature a black background, a reference both to his race and to the blackboards used in schools. The frequent appearance of chalk as a medium adds to this latter association, as do the artist's scribbles, drawings, and scrawled-out math problems and letters.
Saunders also looks to the city—its simultaneous abundance and dearth of opportunities, and its residents' struggles—to comment on the paradoxes of our society. Chalk-drawn hopscotch grids paired with remnants of used paper and pop culture symbols emphasize the coexistence of childhood innocence and urban reality. Discarded objects, the trash of the streets, take on new meaning when combined and reconfigured within Saunders's compositions. Torn posters and plastic figurines voice the dreams and defeats of urban neighborhoods, becoming the materials that "teach" the viewer about city life and its concerns. An educator at heart, Saunders uses his art as a tool to express the momentum of the street and the experiences of urban minorities.
Contradictory in nature, with childlike lettering and found objects placed within and among elegant, technical drawings and paintings, Saunders's works are of the moment and show little concern for permanence. The artist is notorious for adding more scrawls and items to paintings already hanging on gallery walls, suggesting his belief in the constant evolution of his art and the role of ephemerality in decoding it. Very much in the spirit of the music of Miles Davis and Charlie Parker, Saunders's art celebrates improvisation and transience. Sights and sounds pass by as one moves along a city street, encountering the world, making decisions, and changing one's mind as one goes. Such is the beauty of Saunders's paintings. They are about life and all of its battles and victories, dirtiness and splendor.
Saunders's works ask the viewer to study and examine them before reaching a conclusion. The paintings, while drawn from the artist's personal experiences and ideas, welcome individual, and universal, interpretations. The abundance of imagery and text— stylistically dense and at times bordering on the absurd—allows viewers to draw connections and discover dissonances. Appropriating elements from both high and low culture, Saunders plays with the expectations of the art world to create paintings that stay true to his influences and motivations as both artist and teacher.
—Connie H. Choi 
Selected Exhibitions
Solo exhibition, Terry Dintenfass Gallery, New York, 1966.
Thirty Contemporary Black Artists, San Francisco Museum of Art, 1969.
Contemporary Black Artists in America, Whitney Museum of American Art, New York, 1971.
Whitney Annual, Whitney Museum of American Art, New York, 1972.
Solo exhibition, Pennsylvania Academy of the Fine Arts, Philadelphia, 1974.
Aesthetics of Graffiti, San Francisco Museum of Modern Art, 1978.
Raymond Saunders, Seattle Art Museum, 1981. 
Selected Bibliography
Chase, Henry. "Raymond Saunders Comes Full Circle." American Visions 14, no. 6 (December 1999–January 2000): 26–30.
Heartney, Eleanor. "New York: Raymond Saunders at Hunter College." Art in America 86, no. 9 (September 1998): 127–28.
"Raymond Saunders: An Artist's Artist." Encore: American and Worldwide News, April 1974.
Raymond Saunders: Recent Work. Exh. cat. New York: Hunter College of the City University of New York, 1998.
Saunders, Raymond. Black Is a Color. San Francisco: privately printed pamphlet, c. 1967.