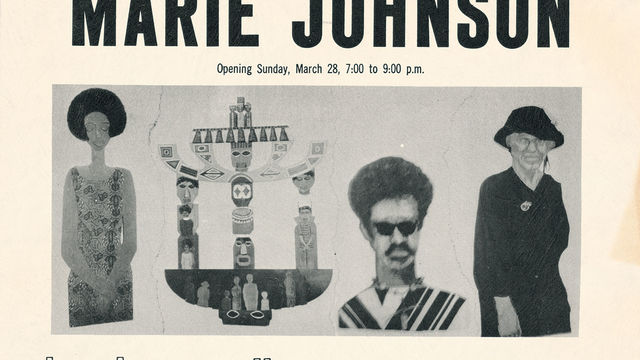 Marie Johnson Calloway has been exhibiting her "sculpted paintings"—polychromed wood renderings of everyday African American heroes—for more than three decades. Born Marie Edwards in 1920, Calloway was raised in the then-segregated city of Baltimore. Working as a public school teacher for a decade before attending Morgan State College, Calloway completed a degree in art education in 1952. In an effort to escape segregation, she moved to San Jose in 1954. Once settled in California, she earned a master's degree at San Jose State University and a doctoral equivalency from San Francisco State University. While teaching at a number of San Jose public schools, Calloway pursued her work as an artist, winning an award at the California State Fair and Exposition in 1960 for an abstract painting entitled Prejudice. She subsequently worked as an art specialist in the Santa Clara school district, an assistant professor at the California College of Arts and Crafts in Oakland and in the art department of San Jose State University, and an associate professor in the art department of San Francisco State University.
Calloway became active in the civil rights movement during the 1960s, becoming president of the San Jose chapter of the NAACP, where she worked closely with various industries, corporations, and school districts to provide equal job opportunities to minority students. In 1965 she participated in the historic march in Selma, Alabama, with Dr. Martin Luther King Jr.—an experience that changed the direction of her work. The artist recalled, "When I came back I felt as though abstract work had to go on hold. So I started painting my world around me."# The first of her new works was a painting of civil rights marchers being fire-hosed. As the years passed, her work grew more three-dimensional, from paintings on canvas to life-size wood cutouts of figures, often wearing real clothes. In Vanity (1977), a black-wigged mannequin is combined with furniture and novelty items. The mannequin, a beautiful African American woman in a lace gown, observes herself in a mirror, surrounded by mementos. The Grandfather (1970s) is an installation of an old man holding an infant in a simply furnished room, seemingly chilled from the snowy day outside. With such works, the artist combines various media (wood, cloth, leather) to produce a popular image, "a portrait of a people that is universal in its humaness; the reservoir of images is limitless."#
In an effort to initiate ties with other African American artists, Calloway joined Art West Associated North, an organization of black artists in San Francisco. An affiliate of Art West Associated, founded in Los Angeles by printmaker Ruth Waddy in 1962, the San Francisco branch was established by artist and curator Evangeline J. Montgomery in 1967 upon her return from Nigeria. Like other political organizations concerned with African American visibility and self-definition, both associations displayed considerable savvy in protesting the exclusion of black artists from the Los Angeles County Museum of Art and the Oakland Museum of California. Focusing on the positive, the two associations highlighted the works of black artists in exhibitions, books, and catalogues, and through their activities pierced the veil of invisibility that white America had cast over their art.
Calloway continued to exhibit widely in the 1970s, including a landmark show, in conjunction with Betye Saar, at the San Francisco Museum of Modern Art in 1977. Having met a few years earlier, Saar and Calloway quickly became very close friends. Saar was even instrumental in the development of several of Calloway's artworks, sending Calloway the dress and photograph that would feature prominently in Vanity, which was included in the San Francisco exhibition. The two artists would exhibit together several times over the course of their careers.
Calloway continues to paint and volunteer today. Her works are included in the permanent collections of San Jose State University, the California Museum of African American Art, the Triton Museum of Art, and several private collections. In 1992 the Women's Caucus for the Arts granted Calloway the Lifetime Achievement Award.
—Naima J. Keith
Selected Exhibitions
Solo exhibition, San Jose State College, 1968.
New Perspectives in Black Art, Oakland Museum of California, Kaiser Center Gallery, 1968.
Solo exhibition, Brockman Gallery, Los Angeles, 1971.
Three Assemblage Interpretations: Noah Purifoy, Dale Davis, Marie Johnson, Brockman Gallery, Los Angeles, 1972.
Eleven from California, Studio Museum in Harlem, New York, 1972.
Black Mirror, Womanspace, Los Angeles, 1973.
Marie Johnson and Betye Saar, San Francisco Museum of Modern Art, 1977.
Homecoming: Marie Johnson Calloway, Past and Present, Morgan State University, Baltimore, 2006.
Selected Bibliography
Fine, Elsa.
The African American Artist: A Search for Identity
. New York: Hacker Art Books, 1982.
Frankenstein, Alfred. "Unique Sculptures That Elicit Pathos." San Francisco Chronicle, April 4, 1977.
Lewis, Samella S. African American Art and Artists. 3rd ed., 205. Berkeley: University of California Press, 2003. 
Lewis, Samella S., and Ruth G. Waddy. Black Artists on Art, 1:58–60. Los Angeles: Contemporary Crafts, 1969.
Roth, Moira. Connecting Conversations: Interviews with 28 Bay Area Artists. Oakland: Eucalyptus Press, 1988.