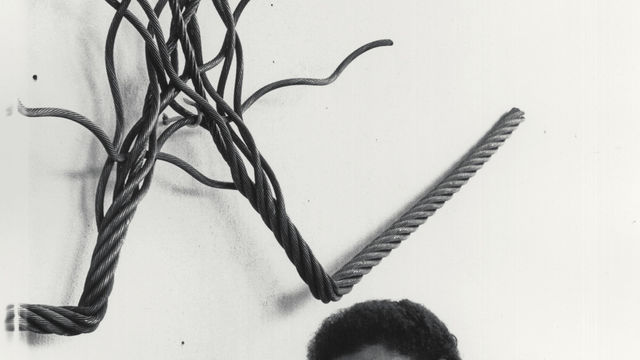 Born Maren Louise Jenkins, Hassinger grew up in Los Angeles. She enrolled at Bennington College, Vermont, in 1965 for dance, which she had studied since the age of five. She graduated four years later, however, with a bachelor's degree in sculpture, though her interest in dance would remain strong and she often integrates it into her sculptural forms. After a brief stay in New York, she returned to Los Angeles to pursue an MFA in fiber from the University of California, Los Angeles, graduating in 1973. Hassinger's study of fibers proved beneficial to her work in sculpture, and she learned techniques that would inform her later work. Since 1997 she has been director of the Rinehart School of Sculpture at Maryland Institute College of Art, Baltimore, bringing her spirit of experimentation to teaching as well.
Wire rope, usually frayed, unraveled, bent, or twisted, appears frequently in Hassinger's sculptures and installations. The material's characteristics make it similar to fiber, allowing the artist to work and shape it to approximate natural forms and plant life. Hassinger has long been interested in nature and its relationship to industry, and in her works the elegance and graceful curves of vegetation come to life from a material derived from the manufactured world. The sculptures seem to sway and move, like grasses in the breeze or the lyrical lines often found in dance. Hassinger also uses natural elements such as dirt, leaves, and branches, sometimes combining natural and human-made materials within a single piece.
Although her works clearly resemble vegetation, their abstracted qualities allow the viewer to experience each sculpture or installation on an individual level. Inspired by Eva Hesse's experimentation with forms and fiber techniques, Hassinger welcomes abstraction's ability to invoke multiple responses, calling forth memories and experiences that resonate deeply with each viewer. Even though the forms are minimal and restrained, they are also powerful and able to arouse strong emotions. The wire rope pieces, oftentimes hauntingly beautiful, can evoke a sense of loss, as if the natural world has been overtaken by the industrial one. And yet Hassinger is never didactic, leaving room instead for the viewer's personal feelings and ideas to enter into the work.
Existing both on gallery walls and floors and in the physical landscape, her sculptures bridge the divide between natural and manufactured, interior and exterior, personal and public. Hassinger's primarily site-specific works create introspective spaces that oftentimes surround the viewer's visual field with coexisting signs of his or her connection to nature and ability to devastate it. Labor-intensive to create yet appearing soft and even fragile, the sculptures seem to embrace their own paradoxes and dichotomies to remind the viewer of the conflicts inherent in the everyday world, including that between order and chaos. The restraining qualities of the wire rope contrast with its expressive potential once its formal properties have been explored and manipulated. The resulting works can suggest nature's instinct toward survival: despite the controlled forms and constrictive material, the vegetation is on the verge of taking over the space. 
Image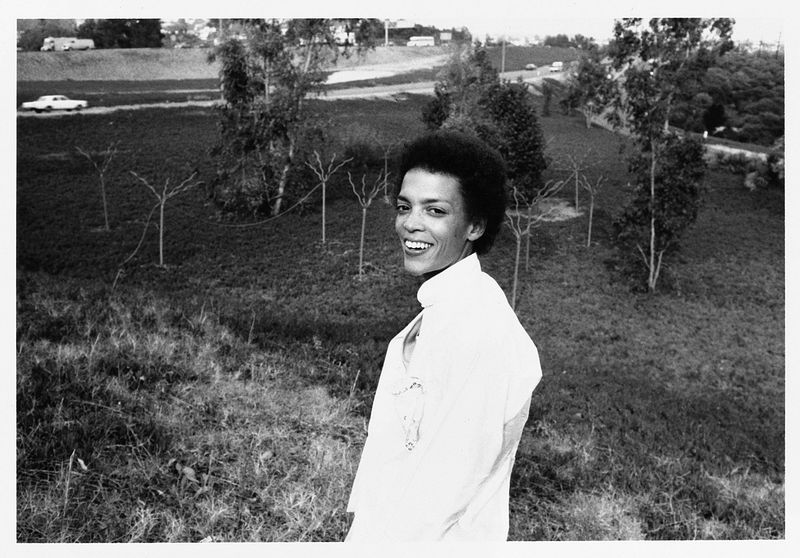 Hassinger also creates performance and video pieces that explore the relationship between the body and its surroundings. Throughout the 1970s and 1980s she sought out alternative spaces in which to show her works, such as abandoned buildings, construction sites, and vacant lots. Her experimentation extends beyond materials and venues to encompass collaboration with other artists, notably Senga Nengudi. Much like her sculptures and installations, Hassinger's performances and videos generate a desire for discovery. Usually focused on movement, these works, though seemingly about the mundane, bring life to simple gestures and actions.
Whether through sculpture or performance, Hassinger does not offer an obvious encounter for the viewer. She allows the tensions inherent in her work to remain unresolved precisely because she trusts the viewer to form his or her own opinion. What results is not a didactic experience of art but rather a sensory discovery of what it means to be an individual. With works that are sometimes participatory and always experiential, Hassinger uses the sensual and the contemplative, understatement and evocation, to offer her viewers an opportunity to discover, reflect, and connect.
—Connie H. Choi 
Now Dig This! Maren Hassinger
In early 2011, we visited Now Dig This! artist Maren Hassinger in her New York studio. Watch as she discusses her process, the importance of friendships, and what it was like to live and make art in Los Angeles in the 1970s. (Run time: 6 min.)
Selected Performances and Exhibitions
Hassinger/Mahan
, ARCO Center for Visual Art, Los Angeles, 1976.
Diaries, Vanguard Gallery, Los Angeles, 1977.
Remy Presents: Project Grand Central, Grand Central Station, New York, 1980.
Dangerous Ground, Los Angeles County Museum of Art, 1981.
Carnival-Ritual of Reversal, Kenkeleba Gallery, New York, 1985.
Art as a Verb: The Evolving Continuum, Maryland Institute, College of Art, Baltimore, and Studio Museum in Harlem, New York, 1988–89.
Side by Side (in collaboration with Senga Nengudi), Fondation Cartier pour l'Art Contemporain, Paris, 2006. 
Selected Bibliography
Kingsley, April. Afro-American Abstractions. Exh. cat. Los Angeles: Municipal Art Gallery, 1982.
Maren Hassinger, 1972–1991. Exh. cat. Brookville, N.Y.: Hillwood Art Museum, Long Island University, 1991.
Megerian, Maureen. "Entwined with Nature: The Sculpture of Maren Hassinger." Woman's Art Journal 21, no. 5 (Fall 1996–Winter 1997): 21–25.
Moore, Ronald. "City Honors Twelve Black Artists." Los Angeles Sentinel, May 1, 1981.
Peabody, Rebecca. "African American Avant-Gardes, 1965–1990." Getty Research Journal 1 (2009): 211–17.