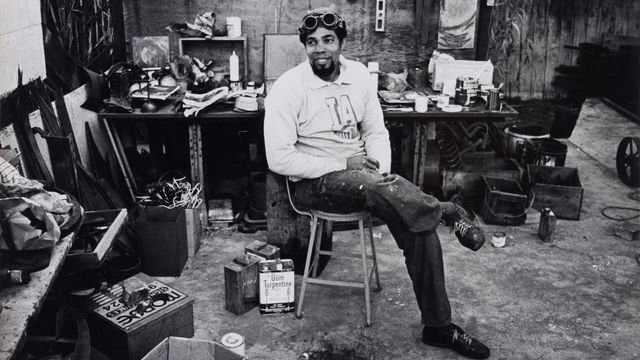 A native of Los Angeles, John T. Riddle Jr. came to art making as a young man. He received his associate's degree from Los Angeles City College and then went on to serve in the U.S. Air Force from 1953 to 1957. With financial support from the G.I. Bill, he pursued a bachelor's degree in art education from California State University, Los Angeles, graduating in 1966. He later earned a master's degree in fine art from the same university in 1973, while teaching ceramics at Los Angeles High School and Beverly Hills High School.
Before finishing graduate school, Riddle had his first solo show in 1968, at the newly founded Brockman Gallery. He was also featured, along with Timothy Washington, in the 1971 Emmy Award–winning television miniseries Renaissance in Black: Two Artists' Lives, which chronicled his young career and focused primarily on his work after the Watts rebellion of 1965. Like his mentor Noah Purifoy (to whom he had been introduced by artist Ruth Waddy), Riddle was deeply affected by the physical aftermath of the riots and created assemblage works from the torched metal junk that was piled everywhere. His sculpture Ghetto Merchant (1966) was pieced together from a destroyed cash register that Riddle found in the wreckage, picked apart down to its barest skeleton, and then mounted on metal legs that he had scavenged from a junkyard.# Although its parts betray a pained history, the sculpture possesses a lyricism of form that clearly draws from early twentieth-century abstraction in its emphasis on line and geometry. Riddle's later interest in minimal sculpture, especially the work of David Smith, pushed these ideas even further, as did his ongoing relationships with other "junk" artists, including David Hammons and John Outterbridge.#
In 1974 Riddle relocated to Atlanta and taught art at Spelman College. He later worked as executive director of Atlanta's Neighborhood Arts Center, and also served as assistant director of the Atlanta Civic Center for fifteen years. During his time there, Riddle installed a sculpture on the grounds of the Georgia State Capitol commemorating the thirty-three black legislators elected to, and almost immediately removed from, the Georgia General Assembly during the Reconstruction era. The sculpture, entitled Expelled Because of Color, depicts a line of men and women making their way up a winding structure formed out of cast cinder blocks and topped with a ballot box.
Riddle moved back to Los Angeles in 1999 to work as program manager of visual arts for the California African American Museum (CAAM), where he organized the exhibitions William Pajaud: The Sights and Sounds on My New Orleans (with Samella Lewis), Echoes of Our Past: The Narrative Artistry of Palmer C. Hayden, and Celebration and Vision: The Hewitt Collection of African American Art. Riddle died just a few years later, in 2002, and was honored by former Representative Diane Watson on the floor of the U.S. Congress for his many contributions to the state of California. The following year, CAAM organized a retrospective of more than thirty of Riddle's sculptures, prints, and paintings—the largest exhibition of his work to date.
—Andrea Gyorody 
Selected Commissions and Exhibitions
Los Angeles 1972: A Panorama of Black Artists, Los Angeles County Museum of Art, 1972.
Expelled Because of Color, sculpture commission, Georgia State Capitol grounds, Atlanta, 1976.
Metropolitan Atlanta Rapid Transit Authority commission, Tenth Street Midtown Station, Atlanta, 1984.
19Sixties: A Cultural Awakening Re-evaluated, 1965–1975, California African American Museum, Los Angeles, 1989.
Swifter, Higher, Stronger, a History of the Games, painting commission, for the Centennial Olympic Games, Hartsfield Airport, Atlanta, 1996.
A Tribute to John T. Riddle, Jr., California African American Museum, Los Angeles, 2003–4. 
Selected Bibliography
"Black Artists Exhibit at SPN Banks." Los Angeles Sentinel, February 11, 1971.
"Black Arts Council to Offer Watts Monument." Los Angeles Sentinel, March 4, 1971.
Browne, Roscoe Lee. "'Renaissance in Black' Airs on KNBC-TV." Los Angeles Sentinel, October 28, 1971.
"Museum Group Holds Black Lecture Series." Los Angeles Sentinel, August 28, 1969.
Poussaint, Renee. "Defining Blackness at the L.A. County Museum." Los Angeles Sentinel, February 17, 1972.
Riddle, John, interview by Karen Anne Mason, September 5, 1992, and June 26, 1993. African American Artists of Los Angeles, Oral History Program, University of California, Los Angeles. Transcript, Charles E. Young Research Library, Department of Special Collections, UCLA.