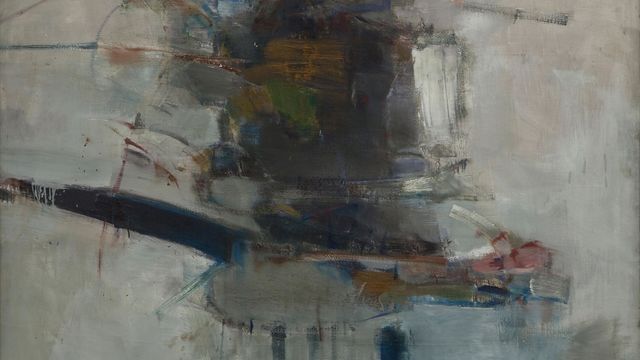 A major force in the Los Angeles art scene during the 1950s and 1960s, John Altoon came to prominence through his association with the Ferus Gallery, run by Walter Hopps and Edward Kienholz. Between March 1957 and November 1958, the Ferus Gallery featured more than thirty-five artists who lived, worked, or congregated in Venice Beach, West Hollywood, and other Westside neighborhoods. It was an irreverent space that eventually hosted exhibitions by many of the city's most renowned artists of the time, including Billy Al Bengston, Wallace Berman, George Herms, Craig Kauffman, Ed Moses, Edward Ruscha, and Kienholz himself. Altoon was part of this charismatic and talented group of Southern California artists, and his erotic drawings and late abstract paintings stand among the most evocative, and underrated, bodies of work produced on the West Coast.
Altoon attended the Otis Art Institute from 1947 to 1949, the Art Center College of Design from 1949 to 1950, and Chouinard Art Institute in 1950. In the spring of 1950 he received the Anna Lee Stacey Award for drawing, which allowed him to paint full-time in his Santa Barbara studio. He then spent four years in New York City, from 1951 to 1955, with a yearlong sojourn in Spain and France in 1954. While living briefly in Majorca, Altoon met poet Robert Creeley, and the two later created the portfolio About Women comprised of ten lithographs and three poems. Altoon returned to Los Angeles and began teaching drawing at Art Center, where he befriended many of the artists associated with the Ferus Gallery.#
Fantasies and dreams are frequent subjects of Altoon's abstract drawings and paintings. In 1961 he moved into a studio in Venice, California, and soon after began working on his Ocean Park series, a group of eighteen paintings and several works on paper named after his local neighborhood. In these works he left most of the canvas surface empty and began on a neutral field. From 1962 to 1963 he produced the Advertising Parodies series and large-scale pastels that explored the figure as represented in the media and pop culture, pulling imagery and text from commercial advertisements. In 1965 he worked at the Tamarind Lithography Workshop, which taught a generation of American master printers. Altoon continued to draw throughout his career, creating his Animal and Cowboys and Indians series from 1966 to 1968, in which the comical and sexually explicit implications that abound in his early work "gave way to softer, biomorphic forms that were vaguely sexual and highly fanciful." # In the case of the Cowboys and Indians series, however, Altoon returned to a certain biting critique of society, in this case exploring the exploitive relationships between Western settlers and Native Americans.
Upon his untimely death at the age of forty-three, Altoon left behind an impressive body of work. He is remembered for his talent, vitality, and inspiration and for the personal tenor of his images—"some dreamy, others explicitly sexual, still others biomorphic doodles—that floated through his fantasy." #
—Naima J. Keith 
Selected Exhibitions
Solo exhibition, Santa Barbara Museum of Art, 1953.
Solo exhibition, Ferus Gallery, Los Angeles, 1958.
Solo exhibition, M. H. de Young Memorial Museum, San Francisco, 1963.
Fifty California Artists, Whitney Museum of American Art, New York, 1964.
Solo exhibition, San Francisco Museum of Modern Art, 1967.
Selected Bibliography
Brenson, Michael. "Art: Works by a Figure of the Counterculture." 
New York Times
, January 25, 1985.
Knight, Christopher. "A Missed Opportunity to Give John Altoon His Due." Los Angeles Times, January 24, 1998.
Rose, Barbara. "Los Angeles: The Second City." Art in America 54 (January 1966): 110–15.
Rosenberg, Karen. "John Altoon." New York Times, September 12, 2008.
Seldis, Henry. "In the Galleries: Altoon Expands Pop Art Horizons." Los Angeles Times, May 18, 1964.
Seldis, Henry. "Visual Memories of a Fertile Fantasy." Los Angeles Times, November 25, 1973.