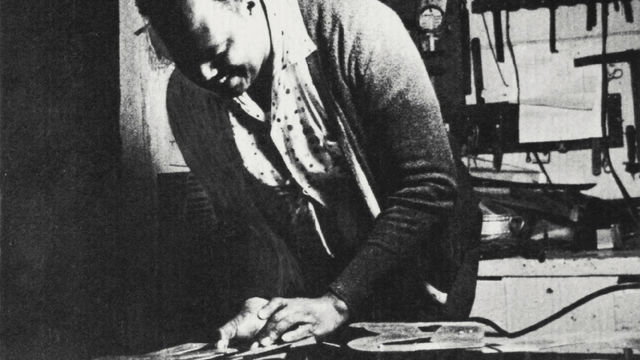 George Clack works in sculpture, drawing, and printmaking. He attended Otis Art Institute and was a member of the Black Artists Association, a group formed in Los Angeles during the same time to promote the work of African American artists in the city. He participated in the first Watts Summer Festival, in 1966, exhibiting his sculpture. His work was included, along with that of Dan Concholar, Timothy Washington, Alonzo Davis, David Hammons, Susanne Jackson, Samella Lewis, Dale Davis, John Outterbridge, John Riddle, and Noah Purifoy, in the seminal Art from the Black Community exhibition at the Laguna Beach Art Festival in 1968, described at the time as "Orange County's first exposure to contemporary black culture, junk sculpture, sophisticated prints, paintings and ceramics."# Clack participated in the Los Angeles area Art-on-Billboards project in 1972. That same year he was included in Los Angeles 1972: A Panorama of Black Artists, a significant group show of African American artists held at the Los Angeles County Museum of Art. The exhibition came about as a result of protests and negotiations by the Black Arts Council, an organization that actively pressed for greater representation of African American artists in the Southern California art scene at the time.
Recently, a couple of small prints by Clack were uncovered in a suitcase found in the Just Above Midtown Gallery archives in New York, along with works on paper by Dan Concholar, Ruth Waddy, and others. It is unclear whether the rare Clack prints are finished works or studies for larger compositions. They are black-and-white depictions of animals, faces, and figures composed of bold, geometric forms. Destruction Piece (1960s) presents an abstract scene of distorted heads, bodies, and hands entangled in a commotion of indistinguishable activity that seems headed toward a violent end. Hands are a dominant recurring motif in the print. In the lower right corner, a hand brandishes a knife pointed in the direction of a body laid across the scene, its expression seemingly tense with pain. The body is comforted by a hand that cradles its torso, while simultaneously protected by another hand against some destructive force approaching from the opposite direction. The hands are rigid, like those of a corpse, suggesting that the bodily forms have already met a certain death. Poignantly, however, they can also be read as a sign of resistance against the malevolence that is encroaching upon them.
—Kalia Brooks
Selected Exhibitions
Watts Summer Festival, Los Angeles, 1966.
Art from the Black Community, Laguna Beach Art Festival, 1968.
Lewis–Clack, Brockman Gallery, Los Angeles, 1969.
Art-on-Billboards Project, Los Angeles, 1972.
Los Angeles 1972: A Panorama of Black Artists, Los Angeles County Museum of Art, 1972.
Selected Bibliography
Lewis, Samella S., and Ruth G. Waddy.
Black Artists on Art
, 2:61–62. Los Angeles: Contemporary Crafts, 1971.
"Lewis–Clack Exhibit Art at Brockman Gallery." Los Angeles Sentinel, May 8, 1969.
"Sisters of Service Guild Benefit Event." Los Angeles Times, October 22, 1964.
"Tent Theater Will Offer Free Shows." Los Angeles Times, August 11, 1966.
"'West Coast Now' Show Set." Los Angeles Times, August 25, 1968.
Wilson, William. "Museum Lists Black Art Exhibition." Los Angeles Times, February 6, 1972.