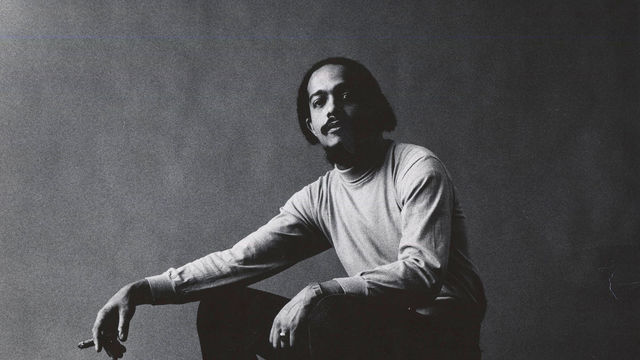 Fred Eversley is a Venice-based sculptor and one of a group of artists associated with the 1960s L.A. "finish fetish" movement that paralleled minimal art in New York. Greatly influenced by studio mate, mentor, and fellow artist Charles Mattox, as well as by Larry Bell, Robert Irwin, and John Altoon, Eversley developed a process that involves spinning liquid plastic around a vertical axis until the centrifugal forces create a concave surface. Evoking mirrors or large optical lenses, many of Eversley's sculptures incorporate parabolic curves. These pieces are alluring and seductive, and the resulting illusion draws the viewer into them by reflecting back his or her image—an experience that departs from the distance that traditionally separates the spectator from the art object.
Eversley's mother was a New York City schoolteacher and his father an aerospace engineer. While attending New York public schools, Eversley took several pre–electrical engineering classes. After receiving his bachelor of science degree from the Carnegie Institute in 1963, he was accepted to the University of Pennsylvania School of Medicine, intending to study for a PhD in biomedical engineering and an MD, for which he was awarded a four-year National Institutes of Heath graduate fellowship. After taking the summer to study photography and mural painting at the Instituto Allende in Mexico, however, he decided to postpone acceptance of these honors for a year and instead took an engineering job in the Los Angeles aerospace industry. Eversley never returned to the study of medicine.
From 1963 to 1967 he was employed as the senior project engineer, Instrumentation Systems, at Wyle Laboratories, where he was responsible for supervising the design and construction of high-intensity acoustic and vibration test laboratories at NASA facilities. In 1964 he moved to a beachfront apartment in Venice, and became acquainted with several Los Angeles artists. According to Eversley, Venice was "an excellent place to be an artist. Prices were reasonable, studios and materials were very available and the mechanics of living were utterly simple."# After being injured in a car accident that left him on crutches for thirteen months, in 1967 Eversley retired from engineering to start a new career as an artist.
The following year, Mattox invited Eversley to share his studio in return for a small rent and some engineering consultation on his kinetic sculptures. Mattox's use of physical movement, lights, sound, and heat inspired Eversley to begin a series of sculptures involving photography, plastics, and electronics. He quickly became enthralled with the possibilities of plastics as a medium and put aside the photographic and electronic elements. From there, Eversley developed one of his best-known series of sculptures, consisting of shapes cut from transparent three-color cast cylinders: an outer layer of violet, a middle layer of amber, and an inner layer of blue. By varying the relative thickness and color saturation of these three concentric color layers, Eversley could dramatically change the entire appearance of the cylinders and from them cut many different shapes, each having its own formal and kinetic qualities. Key elements of this work are the integral geometry and its relationship to the external shape, transparent internal color additions, and internal light reflections and refractions. Eversley's intent was to make transparent pieces in which these elements change constantly in relationship to ambient light, viewing angle, and surrounding environment. Realizing that no two viewers would have the same experience and wanting to free viewers from any preconceived ideas, he left all of these pieces untitled.
In 1969, Eversley's close friend and neighbor John Altoon died tragically and prematurely from a heart attack. Roberta L. Thompson (Babs), his widow, generously gave Altoon's studio to Eversley. He has continued to experiment with various techniques, including casting three-color and three-layer concave, paraboloidal transparent lens pieces; investigating transparent black lens and mirror pieces; and creating a series of monochromatic sculptures.
Eversley's work has been featured in more than two hundred exhibitions at prestigious museums, galleries, and art festivals worldwide. He was appointed artist in residence at the Smithsonian Institution in 1977, and for three years had a studio at the National Air and Space Museum. His art is in the permanent collection of thirty-five museums, and he has executed twenty large public artwork commissions. Eversley was honored with the "Lorenzo di Medici" first prize for sculpture at the 2001 Biennale Internazionale dell' Arte Contemporanea in Florence, Italy.
—Naima J. Keith
Selected Exhibitions
Fred Eversley: Recent Sculpture, Whitney Museum of American Art, New York, 1970.
Dimensions in Black, Museum of Contemporary Art, La Jolla, California, 1970.
Two Generations of Black Artists, California State College at Los Angeles, 1970.
Permutations: Light and Color, Museum of Contemporary Art, Chicago, 1970.
Whitney Annual, Whitney Museum of American Art, New York, 1972.
Solo exhibition, Santa Barbara Museum of Art, 1976.
Solo exhibition, Oakland Museum of California, 1977.
Selected Bibliography
Albright, Thomas. "A Concern for Abstract Form."
San Francisco Chronicle
, December 2, 1971.
"Fred Eversley: Sculptures Optiques." Artenews (Brussels), December 2003.
Glass, Laurie H. "Fred Eversley Retrospective." Artweek, March 26, 1977, 16.
McKenna, Kristine. "Eversley Revives the Finish Fetish Mode." Los Angeles Times, October 2, 1985.
Raynor, Vivien. "Art: Black Artist, Past and Present." New York Times, March 19, 1989.
Seldis, Henry J. "Eversley Show in New York." Los Angeles Times, June 8, 1970.