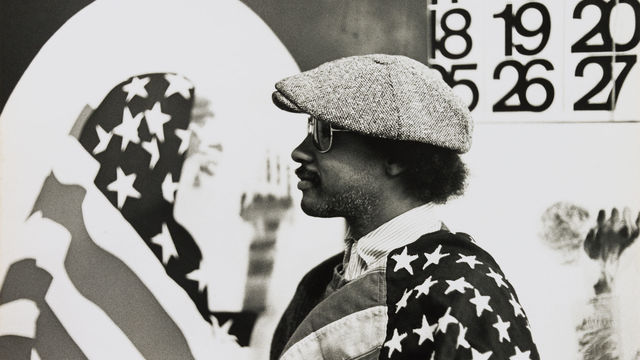 David Hammons is frequently described as "elusive" and even "reclusive," yet he is ever-present in discussions of art in the later twentieth and early twenty-first centuries. The youngest of ten children, he moved to Los Angeles in 1963, attending Los Angeles City College. After a year he transferred to Los Angeles Trade Technical College to study advertising and began taking night classes at Otis Art Institute, where he worked with renowned artist Charles White. In 1966 Hammons enrolled full-time at Chouinard Art Institute (now the California Institute of the Arts), graduating in 1968. 
From the early 1960s onward, Hammons engaged in a form of art making reminiscent of Yves Klein's Anthropometries, in which models slathered with paint would press their bodies against blank canvases. Hammons's works, called "body prints," entailed the artist smearing his own body—and sometimes his clothes and hair—with a grease such as margarine, pressing himself against board or paper, and then setting the grease with a dusting of pigment. Beyond the attendant politics of making the black body visible in his work, Hammons also included in these prints images of the American flag and the spade (as a literal manifestation of the ethnic slur), as well as more overt depictions of struggle, from a raised fist to a body behind bars.
Image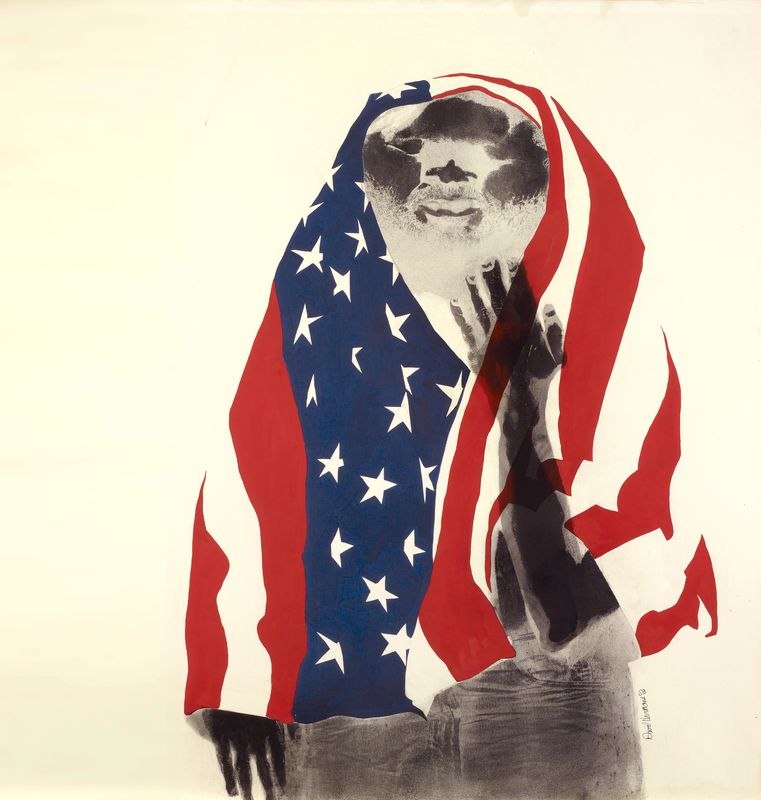 Hammons moved away from the body prints in the 1970s and since then has actively constructed an oeuvre that resists concise summarization. He relocated to New York in the 1970s and began to work with found objects and installation in the spirit of Dada and Arte Povera as well as California-based assemblage, exemplified by the work of Edward Kienholz and Noah Purifoy. Hammons gravitated toward objects particularly coded as "black," from grease to chicken bones and hair, as well as simple, cheap materials like rocks and empty wine bottles. His works tend to bear provocative, ironic titles, as in Higher Goals, a 1986 commissioned outdoor sculpture in Brooklyn that consisted of five telephone poles topped with basketball hoops and backboards made of thousands of beer-bottle caps strung into abstracted designs drawn from Islamic, African, and Native American sources. Basketball became a recurring theme in Hammons's performances of the early 1980s, and later, in the 1990s, was literally a vehicle for works created by bouncing a dirty ball repeatedly on a sheet of paper.  The street, too, has been an ongoing source of inspiration as well as a place to perform and exhibit for the artist. As he explained in a 1986 interview, "That's why I like doing stuff better on the street, because the art becomes just one of the objects that's in the path of your everyday existence. It's what you move through, and it doesn't have any seniority over anything else."#
Hammons's irreverence has occasionally provoked ire, as when he exhibited a huge cutout of Jesse Jackson, painted white and blonde, on a street corner in Washington, D.C., as part of a show organized by the Washington Project for the Arts in 1989. Entitled How Ya Like Me Now?, after a popular song by Kool Moe Dee, the work was vandalized with sledgehammers by ten black men who found it insulting to the community. It was later pieced back together and installed in a gallery with a circle of sledgehammers around it forming a mocking guardrail.
As a testament to his career-long ability to send up African American realities with unprecedented wit, in 1991 Hammons was awarded a MacArthur Fellowship and he continues to produce new work that is received with acclaim in the United States and abroad.
—Andrea Gyorody
Selected Exhibitions
Three Graphic Artists: Charles White, David Hammons, Timothy Washington, Los Angeles County Museum of Art, 1971.
Los Angeles, 1972: A Panorama of Black Artists, Los Angeles County Museum of Art, 1972.
Noah Purifoy and David Hammons, Brockman Gallery, Los Angeles, c. 1972.
Greasy Bags and Barbecue Bones, Just Above Midtown Gallery, New York, 1975.
Dreadlock Series, Just Above Midtown Gallery, New York, 1976.
Art as a Verb: The Evolving Continuum, Maryland Institute, College of Art, Baltimore, and Studio Museum in Harlem, New York, 1988–89.
19Sixties: A Cultural Awakening Re-evaluated, 1965–1975, California African American Museum, Los Angeles, 1989.
L.A. Object and David Hammons Body Prints, Tilton Gallery, New York, 2006. 
Selected Bibliography
Diawara, Manthia. "Make It Funky: The Art of David Hammons."
Artforum
35 (May 1998): 120–27.
Fusco, Coco, and Christian Hale. "Wreaking Havoc on the Signified." Frieze, no. 22 (May 1995): 34–41.
Grenier, Catherine, ed. Catalog L.A.: Birth of an Art Capital, 1955–1985. San Francisco: Chronicle Books, 2007.
Jones, Kellie, Tom Finkelpearl, and Steve Cannon. David Hammons: Rousing the Rubble. Exh. cat. New York: Institute for Contemporary Art, P.S.1 Museum, 1991.


Ligon, Glenn. "Black Light: David Hammons and the Poetics of Emptiness." Artforum 43, no. 1 (September 2004): 242–49.


Rothschild, Deborah Menaker, et al. Yardbird Suite: Hammons 93. Exh. cat. Williamstown, Mass.: Williams College Museum of Art, 1994.


Schjeldahl, Peter. "The Walker: Rediscovering New York with David Hammons." New Yorker, December 23, 2002, 156–58.


Snodgrass, Susan, ed. David Hammons in the Hood. Exh. cat. Springfield: Illinois State Museum of Art, 1994.