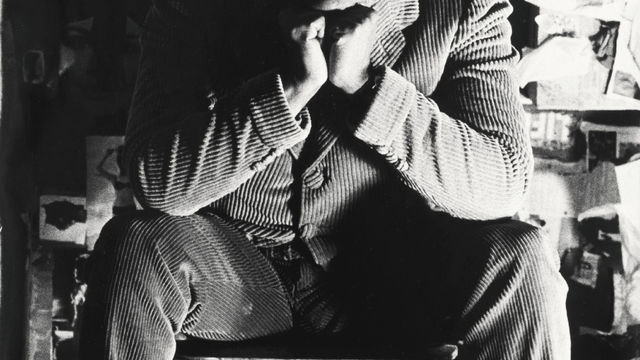 After the death in 1971 of Nobel Peace Prize winner and United Nations diplomat Dr. Ralph Bunche, Daniel LaRue Johnson proposed a public artwork at the United Nations to honor his memory. Johnson, whose father went to high school with Bunche in Los Angeles, had become friends with the diplomat after moving to New York in the late 1960s. Johnson had showed Bunche his socially engaged sculptures and found him to be supportive of black artists.# Johnson's monument to Bunche is a gleaming minimalist totem: a 50-foot stainless-steel monolith titled Peace Form One (1980), erected across the street from the United Nations headquarters in Manhattan.
Johnson's other works share a similar attention to scale, surface, and commemoration. While still a student at Chouinard Art Institute in the early 1960s, he showed with some of the major Los Angeles galleries, including a solo exhibition at the Rolf Nelson Gallery in 1964. That same year he was invited by John Weber to participate in Boxes at Dwan Gallery, showing works from what he calls his "black box" period—graphic, dioramic constructions of objects, often repainted in solid black, that address America's fraught civil rights move­ment.# One from 1963, titled Yesterday, takes on the horror of the Sixteenth Street Baptist Church bombing in Birmingham, Alabama, that killed four children that year. Johnson's open-faced box encases a section of the American flag beside a headless doll. Other constructions, such as Freedom Now, Number 1 (1963–64), which incorporates a hacksaw and a mousetrap, among other things, are less specific but equally focused on the tensions in the country at that time. Boxes placed Johnson's confrontational assemblages alongside those of modernists such as Marcel Duchamp and Kurt Schwitters.
Image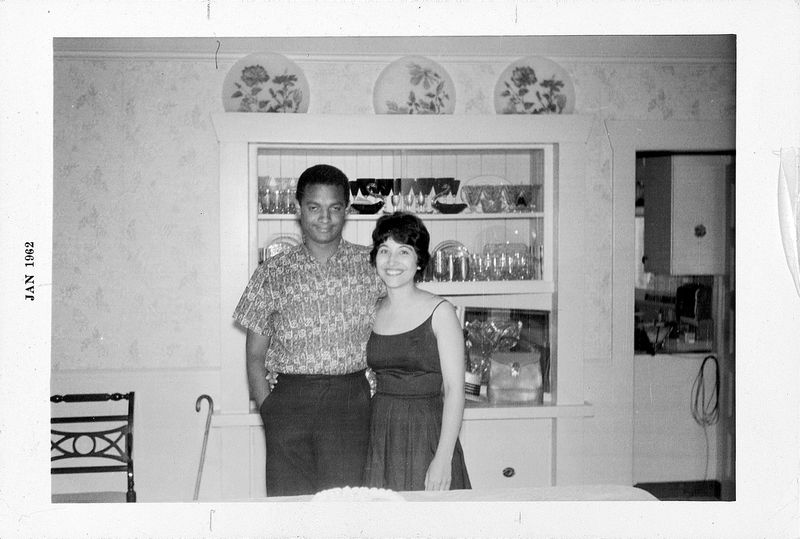 Throughout the early 1960s Johnson and his wife, artist Virginia Jaramillo, traveled extensively, often spending long periods of time in New York. After graduating in 1965, Johnson received a John Simon Guggenheim Memorial Foundation fellowship that allowed the couple to live in Paris for a time. Upon their return, they settled permanently in New York, and the move marks a shift in Johnson's work. The visually arresting and emotive construc­tions gave way to a more painterly sculptural practice that played up vibrant colors with glossy surfaces. Very different from the black boxes, these works, for many, seemed more aligned with the slick, hard-edge, cool aesthetic then associated with Los Angeles. Noting Johnson's relationship to Los Angeles and the other artists with whom he attended Chouinard, artist-critic Frank Bowling described his friend's sculpture The Boy Wonder Dejohnette (1969) as a "tulip trip through chrome-plated graveyards of California vulgarity."#In other ways, Johnson's sculptures from the late 1960s into the 1970s reflect what he had always strived for in his work: utmost craftsmanship.
Perhaps the most well-known of these works is Homage to René d'Harnoncourt (1968), a high-gloss painted wood sculpture that resembles a musical instrument laid on its back. Dedicated to the Museum of Modern Art's late director, it has become emblematic of the way in which Johnson's unique exploration of commemoration is a political, personal, and public exercise.
—Courtney J. Martin
Selected Exhibitions
Boxes, Dwan Gallery, Los Angeles, 1964.
Whitney Sculpture Annual, Whitney Museum of American Art, New York, 1964, 1970.
Homage to Dr. Martin Luther King, Jr., Museum of Modern Art, New York, 1969.
Solo exhibition, French & Co., New York, 1970.
Some American History, Institute for the Arts, Rice University, Houston, 1971.
Selected Bibliography
Coffin, Patricia. "Black Artist in a White Art World." Look, January 7, 1969, 66–69.
Fine, Elsa Honig. The Afro-American Artist: A Search for Identity, 267–69. New York: Holt, Rinehart and Winston, 1973.
Jones, Kellie, ed. Energy/Experimentation: Black Artists and Abstraction, 1964–1980. Exh. cat. New York: Studio Museum in Harlem, 2006.
Kramer, Hilton. "Daniel LaRue Johnson." New York Times, February 28, 1970.