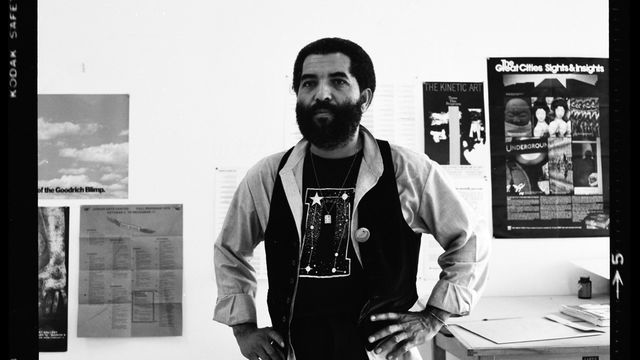 Dan Concholar was born in San Antonio, Texas, on May 23, 1939, although there is no official record of his birth—only his name and birth date written in the family's Bible. His father was a black Texas cowboy who trained quarter horses and hunted. Concholar was still very young when his family moved to Phoenix in the 1940s, and according to the artist, his "conscious life starts in the Mojave."# After spending his formative years in Phoenix, he went to live with his sister in Los Angeles, where he finished high school. Concholar, by nature, dealt with things visually and was always drawing and making comic books. He completed one year at Phoenix College before returning to Los Angeles and enrolling at the Otis Art Institute, where he took classes with Charles White. White's tremendous skills as an artist and educator had a great impact on Concholar's development, as did his encounters with artists such as David Hammons, John Riddle, and Timothy Washington. Though influenced early on by impressionism and abstract expressionism, Concholar gravitated toward art that made a strong visual statement, and his works are notable for expressing content in bold forms and color.
In the turbulent yet promising era of the 1960s, he and his fellow artists were responding to the monumental changes that were taking place in the country and the new possibilities for operating on an equal playing field. In about 1969 he became involved with the Black Arts Council (BAC), a group in Los Angeles that was concerned with sharing information about the arts and making the works of black artists known to a larger audience. During the first half of the 1970s, continuous lobbying of the Los Angeles County Museum of Art by the BAC brought about three major exhibitions focusing on African American artists: Three Graphic Artists: Charles White, David Hammons, and Timothy Washington (1971), Los Angeles 1972: A Panorama of Black Artists (1972), and Two Centuries of Black American Art (1976).# Concholar had an active presence in the Los Angeles gallery scene, showing at Brockman Gallery, Gallery 32, and the Ankrum Gallery, which hosted his last solo exhibition in the city: The Hollywood Series (1978), works drawn in pastel and mixed media depicting palm trees—that iconic image of Los Angeles.
Concholar moved to New York in 1980 at the encouragement of his friend and fellow artist David Hammons. There he was introduced to Linda Goode Bryant, who was the founding director of Just Above Midtown Gallery (JAM). In the early 1980s her roster included numerous artists who had made the move to New York City from Los Angeles, among them Hammons, Senga Nengudi, Maren Hassinger, and Houston Conwill, and Concholar, too, began showing his work there. In addition to painting, he became the director of the Art Information Center in the 1980s, an organization that helped artists develop strategies for obtaining gallery representation in New York City.
— Kalia Brooks
Image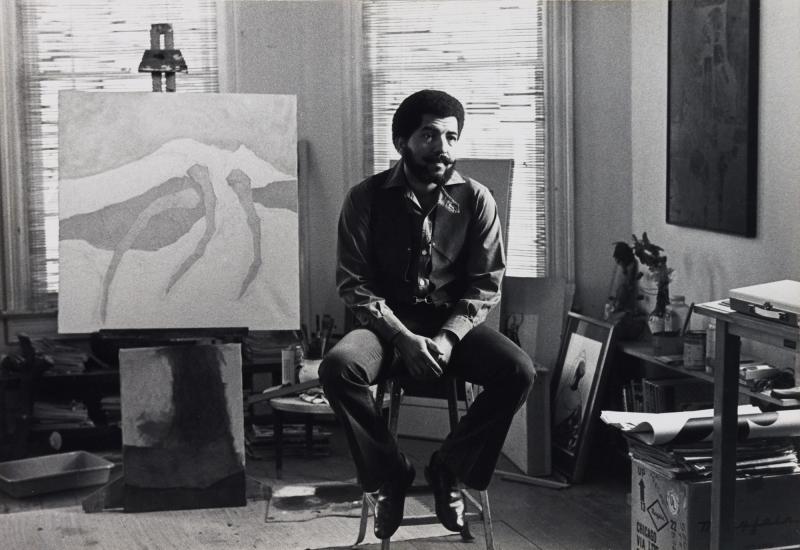 Selected Exhibitions
Solo exhibition, Gallery 32, Los Angeles, 1969.
The Yellow Bus, Brockman Gallery, Los Angeles, 1971.
The Hollywood Series, Ankrum Gallery, Los Angeles, 1978.
Gallery 32 and Its Circle, Laband Art Gallery, Loyola Marymount University, Los Angeles, 2009.
Selected Bibliography
Jones, Kellie. "Black West: Thoughts on Art in Los Angeles." In 
New Thoughts on the Black Arts Movement
. Edited by Lisa Gail Collins and Margo Natalie Crawford. New Brunswick, N.J.: Rutgers University Press, 2006.
Robertson, Jack. Twentieth-Century Artists on Art: An Index to Artists' Writings, Statements, and Interviews. Boston: G. K. Hall, 1985.