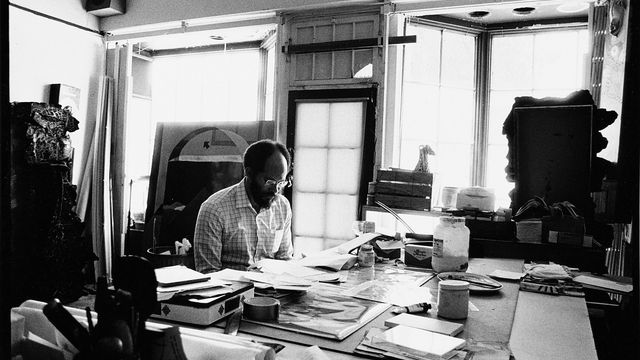 Dale Brockman Davis moved to Los Angeles with his family at the age of ten. Although he had tried out ceramics at an early age, it was not until he enrolled at University of Southern California that he began to take art seriously. Davis graduated with a BFA in ceramics and a secondary teaching credit in 1969. He left USC before completing his master's degree, discouraged by the racism and lack of appreciation for experimentation. Davis went on to teach at Dorsey High School in Los Angeles for many years, bringing the arts to a public school with a predominantly African American population.
Frustrated with the lack of exhibition opportunities for artists of color at established galleries and museums, Davis and his brother Alonzo opened the Brockman Gallery in Los Angeles in 1967 as a place dedicated to showing art by minority artists. The Davises' commitment allowed many artists throughout the 1970s and 1980s to focus on their work as the gallery eventually expanded to include studio and living spaces. Ultimately occupying a row of storefronts on Degnan Boulevard, the gallery led the effort to create a thriving black arts and business center in the Leimert Park neighborhood. It both nurtured the careers of artists just beginning to gain recognition, such as John Outterbridge and David Hammons, and supported artists who had achieved some success in mainstream and black art circles, including Romare Bearden and Noah Purifoy. The Brockman Gallery gave important visibility, and validation, to many African American artists.
With grants and funding from the federal government, the Davis brothers began to focus on organizing events, concerts, and art exhibitions at the gallery that were free and open to the public. These events not only promoted minority visual artists and musicians, but also provided access to the arts to a community that was just beginning to undergo a cultural revolution. The gallery became an artistic center, a place for both artists and neighborhood residents to gather in celebration of their arts and heritage. Having cultivated the growing awareness and appreciation of African American culture during the 1970s and 1980s in Los Angeles, the gallery sadly closed its doors in 1989.
Image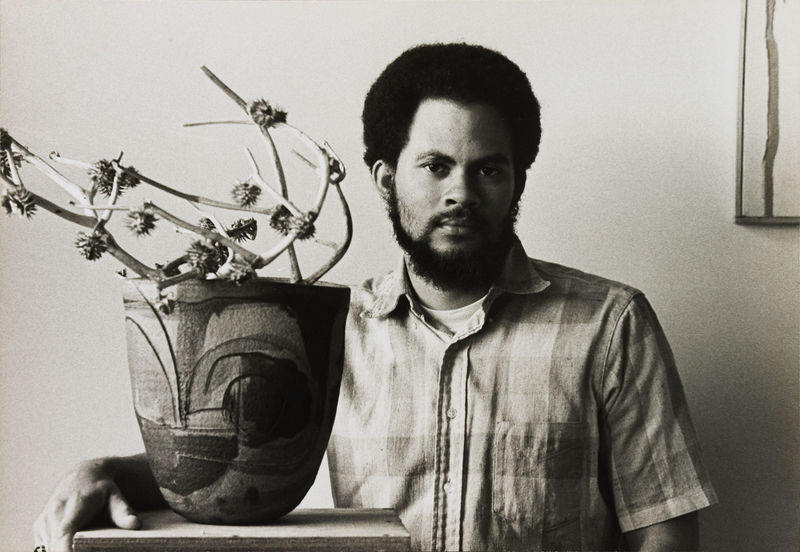 In his own work, Davis challenges himself both technically and expressively by creating new types of sculptures that explore an African American past. These works take on multiple forms, moving between freestanding ceramic objects and assemblages on a vertical plane. As an artist highly trained in various kinds of ceramic production, such as raku ware and high-fire glazes, Davis experiments with materials and themes, often incorporating metal, wood, and other objects into his ceramics in ways that expand the definition and possibilities of the medium. These found objects, usually broken or used, are integrated harmoniously: matte surfaces sit side by side with reflective ones; wooden panels adjoin areas of painted canvas; vertical thrusts are balanced by horizontal lines, and raw surfaces by smooth ones. Textures and colors are juxtaposed in ways that highlight their differences, while maintaining a unity that binds the work together.
The objects' worn status becomes another layer in the experience of the work as the various visual plays evoke memories, ideas, and emotions in the viewer. Although the objects themselves may not be explicitly African American in nature, their combination and the resulting associations suggest a more involved engagement with their expressive potential. Interested in thinking through various facets of African American culture, Davis has made works that directly reference both African artistic traditions, such as masks, and his own experiences as someone who has felt the effects of racism.
Artist, educator, curator, and gallerist, Davis has fulfilled many roles throughout his career. Yet they all are evidence of his commitment to promoting the work of black artists and showing the importance of an engagement with African American culture and heritage.
—Connie H. Choi
Selected Exhibitions
Eleven from California, Studio Museum in Harlem, New York, 1972.
Panorama of Black Artists, Los Angeles County Museum of Art, 1972.
Collage and Assemblage, Los Angeles Institute of Contemporary Art, 1975.
Black Art: The LA Connection, Los Angeles Convention Center, 1982.
Artists Teachers, Museum of African American Art, Santa Monica, California, 1983.
Watts: Art and Social Change in Los Angeles, Haggerty Museum of Art, Marquette University, Milwaukee, 2003.
L.A. Object and David Hammons Body Prints, Tilton Gallery, New York, 2006.
Distinctly Los Angeles: An African American Perspective, M. Hanks Gallery, Santa Monica, California, 2009.
Selected Bibliography
"Black Artists of Los Angeles: Conversations with Five Black Artists." Interview by Stanley Wilson.
Studio Potter
9, no. 2 (June 1981): 16.
Harris, P. J. "Leimert Park Village." American Visions 7, no. 3 (June–July 1992): 26.
Lindsay, Jeanette, dir. Leimert Park: The Story of a Village in South Central Los Angeles, 2006. DVD, 88 min.