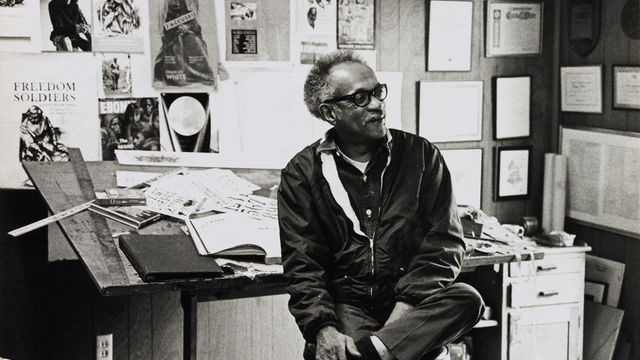 Raised on Chicago's South Side, Charles White became one of the most celebrated and influential African American artists of the twentieth century. He developed an interest in art as a young child and, despite having to work for extra family income from the age of nine, managed to learn painting techniques from generous students at the Art Institute of Chicago. He joined the Arts and Crafts Guild at fourteen, participating in their exhibitions a number of times as a teenager.# Such precocious beginnings eventually led to White's long career as a painter and printmaker and, above all, as a masterful draftsman dedicated to rendering the African American figure and his sociopolitical reality with dignity and pathos.
As was the case for numerous African American artists who came of age in the first part of the twentieth century, White was turned away from two art schools, to which he had won scholarships, before earning an award to attend the Art Institute of Chicago, from which he graduated in 1938.# Soon after, he began working for the Works Progress Administration, first in the easel division and then as a muralist. He married sculptor Elizabeth Catlett in 1941, and they moved briefly to New Orleans, where both taught at Dillard University and experienced firsthand the violence and humiliation of the Jim Crow–era South. White's anger and subsequent resolve became a raison d'être of his art making; as he put it, "Paint is the only weapon I have to fight what I resent. If I could write I would write about it. If I could talk I would talk about it. Since I paint, I must paint about it."#
White and Catlett then moved to New York City in 1942 and joined the ranks of important African American artists and intellectuals of the time, including Langston Hughes, Jacob Lawrence, Richard Wright, and W. E. B. DuBois. White studied at the Art Students League, learning lithography and etching from Harry Sternberg, who pushed him to move beyond stylization to individuation in his figures.# With Sternberg's guidance, in 1943 White completed the mural The Contribution of the Negro to American Democracy at Hampton University. With a dark palette and sharp cubist angles characteristic of White's early work, the mural depicts a number of notable African Americans, including Denmark Vesey, Nat Turner, Peter Salem, George Washington Carver, Harriet Tubman, Frederick Douglass, and Marian Anderson.
White's work was interrupted briefly in 1944 when he was drafted into the military. While helping to abate flooding on the Mississippi River, he contracted tuberculosis, an illness that would plague him repeatedly. After his recovery, White accompanied Catlett to Mexico, where they stayed for a time at the home of David Alfaro Siqueiros and became acquainted with master muralists Diego Rivera, José Clemente Orozco, and Pablo O'Higgins. White also had the opportunity to hone his printmaking skills at the workshop Taller de Gráfica Popular, which made him an honorary member some years later.
White and Catlett divorced shortly after returning to New York from Mexico. In 1950 White married social worker Frances Barrett, a white woman, at a time when interracial marriage was still illegal in many parts of the country. Their personal and professional lives continued despite many challenges, and in 1951 the two enjoyed a trip to Europe, where White discovered that his work had been received abroad quite warmly.# Upon returning to New York, White was summoned to appear before the House Un-American Activities Committee, owing in part to his visits to Eastern Europe and the U.S.S.R. as well as to his long-standing involvement with workers' rights organizations in the United States, including the Daily Worker, a journal that often published his illustrations. His summons was eventually revoked, but White would later learn that the FBI had been tracking his movements for some time.#
Image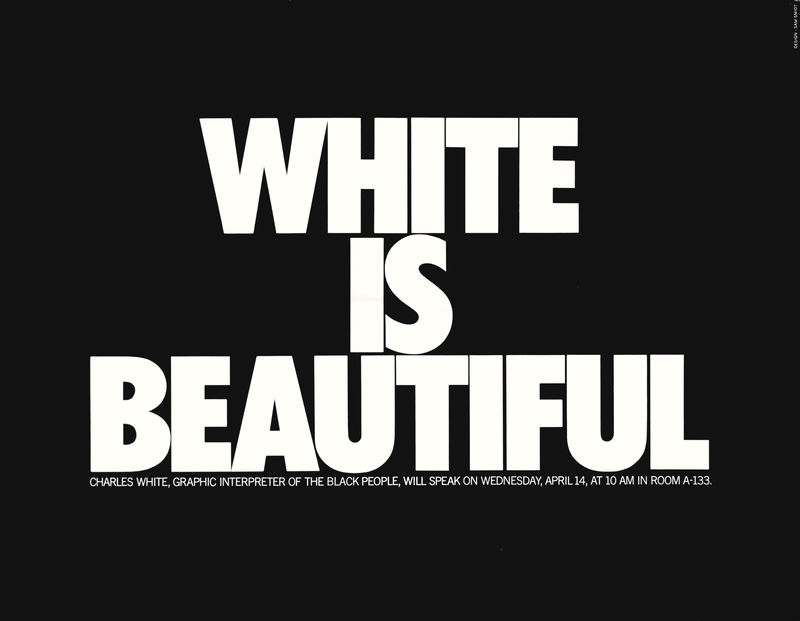 In New York, White worked with the Committee for the Negro Arts and the Workshop for Graphic Art until 1956, when a relapse of tuberculosis forced him to relocate to the better climate of Los Angeles. From the early 1960s onward, White was represented by the Heritage Gallery, whose owner Benjamin Horowitz had also become a close family friend. Exhibitions of his work became more frequent abroad and across the United States, and White accepted a job teaching at Otis Art Institute in 1965. Over the course of fourteen years there, he mentored a number of African American students who went on to become distinguished artists, including Alonzo Davis, David Hammons, and Kerry James Marshall, among others.
White died in 1979, leaving behind a graphic oeuvre that had an immense influence on the work of his peers and continues to affect subsequent generations of artists. 
—Andrea Gyorody 
Selected Exhibitions
Exhibition of American Negro Art, Library of Congress, Washington, D.C., 1941.
Solo exhibition, American Contemporary Art Gallery, New York, 1947.
Solo exhibition, Pacific Town Club, Los Angeles, 1959.
Solo exhibition, Heritage Gallery, Los Angeles, 1964.
The Negro in American Art, Dickson Art Gallery, UCLA, 1966.
Charles White: Drawings, inaugural exhibition, Gallery of Art, College of Fine Arts, Howard University, Washington, D.C., 1967.
Three Graphic Artists: Charles White, David Hammons, Timothy Washington, Los Angeles County Museum of Art, 1971.
Charles White: An American Experience, High Museum, Atlanta, 1976. 
Selected Bibliography
Barnwell, Andrea D. Charles White. San Francisco: Pomegranate, 2002.
"Charles White: Art and Soul." Special issue, Freedomways 20 (1980).
Deneve, Rose. "To Rags for Riches." Print 29 (September 1975): 41–53.
Finkelstein, Sidney. Charles White: Ein Künstler Amerikas. Dresden: VEB Verlag der Kunst, 1955.
Images of Dignity: The Drawings of Charles White. Exh. cat. Los Angeles: Ward Ritchie Press, 1967. Texts by Harry Belafonte, James A. Porter, and Benjamin Horowitz.
LeFalle-Collins, Lizzetta. "Contribution of the American Negro to Democracy: A History Painting by Charles White." International Review of African American Art 12, no. 4 (1995): 38– 41.
Locke, Alain. The Negro in Art. Washington, D.C.: Association in Negro Folk Education, 1940.
"Negro Mural at Hampton Institute." Art News 42 (August 1943): 37.