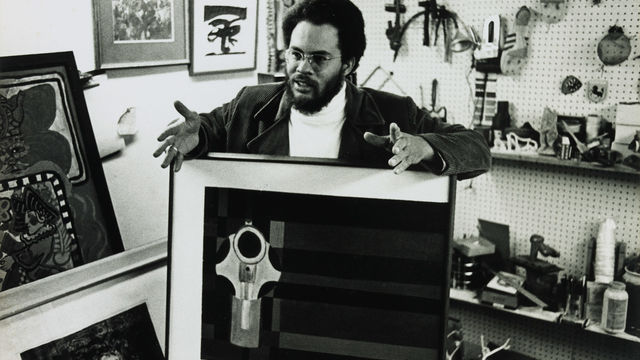 Alonzo Davis contributed to the art scene in Los Angeles in the 1970s and 1980s as an artist, teacher, gallerist, and community organizer. His paintings, murals, prints, and assemblage works combine universal symbols with cultural references collected on trips all over the world, from Africa to Western Europe to the Caribbean. Davis continually aims to put the personal, the global, and the local into productive dialogue.
Raised around the campus of Tuskegee University, where his father was a professor of psychology and education and his mother was a librarian, Davis relocated with his mother and younger brother Dale to Southern California when he was a teenager. He received his bachelor's degree in art education from Pepperdine University, where he was disillusioned by the overwhelmingly Western (and white) focus of his coursework in art history. Wanting to understand the living history of African American art, he turned to Los Angeles artist Charles White, who gave him the names of other black artists working across the United States. Subsequently, in the summer of 1966, Davis set out with his brother on a "word-of-mouth trip in a little Volkswagen and [with] a sleeping bag" to see African American art in the making.# They met James A. Porter, Edward Love, Romare Bearden, Norman Lewis, Hale Woodruff, and Merton Simpson, among others. The brothers' exposure to the activities of the Spiral group in Harlem, a loose association of black artists headed by Bearden and Woodruff, served as the impetus for their own advocacy efforts back home. In 1967, shortly after they returned to California, Alonzo and Dale Davis opened the Brockman Gallery—the first Los Angeles gallery dedicated to the exhibition and sale of African American art. Six years later, they also founded Brockman Productions, a nonprofit organization dedicated to community-based activities and public art projects.
The early 1970s also brought significant changes to Davis's work as an artist. In the course of his cross-country travels, he realized "that there was room for me, that there was an opportunity for a person of color to be an artist and to make a statement."# He began painting murals, primarily in the Crenshaw neighborhood, as a way of making his work—and art in general—available to a broader public than the one that typically frequented the Brockman Gallery. The mural format presented Davis with new formal concerns; he wanted to create work that could be understood on one level by motorists speeding past, and on a deeper level by those who encountered it multiple times. He envisioned the murals as a color bath that would "give a true picture of Los Angeles as a multicultural community."#
Image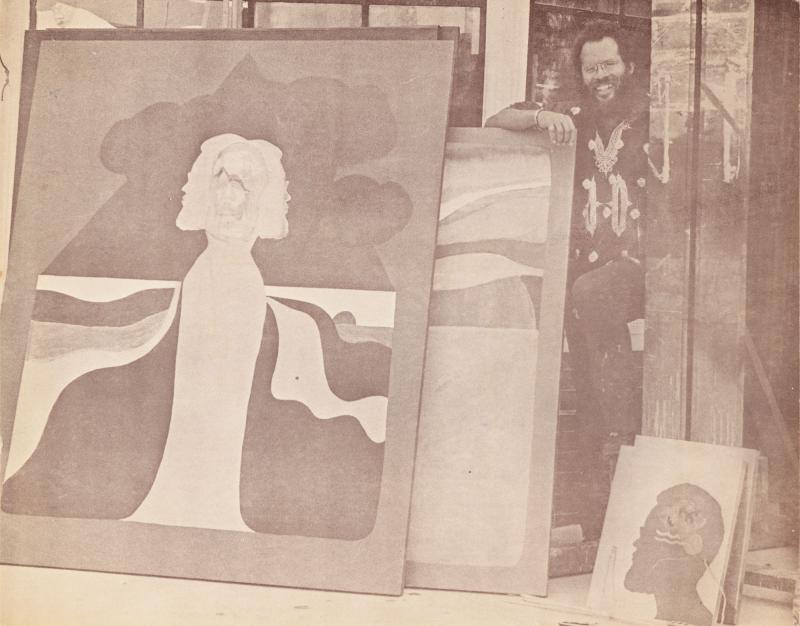 Davis completed his BFA at Otis Art Institute in 1971, under White, and went on to finish his MFA at Otis in 1973, aiming to fashion his art as a "projection . . . of and for the future of mankind and black peoples."
#
 This interest in a global community has informed nearly all of Davis's work. His mural 
Eye on '84
, painted on the retaining wall of the I-110 Harbor Freeway South at the Third Street on-ramp across from a mural by Judy Baca, constructs a slight trompe l'oeil of three tapestry-like forms "hanging" over a blue-to-purple gradient. Restored in 2004, the mural was one of ten commissioned by the city—and organized by the Brockman Gallery—to celebrate the 1984 Summer Olympics. The mural's "cloths" are painted with an interlocking and overlapping configuration of textile patterns, symbols (such as a heart or arrow), and the Olympic rings. Davis positions the rings—and the spirit of the international games they represent—as equivalent to other universal symbols that could be read easily by Angelenos and the many people who would come from all over the globe to attend the games. 
At the same time that Davis was engaged with murals on the streets of the city, he was also constructing assemblage and collage works in his studio. Like the 1984 mural, much of the artist's oeuvre endeavors to establish a visual language that can speak to, and through, the various cultures to which he has been exposed. In the collage series Mental Space, created in the late 1970s, Davis used bits of discarded paper, tattered postcards, and brown bags as supports for text, paint, and drawings. Some of the collages bear strings of geometric signs and symbols, while others foreground colorful patterning drawn from Native American motifs. Still others look like well-worn maps overlaid with shapes that suggest landscapes and traffic signage. In nearly all of the collages, the "mental space" created is one of travel to faraway places, some of which perhaps were only ever visited in the artist's vivid imagination.
 In 1987 Davis left Los Angeles for Sacramento to oversee the city's percent-for-art program, and moved from there to a residency in Hawaii in 1988, and then to the San Antonio Art Institute from 1991 to 1992 and the Memphis College of Art, where he served as dean from 1993 to 2002. Throughout his career, Davis has accomplished the difficult task of borrowing and juxtaposing fragments from other cultures and his own to produce work that reflects his worldliness but also his personal aesthetic vision—which he has made it his mission to pass on to a generation of younger artists and to a broad public audience.
—Andrea Gyorody
Selected Exhibitions and Commissions
Solo exhibition, Just Above Midtown Gallery, New York, 1975.
Solo exhibition, Modern Nordisk Konst, Göteborg, Sweden, 1979.
Voter Series, Brockman Gallery, Los Angeles, 1984.
Olympic Mural Series, Third Street at the Harbor Freeway, Los Angeles, 1984.
Flight Ceiling Dance, Hartsfield-Jackson International Airport, Concourse E8, Atlanta, 1998.
Come This Way, U.S. Embassy, Lomé, Togo, 2006.
Selected Bibliography
Davis, Alonzo, interview by Karen Anne Mason, October 1990–April 1991.
African American Artists of Los Angeles, Oral History Program, University of California, Los Angeles. Transcript, Charles E. Young Research Library, Department of Special Collections, UCLA.
Dubin, Zan. "Freeway Mural: A Lady Is Waiting." Los Angeles Times, January 22, 1987.
Edds, Kimberly. "Uncovering the Layers of L.A.'s Colorful Past: Restoration Plan Targets City's Murals." Washington Post, November 17, 2003.
Sorey, Michelle. "Upgrading Visibility of Black Art." Los Angeles Times, July 18, 1985.
Teague, Norwood. "Design West 1963—Students of Design: Who Are They, What Do They Want, Where Are They Going?" Los Angeles Times, July 14, 1963.
Timnick, Lois. "A Dash of Art and Color for the 55-Mile-an-Hour Set." Los Angeles Times, June 23, 1984.