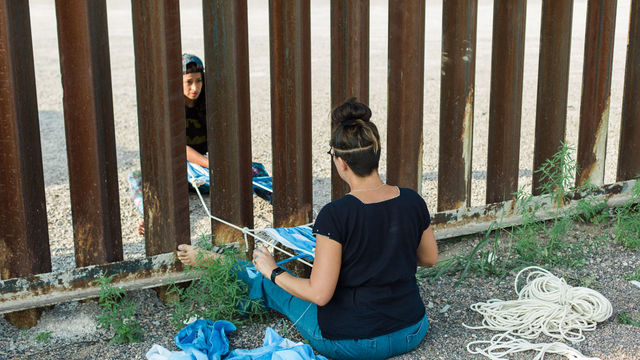 AMBOS: Art Made Between Opposite Sides
AMBOS was founded in 2016 by the artist Tanya Aguiñiga as a platform to engage with the reality of the US-Mexico border through artistic research and collective collaborations between artists, activists, and immigrants. The project aims to raise awareness of how anti-immigrant rhetoric and inhumane policies affect people's lives. AMBOS often prioritizes working directly at the border, creating projects that embody a spirit of solidarity and a sense of transnationalism. This practice is drawn from Aguiñiga's long history at the border, which she crossed every day from San Diego to go to school and later as a member of the iconic collective Border Art Workshop / Taller de Arte Fronterizo, which focused on doing work on and about the US-Mexico border in the 1980s and 1990s.
Border Quipu / Quipu Fronterizo (2016–18), AMBOS's inaugural project, documented the experiences of thousands of daily commuters at the border by asking them to tie strings into a knot and record their thoughts on the backs of postcards. Following the ancient tradition of quipus, which were recording devices for the preservation of cultural memory and social ties, historically used by a number of South American cultures in the Andean region, these knots were later tied together and displayed as a symbol of social interconnectedness and solidarity. AMBOS uses craft mediums, including textiles and ceramics, to raise awareness of border politics while engaging in a practice rooted in cocreation.
Bio
AMBOS: Art Made Between Opposite Sides is a collaborative that serves as a platform for binational artists along the US-Mexico border to express, document, and mitigate community needs through craft-based projects centered on care. Founded in 2016 by the artist Tanya Aguiñiga as a way to make visible issues that affect the transnational population in Tijuana, the project has grown organically in scale and scope in reaction to a changing border landscape. In its various phases, AMBOS has supported documentation of the border, collaboration with artists, community activism, mutual aid, border and craft education, and an exploration of identities influenced by the liminal zone of the borderlands. Work created through AMBOS has been exhibited at the Armory Center for the Arts, Pasadena (2020); Annenberg Space for Photography, Los Angeles (2019); Museum of Art and Design, New York (2018); Renwick Gallery of the Smithsonian American Art Museum, Washington, DC (2018), and Consulate General of Mexico, Los Angeles (2016), among other venues. AMBOS projects reside in the permanent collections of the Los Angeles County Museum of Art and the DePaul Art Museum, Chicago. Current and past collaborators include Karla Aguiñiga, Tanya Aguiñiga, Jackie Amézquita, Cecilia Brawley, Gina Clyne, Cog•nate Collective, Natalie Godinez, Diana Ryoo, and Juan Villavicencio, among other artists in both the United States and Mexico.