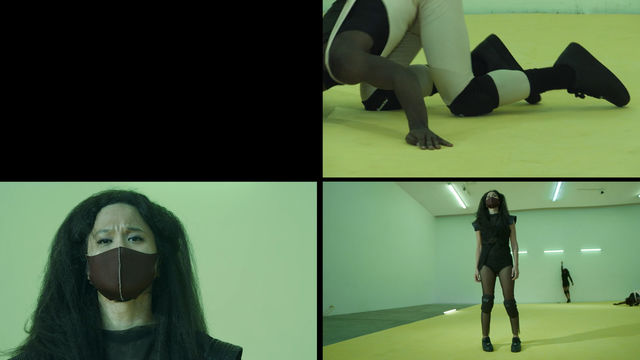 Ligia Lewis was born in Santo Domingo, Dominican Republic, and raised in Florida. In her practice Lewis takes on a variety of roles—choreographer, director, dancer, performer—staging her work in different types of venues, including theaters, galleries, and museums. She carefully considers how the site of presentation shapes the experience of her work, how a body is ultimately seen. Each of her pieces explores genre through different forms of physical expression and a rotating cast of performers. Though Lewis focuses primarily on the point of friction between tragedy and comedy, melodrama and stasis, her work vacillates between the familiar and the unfamiliar. With rigor and detail, she utilizes the entire figure of the body as a space to develop expressive concepts. Be it through minute facial movements, speech and utterances, or a twitch of a finger to convey affect, she conceives a choreographic landscape illuminated by light, sound, and scenic design to develop dramaturgically unruly materials and embodiments that remind her audiences of the haunting legacies that permeate the present. Although Lewis's work experiments with(in) the limits of representation, her pieces are in conversation with a thread of Black feminist thinking that endeavors to disrupt representation at the seams, making visible the corpse that is modernity or modern life and all that it has destroyed.
For Made in L.A. 2020, Lewis has conceived and directed deader than dead, which began with an intrigue-based inquiry into deadpan, an impassive mannerism deployed in comedic fashion in order to illustrate emotional distance. Utilizing this expression as a type of stasis, Lewis initially developed a choreography for ten dancers that remained expressively flat or dead, resisting any narrative or representational hold tied to a climactic build or progression. Lewis had relegated deader than dead to this corner of the gallery (a kind of "dead" space) where the dance would ostensibly emerge, although deadened in its repetition, limited in its fate, as it ricocheted from wall to wall. She abandoned this recursive ensemble of death due to COVID-19, reducing the cast to four performers and pivoting to a more traditionally theatrical presentation. In this new work the dancers use Macbeth's culminating soliloquy ("Tomorrow, and tomorrow, and tomorrow," a reflection on repetition and meaninglessness) as the beginning of a work that unfolds in modular parts, each one an illustration or parody of death, stasis, and the void, each one tied to its own carefully selected soundtrack or sample. The work is full of play but is also a meditation on "playing," or acting, as well as on tragedy's recurring cycles and familiarity within Black and brown experience; on time, as it loops; on performance; on touch, as an act of both care and violence. The work is built in the form of a musical lament, a protracted complaint on loop performed ad infinitum, decomposing itself along the way. Yet Lewis presents her grim subject—the farce of progress—with a healthy dose of humor and comedic tropes, riffing on the concept of "corpsing"—a theater term for unintentional laughter at a noncomedic moment, "playing straight" during a humorous scene, or simply breaking character. Corpsing, in the words of the philosopher David Marriott, is associated with "moments in which an actor exceeds the limits of theater and no longer is in command of a role."1 But in those slippages in character, he states: "if black life matters, it cannot be as . . . the poetical grasp of a historical meaning, nor as the breathless emergence of a politics of ascent. For such roles are not meant for the living; they depend on the idea that blacks can only perform and perfect the role of their deaths, and that they should do so forever."2
Lewis's performance was postponed because of limitations placed on the gallery's capacity in response to COVID-19. Thus it will be presented at the exhibition's end on an expanded version of the floor in the gallery, which serves as a set for the work. The floor acts as an index—a trace, a mark—of the performance that happened behind closed doors solely for documentation purposes. But perhaps more importantly, it represents the potential of the performance to come. The artist invites you to watch a film documenting the live work in the video embedded on this page, above.
Notes
1. David Marriott, "Corpsing; or, The Matter of Black Life," Cultural Critique 94 (Fall 2016): 33, muse.jhu.edu/article/646458.
2. Ibid., 63.
deader than dead by Ligia Lewis (concept, artistic direction, choreography, set design)
in creation with:
Performers: Ligia Lewis, Jasper Marsalis, Jasmine Orpilla, and Austyn Rich
Sound dramaturgy, design, and film score: Slauson Malone, with excerpts by S McKenna
Costume design: Marta Martino
Texts: Ligia Lewis, Ian Randolph, Shakespeare, and Ian McKellen on Shakespeare
Song: Guillaume de Machaut, "Complainte: Tels rit au main qui au soir pleure (Le remède de Fortune)," ca. 1340s
Wigs: Gabrielle Curebal
Film Credits
Conceived and directed by Ligia Lewis
Produced by Reza Monahan Studio and Jim Fetterley
Production
Director of photography / A-camera operator: Sean Morris
Gaffer: Eric S. Foster
B-camera operator: Steven Wetrich
C-camera operator: Alex Zarth
Key grip: Gilbert Charles Butler
Production sound recorder: Christopher Trueman
Digital imaging technician: Dillon Novak
Production assistant: Yusuke Ito
COVID compliance officer: Jennifer Doyle
Postproduction
Postproduction supervisor: Reza Monahan Studio
Postproduction coordinator: Sean Morris
Editors: Steven Wetrich and Ligia Lewis
Sound designer / sound mixer: Christina Nguyen
Additional support for this project was provided by Human Resources, Los Angeles.
Biography
Ligia Lewis was born in 1983 in Santo Domingo, Dominican Republic. Lewis takes on different roles as a choreographer, director, dancer, and performer. In a similar vein, she stages her work in various spaces, including theaters, white cube galleries, and museums. This variability in presentation circles back to the experiential weight of her movement vocabulary, which vacillates between the familiar and the unfamiliar—an uncanny recipe that starts with the social inscriptions of the body and meanders outward with speech, affect, thought, relations, and utterances as a guide in navigating space. Lewis invites the logics of interdependence, disorder, and play, with the three operating as conceptual coagulants that dissolve the misreading that dance consists only of abstract bodies in motion. Bodily movement shows up in both mundane and indeterminate gestures, which cede space for the enigmatic, poetic, and dissonant realms of other sensualities to materialize. Although experiments with representation are central to Lewis's projects, she avoids talking about identity politics and prefers the term minoritarian politics, as her pieces explore alternative modes of embodiment that avoid essentializing or exoticizing. Her recent performance trilogy comprises Water Will (in Melody) (2018), a gothic tale set in black and white; minor matter (2016), a poetic work dominated by red, for which she received the 2017 Bessie Award for outstanding production; and Sorrow Swag (2014), presented in a saturated blue. Her other works include Sensation 1 / This Interior (High Line, New York, 2019); so something happened, get over it; no, nothing happened, get with it (JaouTunis, Tunis, 2018); and Melancholy: A White Mellow Drama (Fahrenheit by FLAX, Palais de Tokyo, Paris, 2015). She has collaborated with the musical artist Twin Shadow, the visual artist Wu Tsang, and the DJ collective NON Worldwide.