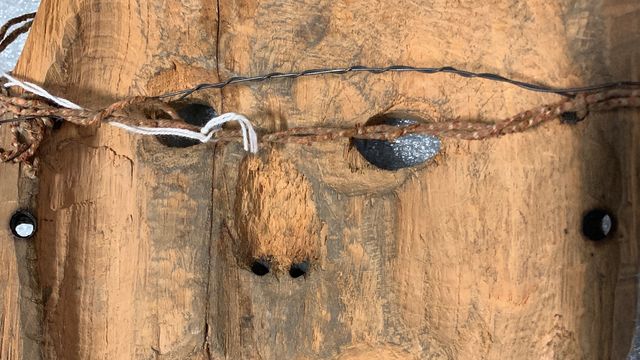 Inside the Mask
–

This is a past exhibition
Central American masks found new forms in the centuries after the Conquista in sacred festivals and ritual dances. These holy instruments of survival represent, conceal, and transfigure double identities and double lives, speaking to layered political and spiritual realities. Central Americans are fleeing rapacious US-backed governments, extortion from deported and exported gangs, the collapse of neoliberal economic policies, and some of the highest levels of gender-based violence in the world. Trapped and caged along the southern border or living precariously at constant risk of deportation in the United States, new resistance fighters and new immigrants find existence inside the mask a daily reality.
Inside the Mask reimagines the museum as without walls, as a place of community, encounter, and exchange between musicians and activists, dancers and organizers. Artists, asylum seekers and advocates, friends and families are proposing new choreographies and improvisations of sanctuary and solidarity. Looking with our own eyes through the masks, we begin to see new histories, dreams, nightmares, and prayers.
The exhibition features Central American and Mexican masks from the collections of the Fowler Museum at UCLA and a newly commissioned mural by Alicia María Siu (Nawat Pipil), ¡Ya no hay tiempo! Sin oro se vive. Sin agua se muere./There is no time! Without gold you live. Without water you die./Xan tesu kanah Iman! Oro in tê, a lapil. Wash in tê, a kanapil.
Inside the Mask is presented by the Hammer Museum in partnership with the Fowler Museum at UCLA and curated by UCLA graduate students Juan Francisco Cristobal, Julie Gaynes, Laurel Hubert, Natalie Kamajian, Chase Niesner, Farrah O'Shea, Jeremy Peretz, Lili Raygoza, Ryan Rockmore, V. Santos, Sin Fronteras 1312, Brisa Smith Flores, and Kara Wade. The exhibition is organized by Peter Sellars, with Allegra Pesenti, associate director and senior curator, Grunwald Center for the Graphic Arts.
This exhibition celebrates the UCLA Centennial.
Lead funding for Inside the Mask is provided by the Steinhauser Greenberg Exhibition Fund, with additional support from Jennifer Simchowitz.