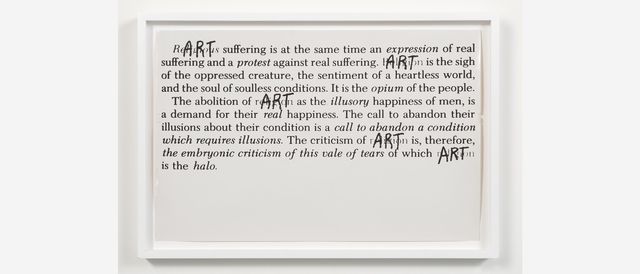 Celebration of Our Enemies: Selections from the Hammer Contemporary Collection
–

This is a past exhibition
This selection of video, sculpture, and photography from the Hammer's Contemporary Collection presents an intergenerational group of artists whose works rarely have been exhibited together. The exhibition's title proposes a conversation between Tony Cokes's video Black Celebration(A Rebellion Against the Commodity) (1988) and Stephen Prina and Christopher Williams's early collaboration The Construction and Maintenance of Our Enemies (1986–87). These two projects were produced within a year of one another, but, until now, they haven't had the pleasure of each other's company. Cokes's seminal video offers a way to read and understand the uprisings that took place in black neighborhoods in Los Angeles, Boston, Newark, and Detroit in the 1960s. Prina and Williams's photographic series considers, in part, the ideological function of botanical taxonomy and the circulation of images. Both works embody an approach that came to prominence in the 1980s in which artists self-consciously applied the tenets and strategies of Conceptual art to a social and political critique of media. Inheriting this legacy, subsequent generations of artists, such as Klara Lidén, Sondra Perry, and Martine Syms, have taken on the task of redefining their relationships to culture, politics, and the industries and institutions that take part in art's presentation, preservation, and commodification. Celebration of Our Enemies embraces the concept of the enemy as an inherent part of art's character and provides a context in which friends and enemies, collaborators and competitors, lovers and loved ones can cohabitate in the warm glow of the museum's galleries.
Celebration of Our Enemies: Selections from the Hammer Contemporary Collection is organized by Aram Moshayedi, curator, with Ikechukwu Onyewuenyi, curatorial assistant.
ARTISTS
Jennifer Bolande
Tony Cokes
Fiona Connor
Tony Feher
Andrea Fraser
John L. Grahm
Juan José Gurrola
Rachel Harrison
Klara Lidén
Lynn Hershman Leeson 
Fred Lonidier 
Sondra Perry 
Stephen Prina and Christopher Williams 
David Robbins
Martine Syms
Lincoln Tobier
Media sponsorship is provided by Cultured magazine, KCET, and KCRW 89.9.